How to leave your union – Everything you need to know about the Janus right-to-work court decision
For Union Members:
Signer Beware!
Government unions are using fine print to trick public employees into paying them, pushing them to sign vaguely-worded "member" cards
Signing means you might be stuck paying union dues for a year before you have the option to quit paying
You would only have a limited number of days each year, and a bureaucratic process to navigate, to opt-out of paying the union, otherwise you're stuck paying for another year
Signing means you would lose your legal right to not pay union dues
Government unions around the country are working on ways to circumvent the U.S. Supreme Court's ruling in the Janus v. American Federation of State, County and Municipal Employees (AFSCME) case. Rather than focus their efforts on providing great services that would persuade workers to pay the union, they are instead employing an arsenal of tactics to make an end-run around the constitutional rights of public workers affirmed by the nation's highest court.
One tactic government unions are using is convincing workers to sign a document that contains tricky language buried in the fine print that traps workers into paying the union regardless of the Janus decision.
These cards are full of eye-catching graphics trumpeting support for union solidarity—100% Union Proud, Union Membership Equals Fair Pay, I Stand United, Stronger Together. What is less eye-catching is the fine print at the bottom that explains what workers are really signing. This card from the Washington Federation of State Employees (WFSE)/AFSCME, Council 28 is a good example: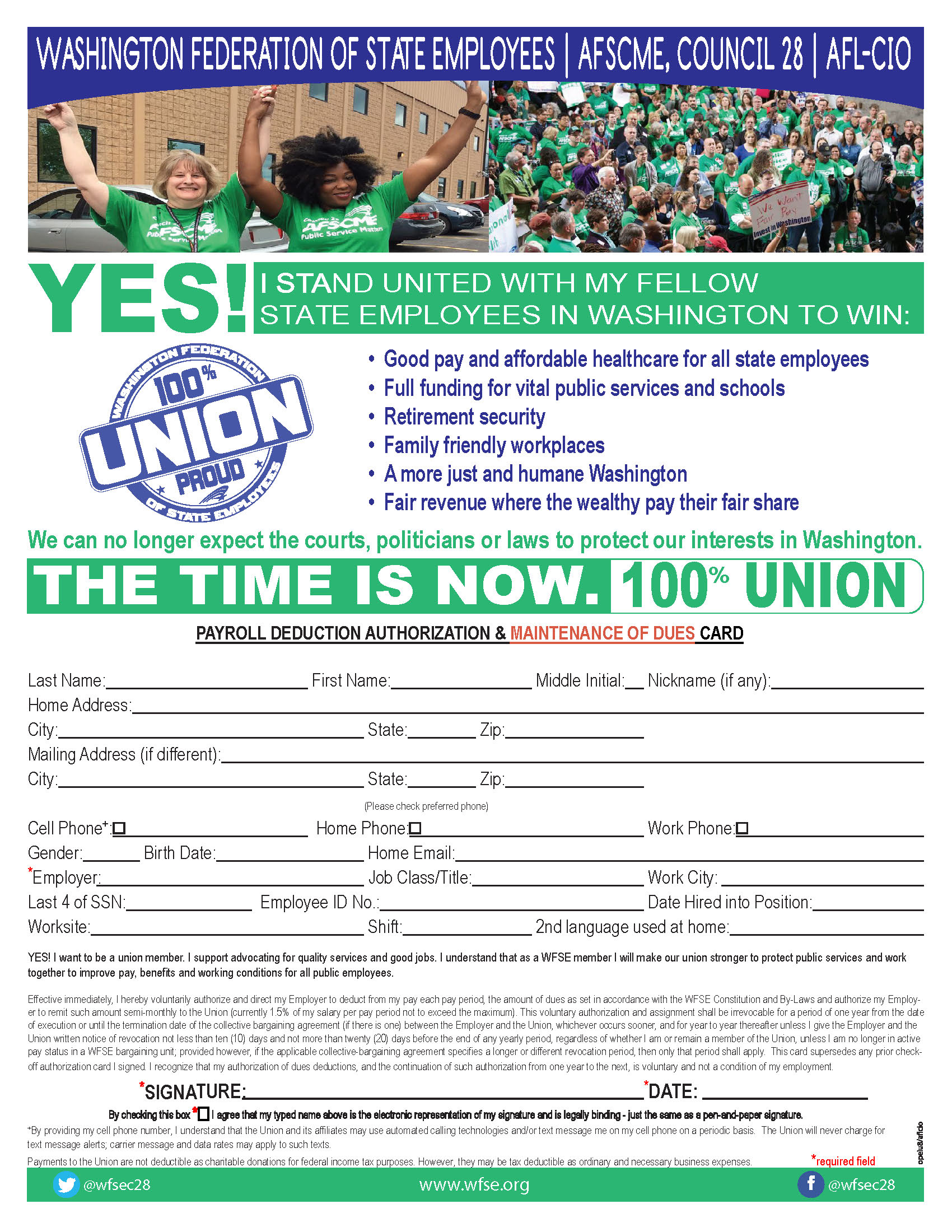 A state worker's signature on this card locks him into paying the WFSE/AFSCME 28 union for at least one year (and forever unless workers jump through hoops to opt-out each year).
"THIS VOLUNTARY AUTHORIZATION AND ASSIGNMENT SHALL BE IRREVOCABLE FOR A PERIOD OF ONE YEAR FROM THE DATE OF EXECUTION OR UNTIL THE TERMINATION DATE OF THE COLLECTIVE BARGAINING AGREEMENT (IF THERE IS ONE) BETWEEN THE EMPLOYER AND THE UNION, WHICHEVER OCCURS SOONER, AND FOR YEAR TO YEAR THEREAFTER UNLESS I GIVE THE EMPLOYER AND THE UNION WRITTEN NOTICE OF REVOCATION NOT LESS THAN TEN (10) DAYS AND NOT MORE THAN TWENTY (20) DAYS BEFORE THE END OF ANY YEARLY PERIOD, REGARDLESS OF WHETHER I AM OR REMAIN A MEMBER OF THE UNION, UNLESS I AM NO LONGER IN ACTIVE PAY STATUS IN A WFSE BARGAINING UNIT; PROVIDED HOWEVER, IF THE APPLICABLE COLLECTIVE-BARGAINING AGREEMENT SPECIFIES A LONGER OR DIFFERENT REVOCATION PERIOD (EMPHASIS ADDED), THEN ONLY THAT PERIOD SHALL APPLY. THIS CARD SUPERSEDES ANY PRIOR CHECKOFF AUTHORIZATION CARD I SIGNED. I RECOGNIZE THAT MY AUTHORIZATION OF DUES DEDUCTIONS, AND THE CONTINUATION OF SUCH AUTHORIZATION FROM ONE YEAR TO THE NEXT, IS VOLUNTARY AND NOT A CONDITION OF MY EMPLOYMENT."
So by signing, a worker is forfeiting his Janus rights by committing to have a portion of their paycheck sent to the union into perpetuity, unless and until the worker takes the proactive step to affirmatively opt-out each and every year (in writing to both the employer and the union), the option for which is a very limited window of time of just 10 days.
The U.S. Supreme Court's Janus ruling giving public employees the constitutional right to choose to not pay a government union like WFSE won't mean much to those who unknowingly forfeited that right because they didn't read, or fully understand, the legalese in the fine print.
If your union asks you to sign a new membership application, or any new document, be sure to read the fine print to ensure you aren't agreeing to signing away your legal rights!
---
What does the Janus decision mean?
The U.S. Supreme Court's landmark ruling in the case of Janus v. American Federation of State, County and Municipal Employees (AFSCME) promotes worker rights by ending the forced unionization of government workers. It means every public sector employee now has the freedom to choose whether to give a portion of his or her paycheck to a government union.
The Court found requiring government employees to pay union dues or "agency fees" as a condition of employment violates their First Amendment rights. According to the Court, everything public sector unions do, including collectively bargaining with the government, is inherently political because it involves public policy and spending taxpayer money. It is therefore a violation of government workers' constitutional rights to be forced to support the union in any way, including financially:
"We conclude that this arrangement violates the free speech rights of nonmembers by compelling them to subsidize private speech on matters of substantial public concern."
The Court recognized the constitutional freedom of association rights of workers in all levels of government and restores their power of personal choice. The Janus ruling overturns a previous U.S. Supreme Court ruling of 41 years ago, Abood v. Detroit Board of Education, which held that unions could force government workers to pay the union as a condition of employment. Those workers now have the right to decide for themselves whether to financially support a government union.
That alone is a significant victory for workers' rights. But the Court went even further to deliver public workers a stunning victory:
"By agreeing to pay, nonmembers are waiving their First Amendment rights, and such a waiver cannot be presumed."
This means in order to collect union dues from public workers, each worker has to opt in to paying those union dues; they can't be required to opt out to stop that automatic collection from their paycheck:
"Neither an agency fee nor any other payment to the union may be deducted from a nonmember's wages, nor may any other attempt be made to collect such a payment, unless the employee affirmatively consents to pay."
The Court's mandate that workers must give permission to have a portion of their paycheck diverted to a government union is a direct response to schemes that have been implemented in various states, including Washington, in anticipation of the Janus ruling. Unions, aided by friendly state legislatures, have maneuvered to create a system where the burden is on workers to keep money from being taken from their paychecks and sent to the union.
The result of the Court's Janus ruling is that such schemes are illegal, invalidating a law our state legislature passed earlier this year (at the request of government unions) setting up an opt out system for public employees.
Under HB 2751, which went into effect earlier this month, every state worker was presumed to be a member of their government union unless and until the worker took the proactive step of opting out. So the state needed no permission or authorization from a worker to take a portion of their paycheck and send it to the union. The Court explicitly says that authorization is, in fact, needed.
The Court's ruling in favor of the rights of government employee Mark Janus, a child support specialist for the state of Illinois, protects the constitutional rights of public workers in all 50 states, giving every worker, including the over 200,000 in the state of Washington, the right to choose whether to financially support a government union.
---
William Messenger, an attorney at the National Right to Work Legal Defense Foundation, explores the ongoing debate over public-sector union fees and freedom of speech:
Frequently asked questions about Janus v. AFSCME
WPC statement on WA state impact of Janus labor union Supreme Court case
---
More information on right-to-work in Washington state and across the country:
Right to work: What it is and how it works
Right to work is right for Washington
Impact of right to work on the state of Washington
Frequently asked questions about right to work laws
The myth of "free riders" in right to work states
The Rebecca Friedrichs story and why she is a hero
Union executive says Friedrichs right to work case would bring "needed" changes to labor movement
A dollar buys more in right to work states
National Employee Freedom Week starts today - union workers say they want more choice
South Carolina Boeing workers reject union
Union members say thanks, but no thanks to Teamsters representation
Unionization will kill the flexibility, freedom, and personal accountability that make Uber so popular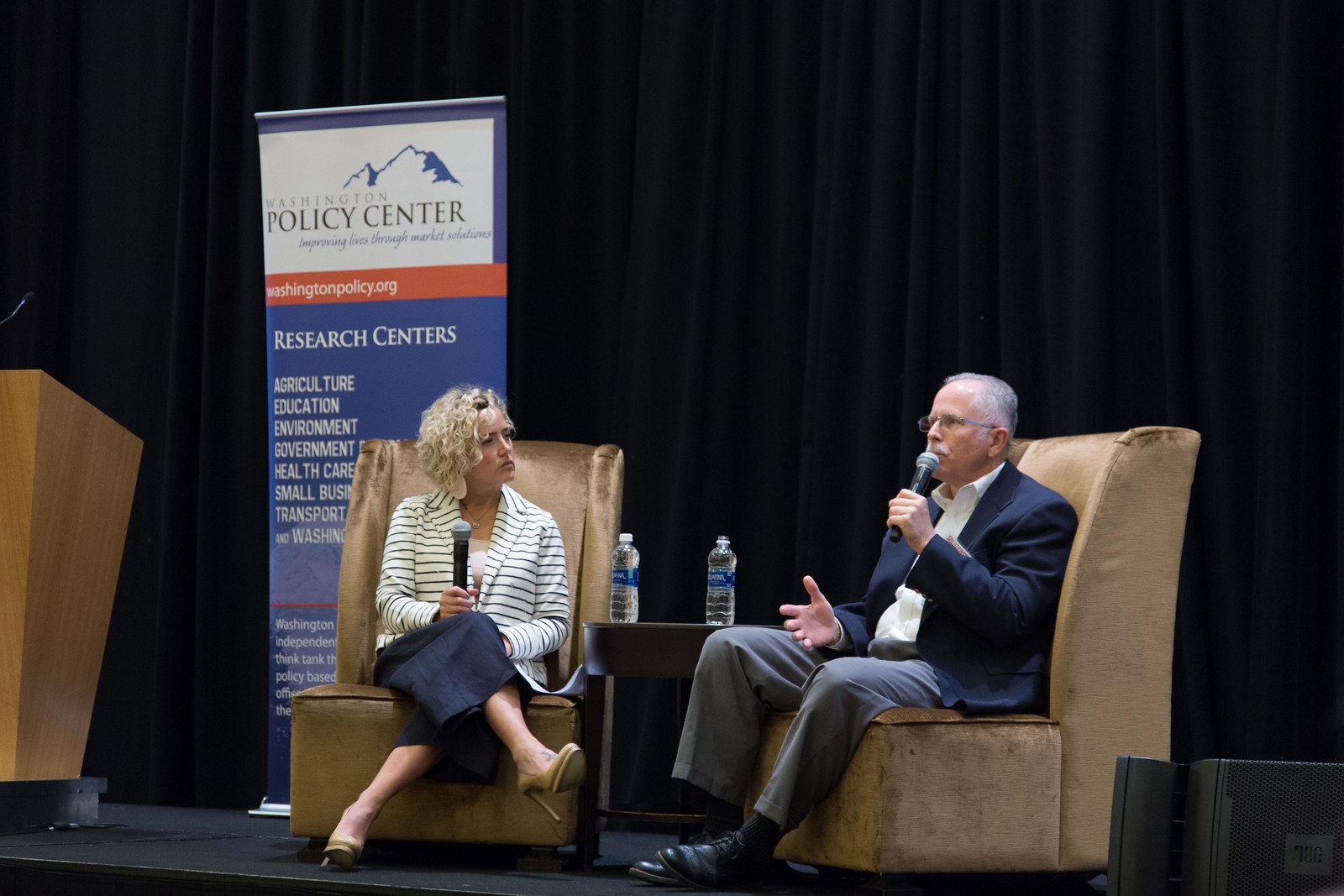 Mark Janus speaks at WPC's 2018 Solutions Summit