Employment & Scholarships
---
Washington Policy Center (WPC) is a non-profit, independent public policy think tank that works to improve the lives of Washington state's citizens by providing high-quality and innovative solutions for policymakers, the media and the general public. We have a statewide staff of 20, an annual budget of $3.5 million, and offices located in Seattle, Olympia, Tri-Cities and Spokane. We hold approximately 50 events per year ranging from exclusive gatherings, conferences and lunches for 200-300 and our Annual Dinner with more than 2,000 attendees.
WPC's research centers are the core of the organization. We focus on key areas including Agriculture, Education, Environment, Health Care, Government Reform, Small Business, Transportation and Worker Rights/labor reform issues.
---
The Washington Policy Center is now accepting applications for the following position:
President / CEO
Washington Policy Center (WPC) is seeking a President/CEO who can maintain and grow WPC's role and presence as one of the nation's largest and most impactful non-partisan, state-based think tanks, focused on improving the lives of the people of Washington State.
The ideal President/CEO will have a passion for Washington State and an unwavering commitment to the principles of liberty and free market solutions. WPC seeks an entrepreneurial leader with the enthusiasm and energy to lead an influential think tank in a challenging political and policy environment. The ideal candidate will also be skilled in managing a staff of over 20, including five department directors, eight center directors and senior staff located around the state, reporting to, and working with an active board of directors and interacting with WPC's donors.
Responsibilities:
Maintaining and growing WPC's role as a thriving, influential, non-partisan and respected, state-based think tank.
Serving as one of the primary spokespersons for the organization in the public and the media.
Networking and collaborating to strengthen the organization and its influence.
Reporting to and working alongside an active board of directors; overseeing all board level committees.
Working with the board of directors and senior staff to develop and execute the organization's new, three-year strategic plan in 2022.
Overseeing all aspects of the organization; in conjunction with the board making all major financial, personnel, legal, operations, and external relationship decisions with WPC's five department directors.
Ensuring WPC has the funds needed to achieve its mission, today and tomorrow; focused on the financial development of the organization and expanding its fundraising base. Drives a culture of philanthropic giving in the organization, support by public messaging.
A leading role ensuring the organization develops strong long-term relationships with large scale individual, foundation, and corporate donors/funders. Personally builds and maintains key relationships to ensure fundraising strategy is achieved.
Developing an annual budget for its approval by the board.
Overseeing policy development of the eight WPC Centers with WPC's VP/Research.
Provide overall direction to staff and assist with fundraising for WPC's largest fundraiser, our Annual Dinner events attended by over 1,000 people in both Spokane and Bellevue.
Dedicated focus on the financial development of the organization and expanding its base. Instills a culture of philanthropic giving in the organization, supported by public messaging.
Read the full job description for the WPC President Position here.

---
WPC's Janet and Doug True Research Internship Program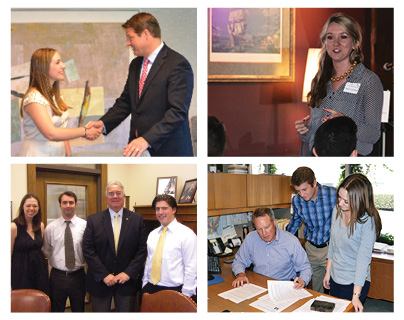 Washington Policy Center offers part-time internship positions geared toward undergraduate students and recent graduates for each academic quarter including summer. Interns work approximately 12 hours per week. WPC allows flexible hours to work around the intern's class schedule while attending nearby colleges and universities. Through the Janet and Doug True Research Internship Program, WPC has had the privilege of excellent interns each quarter since 1999. Former WPC interns have gone on to work in Washington D.C., have run for office, have completed prestigious academic endeavors and have begun successful careers in the private sector. Many credit their interest in policy to their time as a WPC intern.
---
Scholarships
Click here for information on WPC's Jennifer Dunn Thomson scholarship.
Click here for information on WPC's Charter School Graduate Scholarship.