Employment
Washington Policy Center is the premier non-profit, independent think tank in Washington state - promoting sound public policy based on free-market solutions. WPC provides accurate, high-quality research through its seven research centers focusing on the areas of agriculture, government reform, small business, environment, health care, education, and transportation.
With four offices in Seattle, Olympia, Spokane and Tri-Cities, WPC's impact is felt throughout the entire state with an annual budget of $3 million and a statewide staff of 19. On average, WPC's research is in the media five times per day. Dozens of our recommendations have been signed into law or passed by voters at the state and local level. We hold approximately 50 events per year ranging from exclusive gatherings of 20-30 people to conferences and lunches for 200-300 and our annual fundraising gala, the Annual Dinner, with over 2,500 attendees.
---
Communications and Marketing Director
The Communications Director is one of five members of our senior leadership team and plays a key role in advancing our mission through internal (membership) and external communications. The ideal candidate has extensive media relations, marketing, and strategic communications planning experience. The director will oversee the execution of the organization's new, three-year strategic plan. The director is responsible for maximizing and reinforcing WPC's brand through all products and communications as well as promoting the work of the directors of the eight research centers.

Click here for the full job description.
---
WPC's Janet and Doug True Research Internship Program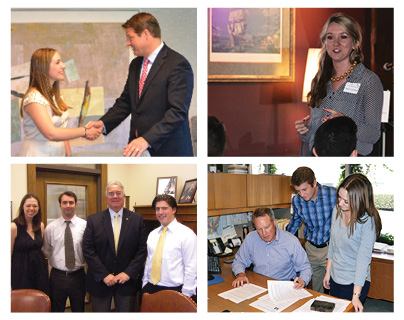 Washington Policy Center offers part-time internship positions geared toward undergraduate students and recent graduates for each academic quarter including summer. Interns work approximately 12 hours per week. WPC allows flexible hours to work around the intern's class schedule while attending nearby colleges and universities. Through the Janet and Doug True Research Internship Program, WPC has had the privilege of excellent interns each quarter since 1999. Former WPC interns have gone on to work in Washington D.C., have run for office, have completed prestigious academic endeavors and have begun successful careers in the private sector. Many credit their interest in policy to their time as a WPC intern.
---
Scholarships
Click here for information on WPC's Jennifer Dunn-Thomson Scholarship.