Our 2017 Annual Dinner Speakers are...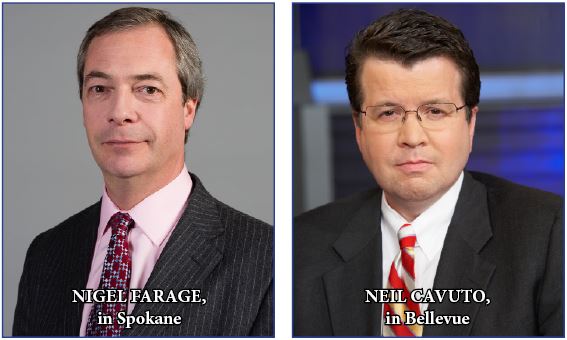 BLOG
Friends,
As you probably know, Washington Policy Center's Annual Dinner events are some of the largest policy galas in the country. The three collective events – our Annual Dinner in Bellevue, our Eastern Washington Annual Dinner in Spokane, and our Young Professionals Annual Dinner – bring together over 2,500 people to hear from inspirational speakers on how free-market solutions are improving lives not only in Washington state, but across the world. Together, these events raise over $1 million to support our work and impact each year.
We are excited to make our first Annual Dinner speaker announcements today!
In Spokane, we will hear from Nigel Farage, the former leader of the UK Independence Party (UKIP) who was a key strategist in the Brexit movement and is now a FOX News political analyst.
In Bellevue, we will joined by Neil Cavuto, who anchors "Cavuto: Coast to Coast" on weekdays and is the senior vice president, anchor, and managing editor that oversees all business news content for both Fox News Channel and Fox Business Network.
These events will sell out. Will you join us and support WPC by purchasing your tickets or table today?
Make sure you don't miss out on what are sure to be memory-making and impactful events. Register today!
Get your tickets today for the 2017 Eastern Washington Annual Dinner, Spokane!
Get your tickets today for the 2017 Annual Dinner, Bellevue!
Get your tickets today for the 2017 Young Professionals Annual Dinner, Bellevue!