WPC's 2017 Annual Dinner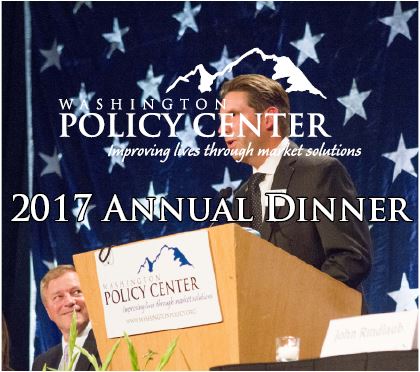 WPC hosts record breaking Annual Dinner in Bellevue
More than 1,400 guests attended our Annual Dinner and Young Professionals Annual Dinner at the Hyatt Regency in Bellevue on Friday night. Attendees heard from the Senior Vice President of Fox News Channel and Fox Business Network, Neil Cavuto, as well as Education Secretary Betsy DeVos, who said "From Mukilteo to Spokane, your advocacy, your analysis, what keeps you going day-in and day-out helps to improve opportunities for families across your state. State-based centers like [WPC] are important in shaping policy because you have great ideas and you fight for them."
The Ackerley family was honored with WPC's 2017 Champion of Freedom award at the event for their longstanding commitment to free-market principles that help make our state a better place to live, do business and raise a family.
WPC had over 100 appearances in local and national news leading up to and on the evening of the event. This included interviews with our staff on KOMO TV, KCPQ TV, KIRO TV, KUOW-FM/NPR, and many other TV, radio, and print media sources. Additionally, our Annual Dinner was featured on the front page of
The Seattle Times
on Sunday with the headline "
Betsy DeVos promotes school choice; protesters say her ideas aren't welcome in Washington
."
Thank you to our supporters who helped make this such a successful and inspiring evening.
Click here to watch Secretary DeVos' keynote speech via TVW
Click here to read Secretary DeVos' keynote speech via the US Department of Education