Transit agencies should not be in the food delivery business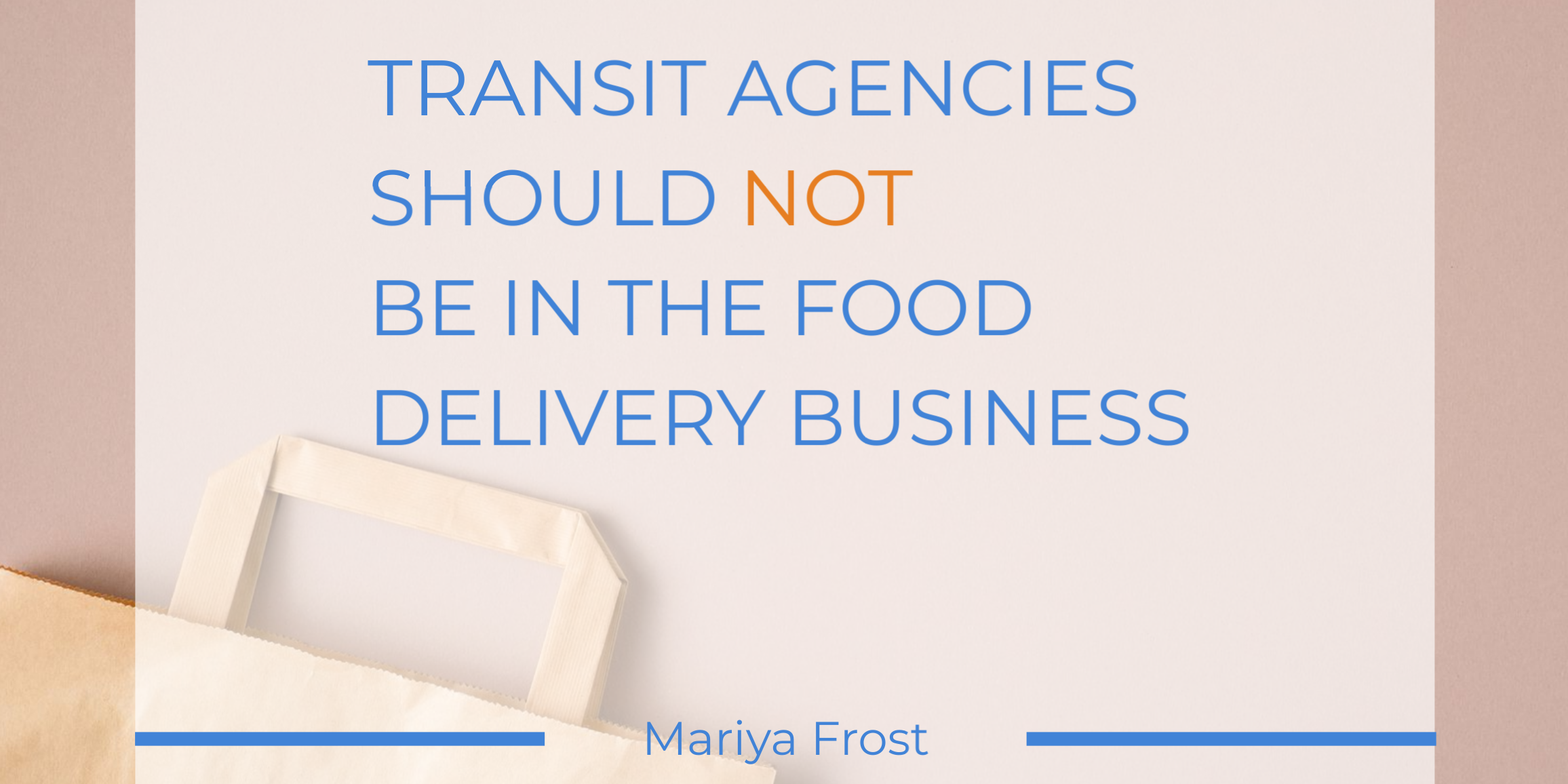 BLOG
On March 27, 2020, the President signed the Coronavirus Aid, Relief, and Economic Security (CARES) Act, which provides emergency assistance to individuals, families and businesses that have been impacted by COVID-19. The $2 trillion bill includes $25 billion in emergency federal funding for transit agencies across the country, which is double the current amount of $12 billion in public funds that is monitored by the Federal Transit Administration (FTA).
Unfortunately, CARES Act funding allows for fairly broad expenditures, without requiring transit agencies to show "any cost-benefit analysis or legitimate need." So, it's not surprising that some transit agencies are using the money to launch themselves into the food and drug delivery business.
The decision to provide a new government service like this is somewhat curious, given how much transit agencies have on their plate. Like many businesses, most transit agencies have seen ridership plummet by as much as 90%. They have also suspended fare collection in an effort to keep their employees further away from riders and are dealing with many other issues as well, including employee safety, mask requirements for both employees and riders, and keeping their trains and buses cleaned and sanitized.
The way CARES funding is structured certainly doesn't inspire agencies to be careful and frugal. Unlike other federal funding for transit, the CARES Act does not require a local match and can support capital, operating and any other expenses that are considered eligible by the FTA. Baruch Feigenbaum of Reason Foundation points out in his analysis of the CARES Act that when local governments have "no skin in the game, there are fewer efforts to reduce costs and save taxpayers money." He notes "This type of federal spending…encourages waste."
Feigenbaum adds that the FTA, with its limited staff, is "designed to monitor the existing annual $12 billion program and obligated funding from previous years," and tries to watch for fraud and abuse. But "how will those staff members oversee an additional $25 billion in funding? They likely cannot."
CARES Act funding is divided into urbanized and rural programs. Transit agencies in the Puget Sound area received $521 million, with an additional $133 million provided to other agencies across Washington State. The funding can cover salaries, staff leave, fuel costs, protective equipment and cleaning supplies. Helping transit agencies with certain operating costs due to a loss of fare revenue, or getting them the protective equipment they need, may be reasonable expenses for this type of funding.
However, the FTA indicates it will "generally consider all expenses…incurred after January 20, 2020 [that are] in response to economic or other conditions caused by COVID-19." The FTA allows for expenses tied to "incidental use," including coverage of operating costs associated with meal or grocery delivery if doing so doesn't conflict with providing transit service or result in a reduction of service to transit passengers. This is where the spending by local agencies quickly goes off the rails.
Transit agencies that are providing meal, grocery and/or prescription delivery services include Clallam Transit System, Columbia County Public Transportation, Garfield County Transportation Authority, Mason Transit, Pacific Transit, Twin Transit, and Valley Transit. This service is funded not by local tax dollars, but by federal tax dollars in CARES. Allowing transit agencies to use tax dollars to provide home delivery services raises several questions.
The first and most obvious question is what were people doing just a month ago before Congress passed this act? Somehow people were getting the food, drugs and groceries they needed at that time. Moreover, how will people get what they need moving forward, after this money is no longer available?
The second question is while this may be legal, is it an appropriate use of federal tax dollars? I don't think it is. And it's certainly not the most cost-effective way to deliver goods to people. Though I am empathetic to the idea of paratransit services delivering food and supplies to seniors and people battling illness and disease, why not contract out the service instead or connect riders to existing mobility companies that are already providing these types of deliveries? On-demand services, while often the most needed and valued, are also the most heavily subsidized when directly operated by transit agencies, often at more than $30 per ride. Contracting out to the private sector would allow us to support seniors and people with disabilities while saving taxpayer money.
Third, does giving transit agencies money for food and medicine delivery create an unfair competitive advantage over companies that are already providing this service? Cato's transportation expert, Randal O'Toole, says it does, arguing that, "A wide variety of grocery delivery services have just started up in the last few years, including, among others, Instacart, Boxed, Peapod, Hungryroot, and Shipt. Major grocers such as Walmart and Safeway are offering their own delivery services. Why should transit agencies offer unfair subsidized competition against these innovative private operations?"
Many private sector transportation companies and their drivers are struggling. Depending on how much this new service takes off among transit agencies nationwide, this could indeed put people out of business in some areas.
As Feigenbaum rightly concludes in his analysis, there is a critical need for oversight – such as requiring transit agencies to detail how they spend federal emergency funding, and conducting a post-coronavirus audit on the spending to inform future decisions during emergencies. Some people have even said that agencies should be required to post online exactly how the money gets spent, since the money belongs to taxpayers. I agree.
CARES Act funding should contain requirements for cost-benefit analyses, and means by which the public can hold transit agencies accountable not to abuse massive infusions of taxpayer money. It should also require explicit spending boundaries rather than vague guidelines that allow for public money to be spent delivering food in the most expensive possible way, and at an unfair advantage over private companies.