Community Transit is spending more money despite declining ridership

BLOG
Prior to COVID-19 hitting Washington and the state-mandated "Stay at Home" order that followed, Community Transit was already grappling with falling ridership and increasing costs every year. This happened despite transit officials expanding routes and adding new bus lines to the agency's transportation network.
The situation is so dire that over the last 10 years, ridership has fallen despite Community Transit almost doubling its budget and expanding service.
Between 2009 and 2018, the latest year the ridership numbers were published, ridership fell from 11.3 million to 10.6 million unlinked trips.Tax revenue collected by Community Transit for the same time period increased from $110 million in 2009 to $204 million in 2018. That's an increase of 86% in spending, despite a 6% decrease in trips.
Service hours have decreased by 17%, from 601,909 hours in 2009 to 499,886 hours in 2018 (excluding vanpools).
In other words, Community Transit is paying double what it did a decade ago to serve fewer customers.
This is a waste of public tax dollars. Community Transit should refocus on providing service to the areas that need it most.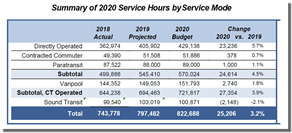 Source: Community Transit Budget Books 2011 and 2020.
In a post COVID-19 world, ridership is going to continue to decline as more people will want to use their own vehicles to stay socially isolated from others. Recent surveys show that consumers are planning on making significant changes in the way they travel after COVID-19 has subsided, including driving and telecommuting.
Regardless of shifting travel trends, Community Transit is still planning to expand, and is assuming increased sales tax revenues of at least 4% year over year .
Last year's addition of the Swift Green Line has demonstrated a lack of demand with many of the buses operating empty or with very few riders per bus.
The new Orange Swift Line, which is planned for 2024 in the South Snohomish County area, will add more buses and increase costs further.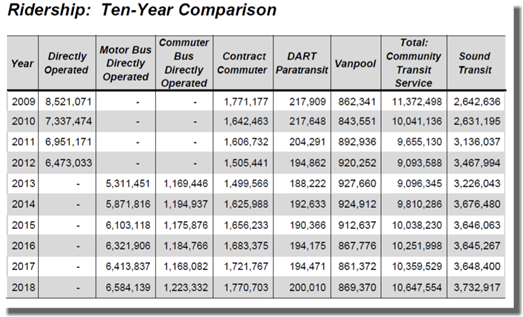 Source: Community Transit Budget Book 2020.
Community Transit and other regional transit agencies such as Sound Transit have long believed that the solution to Washington's traffic congestion is to reduce individual car trips and increase transit ridership. This is a misguided goal. Despite massive tax dollar investment over the last 30 years, transit ridership has barely increased.
With ridership falling and an increase in telecommuting and personal vehicle use post COVID-19, Community Transit needs to stop expansion and focus on improving its most popular routes to make operations more efficient. This will enable Community Transit to reduce costs and provide service where it is most needed.