2019 Eastern Washington Annual Dinner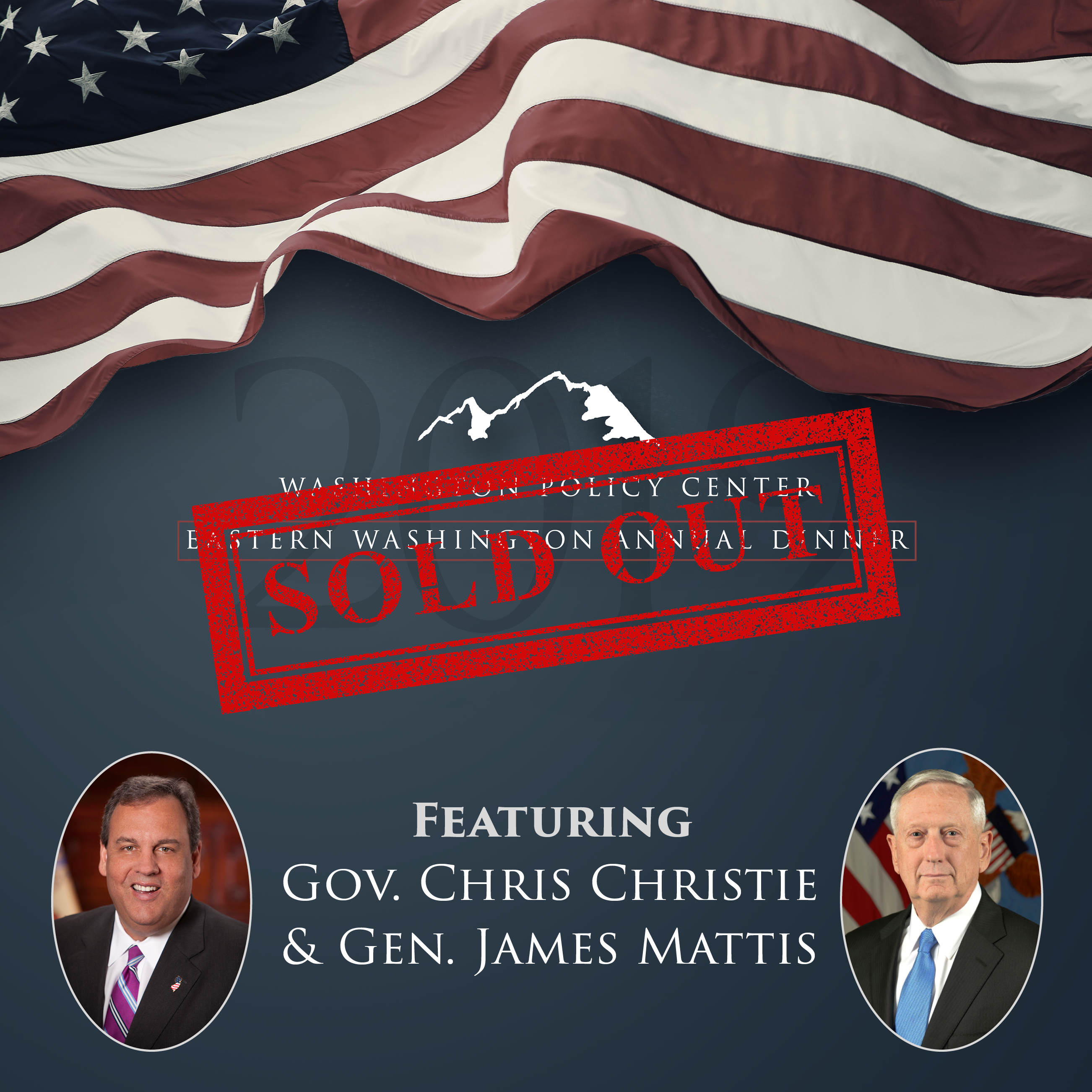 Click here for Attendee Information
---
WPC's Annual Dinner in Spokane on October 24th is completely sold out! Click here to be added to the waitlist.
We are excited to announce that General James Mattis, former United States Secretary of Defense, and Chris Christie, the 55th Governor of New Jersey, will be our keynote speakers at the 2019 Eastern Washington Annual Dinner in Spokane.
For over 20 years, Washington Policy Center has held its Annual Dinner events as a way to bring people together to hear about how free-market solutions are improving lives not only in Washington state, but across the country.

WPC's Annual Dinner events in Eastern and Western Washington are now must-attend evenings that attract more than 2,500 elected officials, business & community leaders, raising over $1 million to support WPC's work.
Click here for a discounted room rate at the Davenport Grand Hotel
---
Other Annual Dinner Events:
---
Sponsorship Information
Thank you for your consideration to support Washington Policy Center's 2019 Eastern Washington Annual Dinner in Spokane. Below are a number of tools to help you navigate the various ticket and table options. For questions on this year's levels and benefits, please contact WPC's Development Director, Sydney Jansen at sjansen@washingtonpolicy.org or (206) 937-9691
2019 Sponsorship Form: Eastern Washington Annual Dinner

Ticket and Sponsorship Benefits chart
Click here to see the ticket and table levels and benefits. Return the filled out form to Sydney Jansen, WPC's Development Director at sjansen@washingtonpolicy.org
Pillar Society Member Benefits
Are you a member of WPC's Pillar Society? Click here to see what benefits you get at the Eastern Washington Annual Dinner
2019 Eastern Washington Annual Dinner Table Map
Click here to see where your table would be located per your ticket or table level! Specific table placement is not assigned with registration, but you can see the general location based on sponsorship level. Tables are assigned in order of reservation and announced week of the event and limited to the quantities listed.
For more information or questions, contact Sydney Jansen, WPC's Development Director at
(206) 937-9691 or sjansen@washingtonpolicy.org
The Development Team will be in touch to coordinate your table and benefits as the event nears.
---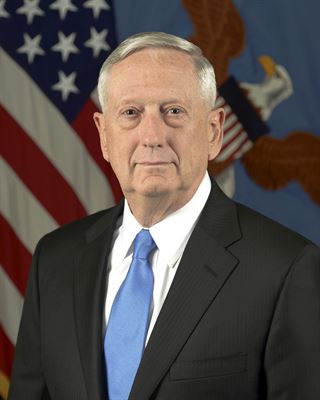 Secretary James N. Mattis is a Pullman native and Central Washington University graduate. The Marine Corps Times calls him "the most revered Marine in a generation."

He was appointed Secretary of Defense by President Trump in 2016 and served until the end of 2018. Previously, he served as commander of CENTCOM, appointed by President Barack Obama in 2010. While commander, he was responsible for military operations involving more than 200,000 U.S. soldiers, sailors, airmen, Coast Guardsmen, and Marines in Afghanistan, Iraq, and 18 other countries in the Middle East and south-central Asia.

He commanded at multiple levels in his forty-two-year career as a Marine, including as a lieutenant colonel in Operations Desert Shield and Desert Storm. On becoming a brigadier general, he commanded first the First Marine Expeditionary Brigade and then Task Force 58 during Operation Enduring Freedom in southern Afghanistan. As a major general, he commanded the First Marine Division during the initial attack and subsequent stability operations – including in Fallujah – during Operation Iraqi Freedom.
---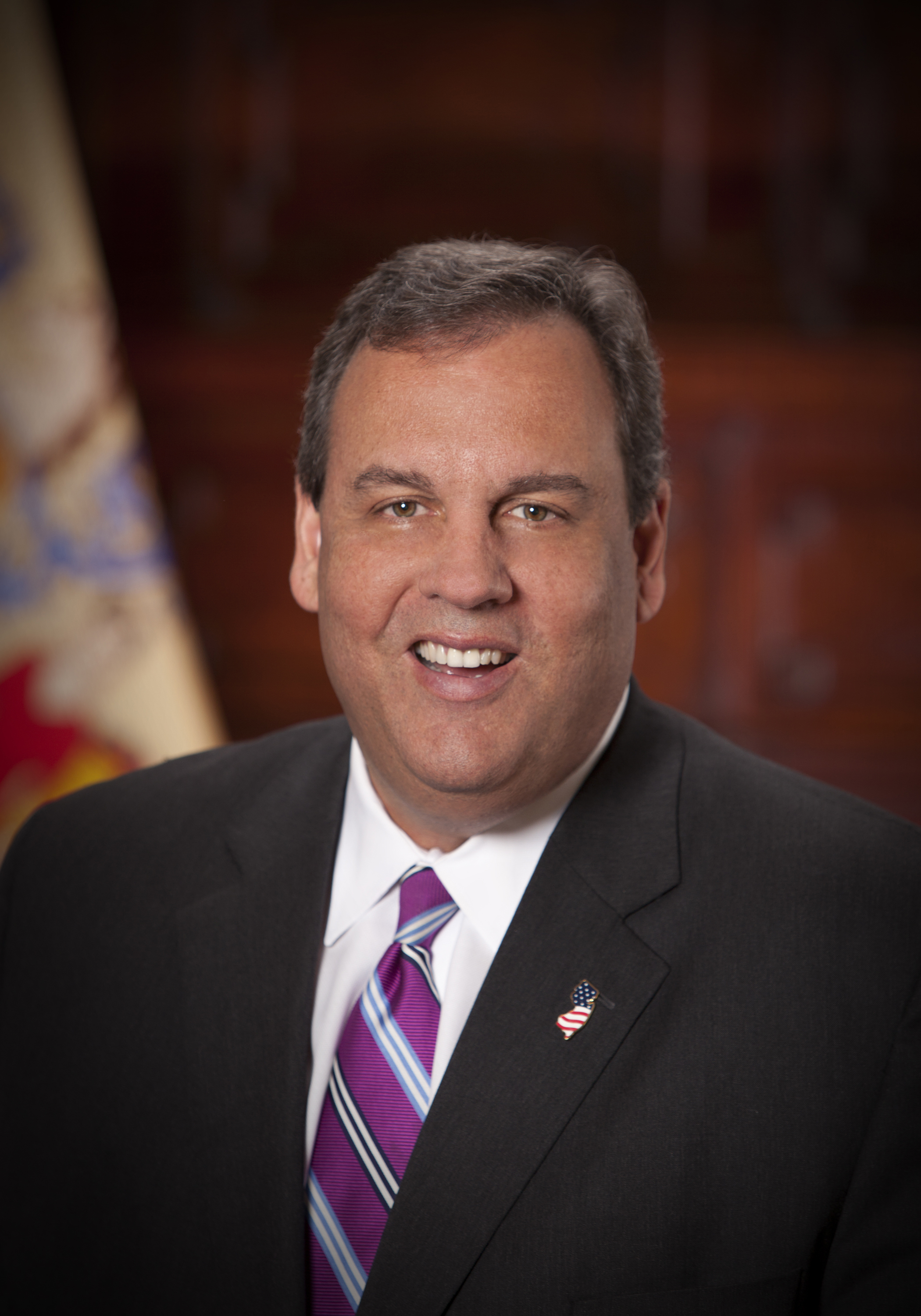 Gov. Christopher J. Christie served as the 55th Governor of the State of New Jersey from 2010 until 2018.

During his time in office, Governor Christie emphasized the issues of fiscal responsibility, pension and health benefit reform, and education reform.

He signed into law legislation limiting annual property tax growth. On numerous occasions, he vetoed legislation to raise taxes in New Jersey. He signed pension reform bills which required public employees to contribute a small percentage of their salaries toward their health care benefits. And Governor Christie led on improving education in New Jersey, approving 23 new charter schools, including the state's first school for children with autism.

Further, the governor reformed the teacher tenure system in New Jersey, requiring teachers work four years instead of three to earn tenure, and proposing evaluations of teacher effectiveness be used.

He also lead on the opioid crisis gripping his state and the nation. His March 2017 law restricting opioid prescriptions led to a 26% reduction in those prescriptions in its first year. He also devised the state's groundbreaking response to Superstorm Sandy, leading the rebuilding of the state's housing, infrastructure and public schools and setting a bi-partisan example for storm recovery.

On March 29, 2017, President Donald J. Trump appointed Governor Christie as Chairman of the President's Commission on Combating Drug Addiction and the Opioid Crisis. The Commission issued an interim report containing more than 65 substantive recommendations, all of which were adopted by President Trump.

Prior to his service as Governor, he served as the United States Attorney for the District of New Jersey from January 2002 to December 2008. He was nominated by President George W. Bush on December 7, 2001 and unanimously confirmed by the United States Senate on December 20, 2001.

Governor Christie is a graduate of the University of Delaware with a B.A. in Political Science in 1984. He was awarded a J.D. by Seton Hall University School of Law in 1987.

Governor Christie is now a Senior Legal and Political Commentator for ABC News.
---
2019 Champion of Freedom Award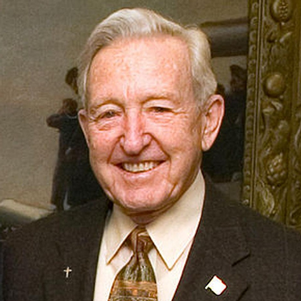 Washington Policy Center is proud to announce this year's recipient of the Champion of Freedom Award at our Annual Dinner events this fall will be Admiral (Ret.) Tom Hayward.

WPC is proud to recognize Admiral Hayward for his accomplishments. Admiral Hayward served in the Navy from 1942 to 1982 including service in World War II, the Korean War, and the Vietnam War. In his final four years of service he was the Chief of Naval Operations and a member of the Joint Chiefs.

Since retiring from the Navy and settling in Seattle, he has been particularly involved in the education of youth. Admiral Hayward helped to launch companies that seek to improve teaching methods for K-12 reading and math, including Voyager Expanded Learning, which focuses on improving the reading abilities of "at risk" students. He has also spent considerable time working personally with students. To honor his work, a school was named after him in Vietnam.

"Admiral Hayward is a true American hero whose service to this country has not ceased through three major wars or his own retirement," said Washington Policy Center's President Dann Mead Smith. "The Admiral embodies the spirit of this award and WPC is honored to have Admiral Hayward as a longtime member of the organization and of WPC's Pillar Society."