WPC's Center for Education recommends Washington state join the forward-looking national trend of funding students and families, not establishment institutions
Last week Washington Policy Center (WPC) ran this inspiring ad in the Puget Sound Business Journal: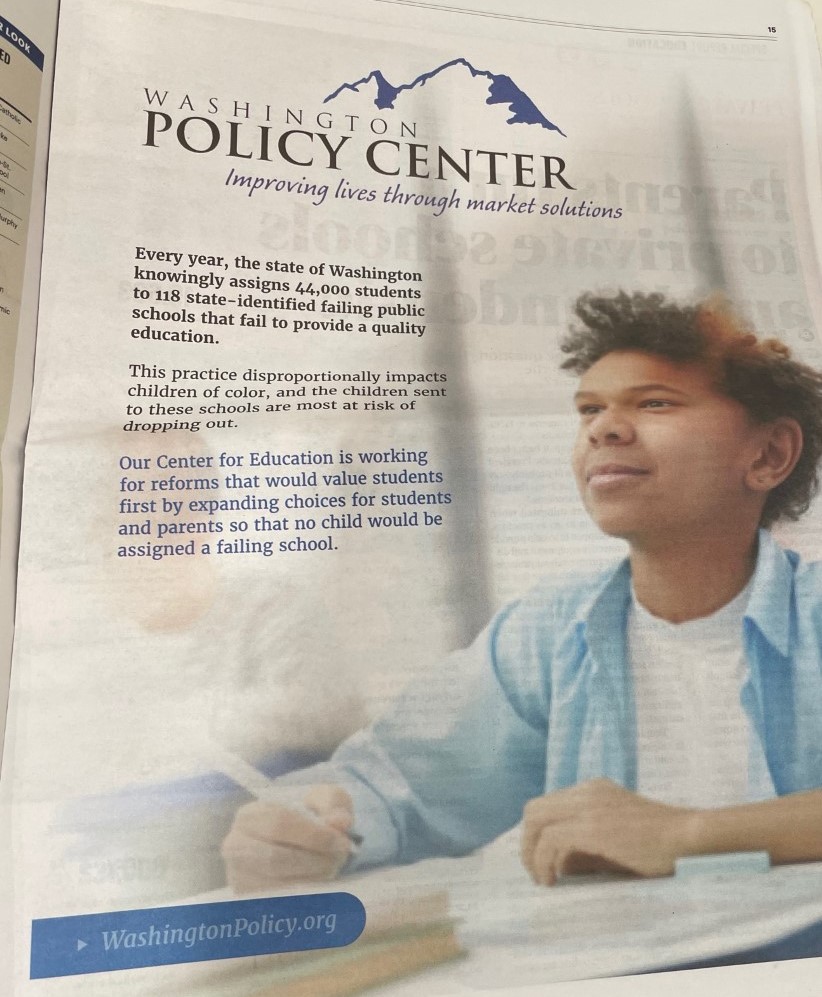 One of the biggest failures of Washington's inflexible and highly bureaucratic public school system is that officials consistently fail to provide students with a quality public education. As our ad reveals:
"Every year, the state of Washington knowingly assigns 44,000 students to 118 state-identified failing schools that fail to provide a quality education.
This practice disproportionally impacts children of color, and the children sent to these schools are most at risk of dropping out."
WPC's Center for Education's evidence-based solution to this longstanding problem is to shift control over a portion of public education funding to families, so that parents have the resources they need to educate their children. Specifically, we recommend expanding access to Washington's public charter schools and its online schools. We also recommend creating new scholarship programs to allow families to choose a quality private school.
Washington state lags behind the rest of the nation in offering families access to these popular education alternatives.
In response to COVID school closures, over a dozen states added and expanded scholarship programs to help families educate their children. As of May 2021, there are now 72 parent-choice scholarship programs operating in 32 states, the District of Columbia and Puerto Rico.
Here in Washington state, the state legislature could easily provide families with scholarships ranging from $7,000 to $15,000 a year, depending on the learning needs of the child. Within the current education budget, these popular scholarships would help families gain access to a quality education for their children.
To find the Center for Education's research and recommendations, check out the WPC website here: www.washingtonpolicy.org