King 5 News' Susannah Frame receives award for ongoing investigation into state ferries waste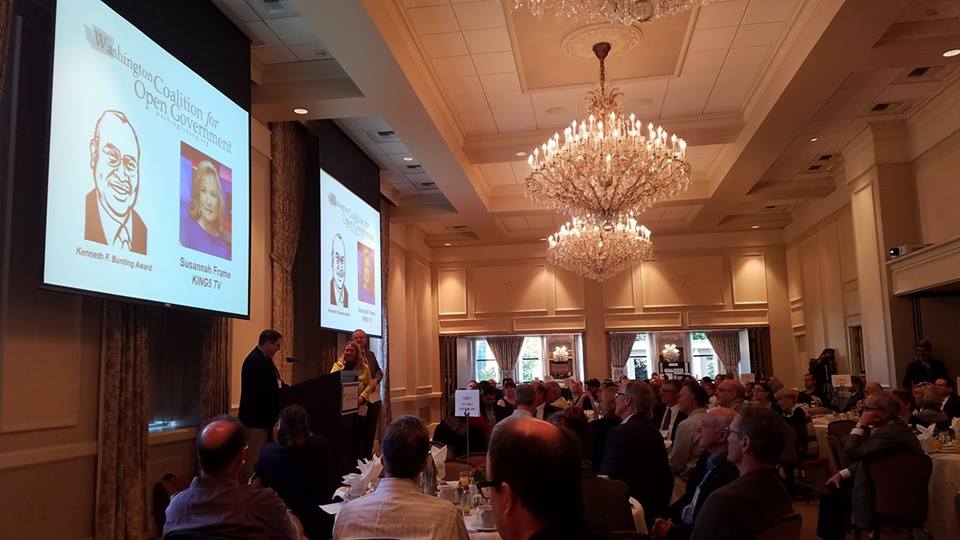 BLOG
This morning I attended an awards ceremony hosted by the Washington Coalition for Open Government (WCOG), an independent, nonpartisan nonprofit organization. The Coalition "advocates for people's right to access government information," something we are deeply passionate about at WPC.
Susannah Frame, King 5 News' Chief Investigative Reporter, was honored with the Kenneth F. Bunting Award for her ongoing investigation into Washington State Ferries (WSF), called "Waste on the Water." According to WCOG, this award "highlights exceptional journalistic work that supports and demonstrates the importance of open government."
I had the opportunity to meet Susannah and participate in an interview about the waste she uncovered last May.
Because of Susannah's earlier findings, WSF promised they would reform the agency and cut costs. Through continued monitoring and public records requests over the years, Susannah found that they didn't – and instead found ways to pay ferry workers back, costing taxpayers the $10 million WSF promised to save.
As a result, a work session was held in the Senate Committee on Labor, Commerce and Sports, and there is continued interest in legislation that would make labor negotiations public and transparent in Washington state.