Important new book to highlight how empowered individuals are doing what politicians can't to save the environment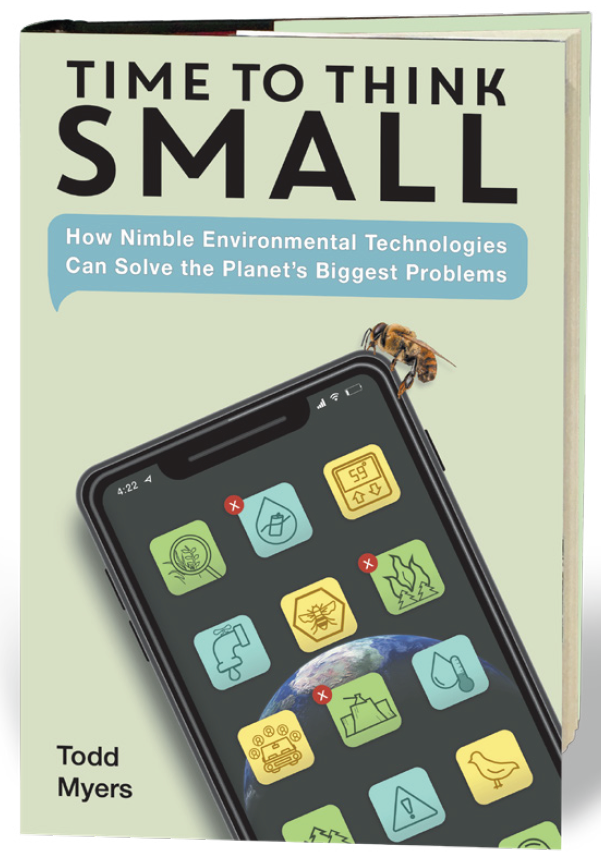 BLOG
SEATTLE -- On Earth Day this week, politicians will take center stage to offer new promises for global environmental solutions. Those political promises will generate media coverage and adoration on social media, but far too often, the success of the policies is weighed in political image rather than actual environmental results. That's why for those who value environmental solutions over politics, it's time to think small.

"Small environmental technologies have kept billions of plastic bottles out of the ocean and helped protect endangered sea turtles," explained Todd Myers, environmental researcher and author of the new book, Time to Think Small, available for pre-order from imagine! publishing. "They have already empowered individuals to save tens of billions of kilowatt-hours of electricity and millions of pounds of CO2 and unlike political solutions, technology can't be undone at the ballot box, allowing sustained effort to promote environmental stewardship."

In Time to Think Small, Myers highlights the remarkably effective work of citizen scientists, researchers, farmers, and average people concerned about the environment. The book details how their individual actions are creating a quiet revolution in environmental technology that is solving problems which have eluded political solutions.

"Climate change is typically thought of as something that needs to be solved at the governmental and corporate level, and that's where the polarization and friction has been," said Kevin Wilhelm, CEO of Sustainable Business Consulting. "By thinking and acting small, and embracing individual actions using technology, Myers has found a way where everyone can take small, but meaningful actions that add up to a whole lot."

With examples from the United States, Ghana, the Philippines, and across the globe, Time to Think Small highlights the remarkable wave of environmental innovation that is allowing individuals and small groups to solve some of the world's toughest environmental challenges. "Small technology is putting the solutions to major environmental challenges in the palm of your hand," said Myers. "From climate change to endangered species, small technologies are giving people around the world the tools to collaborate and multiply their efforts to solve environmental problems."

"In a world where environmentalism is dominated by hopelessness and out-of-reach ideas, Todd Myers' Time to Think Small is a breath of fresh air," said Benji Backer, President of the American Conservation Coalition. "This book provides a much-needed analysis about how we can solve complex global environmental problems by applying human ingenuity...and why every step matters along the way. Drastic proposals won't help protect our planet, but the types of ideas uncovered in Time to Think Small can."

Time to Think Small will be released on November 1, by imagine! Publishing, an imprint of Charlesbridge.- https://www.charlesbridge.com/products/time-to-think-small

Time to Think Small author Todd Myers runs Washington Policy Center's Center for the Environment and has worked in environmental policy for more than two decades. He is a member of the Puget Sound Salmon Recovery Council's executive board, and previously worked at the Washington State Department of Natural Resources. He is also a beekeeper and manages 250,000 honeybees. Washington Policy Center is a free market oriented, public policy think tank that offers market-based solutions for Washington state.