As traffic congestion increases, Bellevue wants to remove congestion relief as a policy goal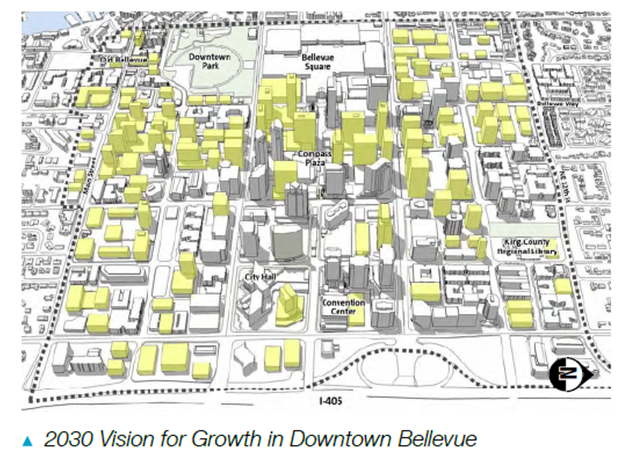 BLOG
The City of Bellevue is going through an unprecedented development boom, from high-rise offices to residential towers, and significant growth among tech companies. Just last September, Amazon announced that it was planning to welcome 25,000 employees in Bellevue by 2025. If you can imagine it, the sum of just 16 pending development projects in Bellevue is about 12.2 million square feet of space. Included in their plans are more than 13,000 parking stalls – indicating the private sector is expecting most people to drive now and into the future.
According to the Bellevue Kirkland Redmond travel forecast model, 75% of future trips in the area will be taken in automobiles. So, much of the growth will require infrastructure (new and improved road capacity) that accommodates those trips and improves access. The Eastside Transportation Association (ETA) put together the chart below to illustrate the data: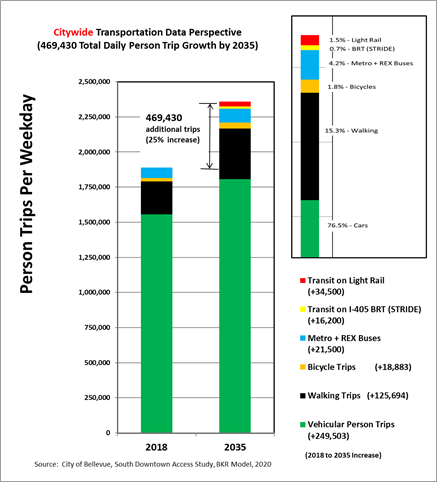 Despite plans from the private sector to accommodate driving to the new jobs with parking stalls, both the Bellevue Transportation Commission and Planning Commission want to make driving harder by eliminating congestion relief as a policy priority in the city's comprehensive plan. Amendments to the comprehensive plan are considered every year.
The current transportation policy (TR-2) in the plan states that the city will "Strive to reduce congestion and improve mobility."
However, the Bellevue Transportation Commission commented that striving to reduce congestion "is inconsistent with a multimodal approach and is not always achievable without significant adverse consequences." Their rationale, as stated during a July 28th meeting, is that "there are limited opportunities left in Bellevue for capacity improvements." (In a surprising twist, the Planning Commission, despite initially supporting this change, passed a resolution that same day to reverse the language and recommend the City Council keep "reducing congestion" in the comprehensive plan.)
Contrary to officials' claim about limited opportunities for projects that would reduce congestion, Bellevue has many capacity improvements on the books. For example, the city calls for expanding NE 2nd, a downtown street, from three to five lanes, yet hardly anyone has talked about funding this project – let alone planning for it. During the Wilburton Draft Environmental Impact Statement (DEIS) process, the city listed a myriad of potential improvements to reduce the negative impact growth will have, like double turn lanes, yet none of these mitigation measures were taken seriously.

In other words, it's not a lack of opportunity or space to provide congestion relief – it's a lack of political will.
To that end, the Bellevue Transportation Commission wishes to change the policy to state, "Improve the multimodal transportation system and the quality of the travel experience for all users." Based on the Commission's comments about congestion relief being inconsistent with a multimodal approach, however, this new policy approach will likely not be inclusive of "all users." Drivers, who make up the majority of trips into Bellevue, will be left out if roads are crippled with gridlock.
The Bellevue Transportation Commission's recommendation would be detrimental for the city.
Rather than weakening or eliminating congestion relief standards, Bellevue officials should emphasize congestion relief as a top priority to accommodate future growth. The ETA made this point in a letter submitted to the Bellevue Planning Commission in early September, highlighting an analysis of the 2019-2030 Transportation Facilities Plan (TFP) data, which shows 37 of 99 "system intersections" expected to fail by 2030, making congestion relief an urgent need.
The ETA also provided their own amendment to the transportation policy goal, which would state that the city should "Strive to reduce congestion and improve mobility, with proportional distribution of resources to motor vehicle, pedestrian, transit, and bicycle facilities." In other words, the city shouldn't spend a disproportionate amount of funds on less-utilized modes, like bike/pedestrian facilities, while neglecting and underfunding heavily-used and needed roads.
This is a critical, exciting time for the City of Bellevue. To support future growth, public officials should recognize the reality of how people do and will continue to travel, and allocate spending in response to travel forecasts and public demand.