Are capital gains taxes "secure and stable" or highly volatile?
When releasing his 2015-17 budget plan Governor Inslee said, "We have a very solid, fiscally sound, secure and stable way of financing everything I've talked about today." Among the new taxes he proposes to fulfill this statement is a 7% capital gains tax to generate an estimated $798 million.
Based on the volatile history of capital gains taxes in other states, it may be wishful thinking to describe their impact as being a "very solid, fiscally sound, secure and stable way of financing" ongoing government spending. Consider the following comments about capital gains taxes:
There was also this warning from the state Department of Revenue (DOR) the last time lawmakers considered a capital gains tax in Olympia (House Bill 2563 in 2012):
Capital gains are extremely volatile from year to year. Revenue from this proposal will depend entirely on fluctuations in the financial markets and can be expected to vary greatly from the amounts presented here.
Although a similar warning from DOR is not in the current fiscal note for House Bill 1484, they said the reason for this was:
When staff prepare the fiscal notes, they may or may not look at prior years' notes as their starting point. In this case, staff said the volatility issue is understood and discussed by folks on the hill.
Also consider the recent history of capital gains revenue volatility in Washington. According to a study by the Washington Research Council:
In percentage terms, the swings in capital gains are much bigger than the swings in state sales tax revenue. Moreover, the two series are highly correlated: in each of the three instances where sales tax revenues were lower than in the preceding year, capital gains decreased by more than 50 percent.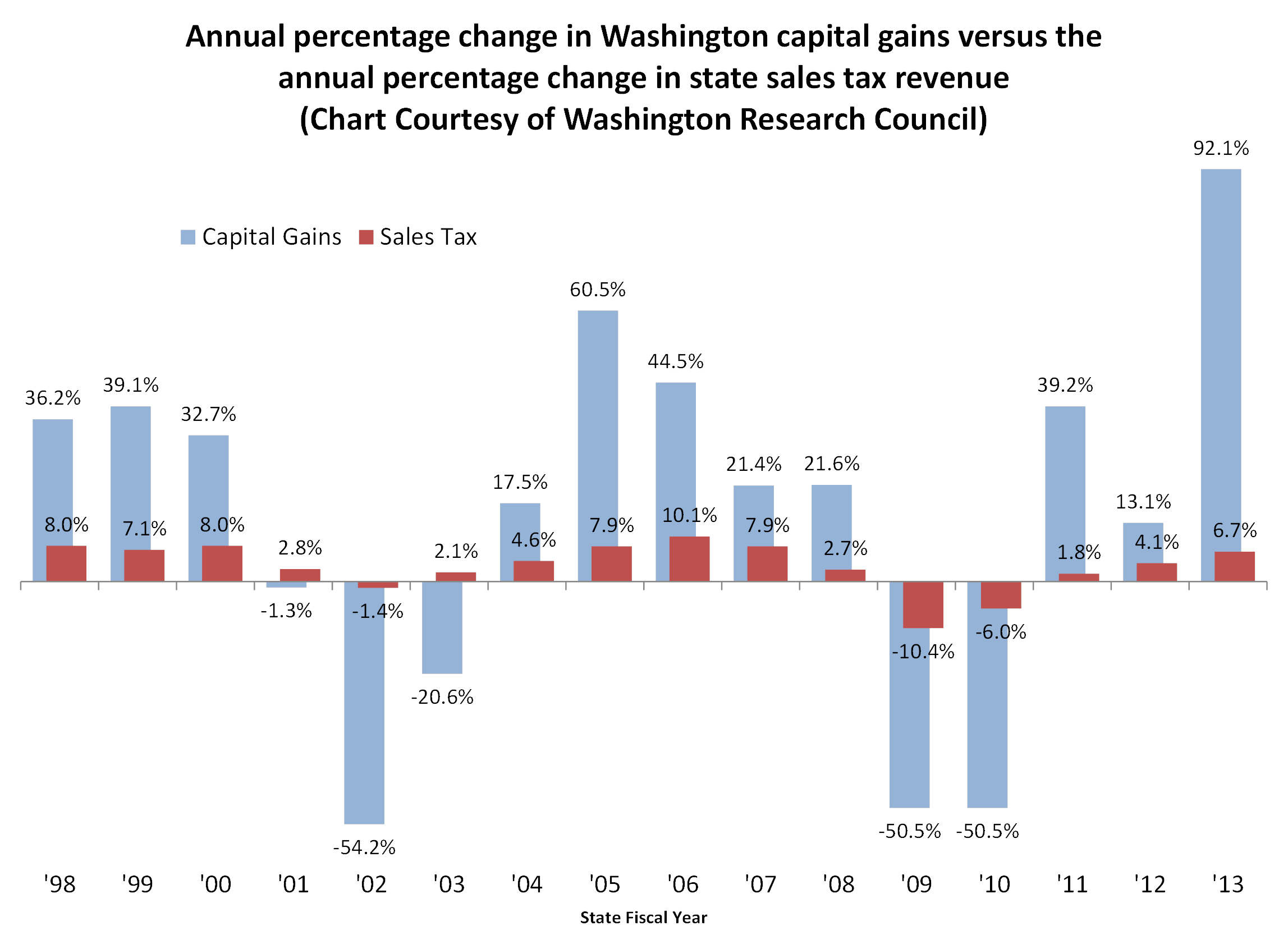 As previously noted by the California Legislative Analyst Office, that state has been particularly hard hit by the volatility of its capital gains taxes. So much so in fact voters in California last November approved a constitutional amendment to require the state put a specific percentage of its capital gains tax revenue into protected savings so it couldn't be spent and exacerbate budget shortfalls.
Explaining the impact of the constitutional amendment the LAO said:
This constitutional amendment separates state spending from the rollercoaster of revenue volatility. This measure takes capital gains revenues that make up more than 8% of the General Fund - the average for the last 10 years - off the table rather than being used for unsustainable permanent tax cuts or ongoing programs. The spiking revenues (along with 1.5% of overall General Fund revenues) will be used for debt payments and deposited into the BSA, to be withdrawn during economic downturns to avoid program cuts and middle class tax increases.
Rather than dedicate any of the revenue from his proposed capital gains tax to protected savings, however, Governor Inslee's plan takes the opposite approach by preventing the funds from going into state's constitutionally protected reserve account created by voters. Instead he directs all of the revenue to the Education Legacy Trust Account. We'll discuss this in more detail in our next post.