Will businesses leave the Seattle real estate market?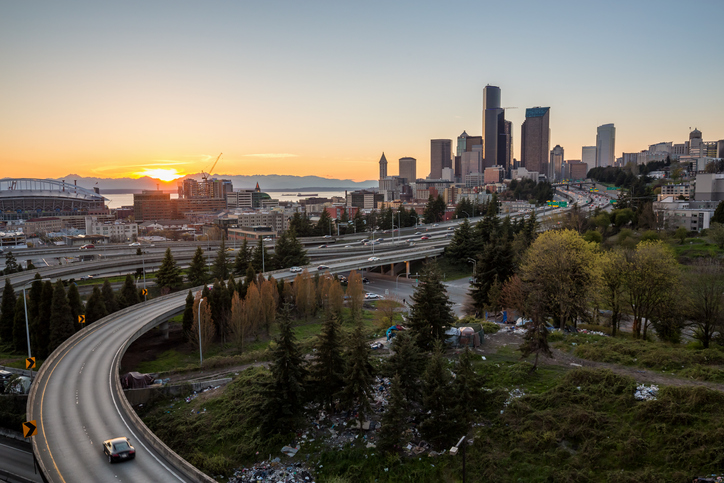 BLOG
The Puget Sound Business Journal reported on August 5, 2021, that demand for office space in Seattle is down 29% from the pre-pandemic level while demand in other cities is almost back to normal. The 'View The Space' Office Demand Index (VODI) reports this is primarily due to two reasons, local employers not requiring employees to return to the office and a lack of job postings compared to postings prior to COVID.
There maybe other reasons that Seattle is so far behind.
With tech giants like Microsoft, Amazon, Google and Facebook not requiring employees to return to the office until later this fall and offering either fully remote or partially remote jobs, the demand for office space may not return to pre-pandemic levels anytime soon.
Another factor, partially for smaller businesses that have office space in Seattle whose employees that are now working remotely, is the inability for those businesses to exit long-term office leases without penalty. What is unclear is how many businesses have long-term leases and are in this situation. When these leases come up for renewal, will they be renewed at all?
The commercial real estate market could see an increase in occupancy rates when these leases are dropped by the businesses that no longer need the space. This will not be reflected in the market for another 12-18 months when leases that started prior to the pandemic lockdowns, reach maturity. Unlike suburban and rural areas where a space is easier to repurpose for warehousing and light industrial uses (a market segment that has done particularly well during the pandemic), downtown high rise office buildings are more difficult to change to accommodate new uses.
Recognizing that zoning restrictions could limit the recovery, Seattle's Mayor Jenny Durkan announced Monday that a temporary 12 month ordinance will allow alternate uses for the more than 450 street-level businesses that closed or left town during the pandemic lockdowns.
Despite predictions that business may downsize their office bound employees, for businesses that expect to keep some physical presence, additional space will be needed per employee to meet new work and safety health standards for social distancing. This may be enough to mitigate the potential business leased-space exodus, but it's a long shot.
Estimates put the increase of remote working, even after the return to the office, to be around 20% of the workforce. The VODI reports indicates that while Seattle doesn't have the highest number of tech remote friendly jobs, that honor goes to San Francisco, it is ranked one of the highest cities for remote workers.
Not reflected in the VODI jobs report, that could explain the much higher vacancy rates in Seattle specifically, is the impact of from the increase in homelessness and lawlessness seen in Seattle over the last 24 months. The problems have caused employers to rethink their plans before returning to office spaces in the central business district of Seattle. Several hundred businesses have re-located out of the Seattle downtown area to more business friendly cities in Puget Sound. The Seattle Business Tax is also driving businesses out of Seattle.
As Washington Policy Center predicted over a year ago, remote working will become more of the normal for many workers and hybrid roles with partial days in the office will drive a change in the space requirements of many businesses.
What is clear is the Seattle commercial real estate market is changing. What is not so clear is if it will recover to the pre-pandemic occupancy levels and if it does, how long it will take.