Taking a big hit to ridership, King County Metro sees COVID-19 recovery as opportunity to "reset"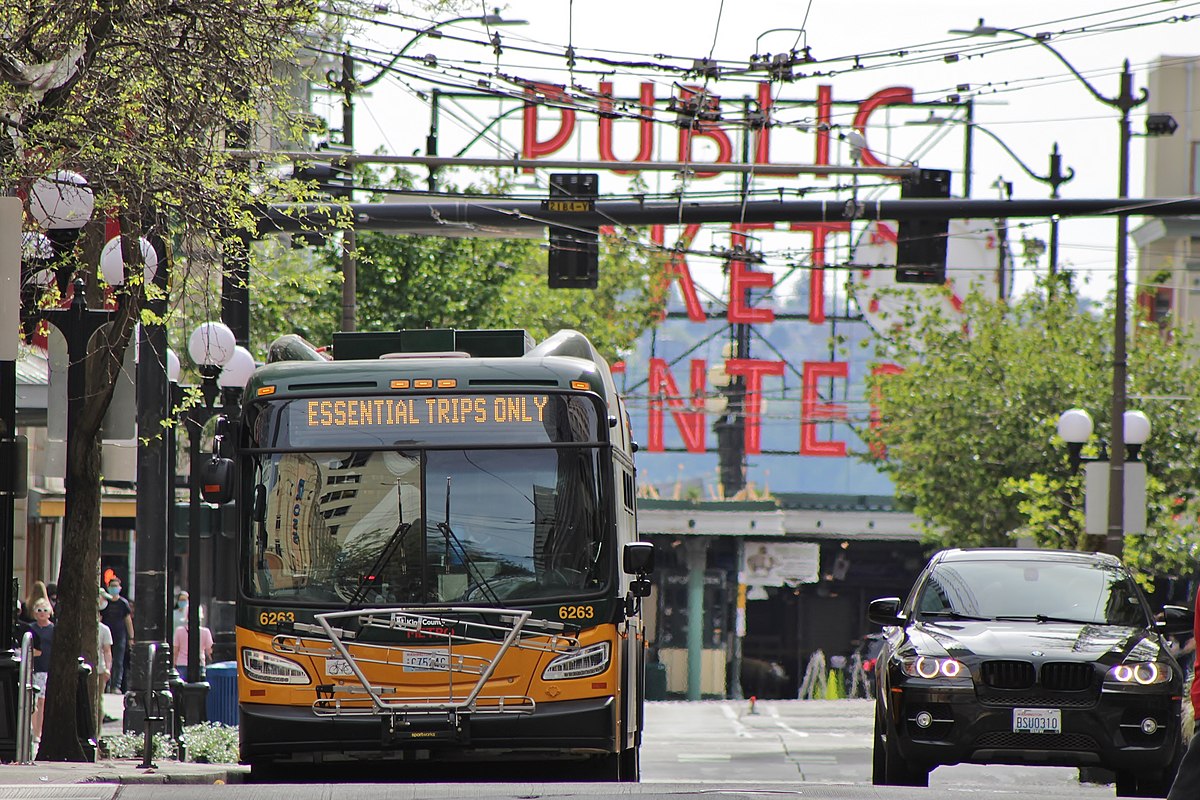 BLOG
In a June 17 update, King County Metro provided information on the agency's COVID-19 response and recovery, as well as the impact of the pandemic on budget and policy.
Metro reported that ridership decreased by about 71% systemwide. However, it is slowly recovering, with bus ridership at about 127,000 daily trips from June 15-19 (compared to 392,000 trips at this time in 2019). This represents a 68% decrease. The agency is operating service at 85% of pre-COVID levels.
Data through June 18 comparing 2020 and 2019 ridership (with a big dip in both years likely due to Memorial Day weekend), provided on the Metro blog:
Metro reports that the highest decreases in ridership occurred during what would normally be peak morning and afternoon commutes. For the May 18-22 period, morning commutes were down 80-83% and evening commutes were down 74-78% compared to 2019. More people are telecommuting, driving and finding other ways to get to work, so this decrease is not surprising.
Metro's farebox recovery is at 25% of operating costs, and the agency is not collecting fares at this time, adding to the agency's revenue loss. A little over $242 million in CARES Act funding will help offset the "$240 to $265 million Metro expects to lose this year in fares and sales tax revenue."
To facilitate adequate social distancing, Metro has picked several higher demand routes and added supplemental daytime trips with 18 buses.This allows fewer people per bus. There are no ridership estimates for the additional trips, and Metro has not reported data for average number of riders per bus. They are encouraging people to only ride transit for "essential trips," closing seats to support social distancing on buses, and requiring passenger limits per bus.
Metro's General Manager Rob Gannon has said that, "currently, buses that could typically carry 50 or more passengers are limited to 12." That's a load factor of 24% and a vehicle capacity loss of 76%. Moving 18 buses from low-passenger routes to peak-period service on busy routes is commendable, but that does not alter the cruel dynamics that buses need higher load factors than 24% for the transit business model to be sustainable. It may be time to create a totally different system for essential mobility services.
Though the decrease in ridership is steep, and likely long-lasting, Metro sees this as "an opportunity to 'reset' and set the region up for a better system post-COVID." In their June 17 presentation, they state "moving to recovery means getting clarity on what we will recover." This will include Metro's long-term stated goal of providing mobility, reflecting fiscal realities given the recession and its long-term impacts, and restoring the public's confidence in their services. The agency recognizes that it will be important to "build the recovery by phases with an ability to flexibly expand, adjust and contract for all components."
All of this is good. However, in their presentation, Metro sends a mixed message by then noting that service changes should align with the pre-COVID goal of "reducing car use by providing frequent service." Rather than aligning the new approach with old, ideological goals that put agency needs above those of the public, Metro should focus on providing mobility in innovative and safe ways for those who depend on its services. This will require open-mindedness and new thinking, which they seem open to.
As Metro transitions into a new reality and a "new way of operating," I hope part of that transition will include creative public-private partnerships with ride-sharing and car rental companies, so that Metro can provide safe mobility services that adapt to customer needs during and long after this health crisis.