State supreme court Justice Mary Yu speaks to "rising applause" at WEA union political rally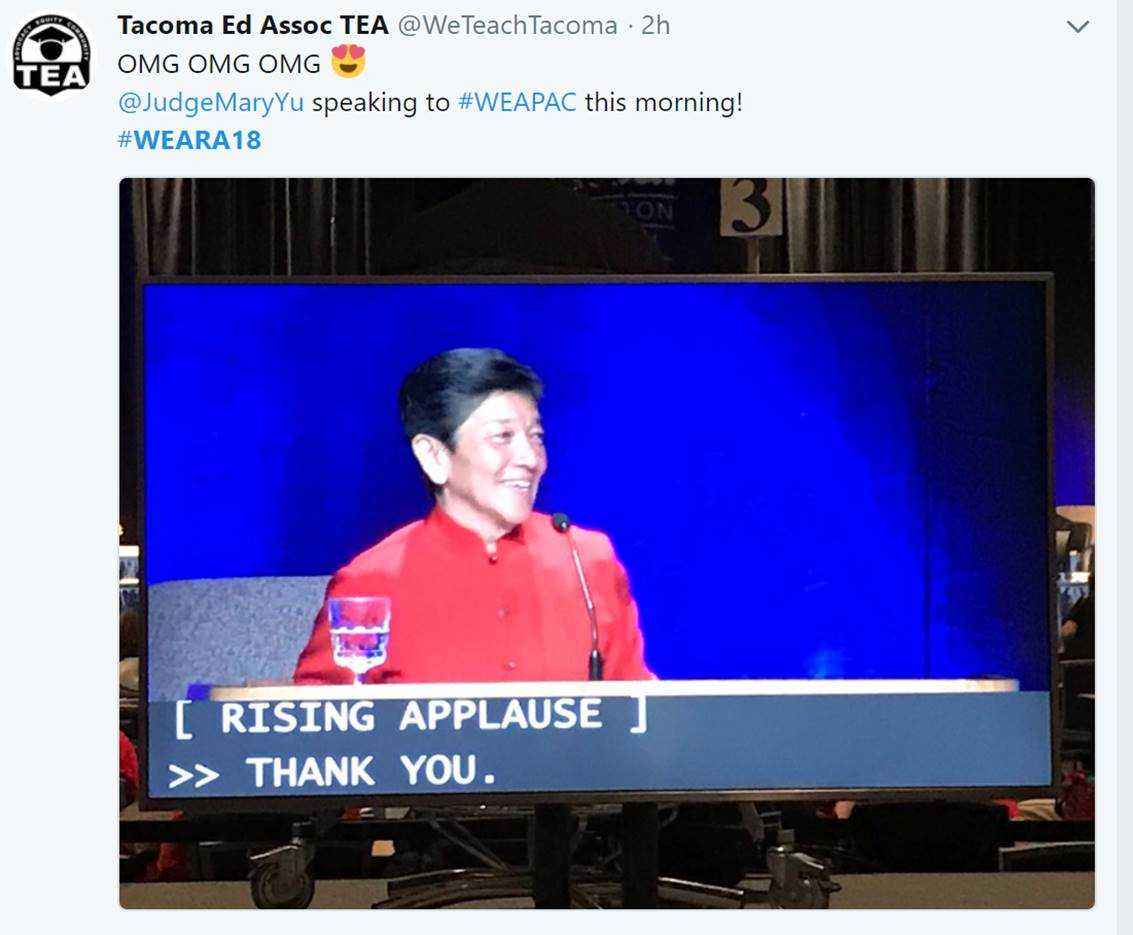 BLOG
On Saturday morning state supreme court Justice Mary Yu gave a speech before WEA-PAC, the political arm of the WEA union. Justice Mary Yu smiled broadly in response to "rising applause" from the WEA-PAC rally.
Within a few months Justice Yu will rule on a case against charter schools brought by the WEA union. The case is scheduled for oral argument May 17th. How can charter school families expect to get a fair hearing when Justice Yu is speaking to, and being cheered on, by their opponent, the WEA union?
The WEA union's case before the state supreme court is the union's second attempt to close charter schools. The union's first attempt almost succeeded when the state supreme court ruled in September 2015 that charter school funding was unconstitutional. This ruling was so illogical and wrong the 2016 Legislature quickly passed a new charter school law. That summer, a few months later, the WEA union filed a second lawsuit against this new law. King County Superior Court Judge John Chun dismissed the union's lawsuit for lacking merit. The WEA union has appealed to the state supreme court, hoping Justice Yu and the other justices will close charter schools again.
The WEA union is determined to deny families access to charter schools, and to force them to stay in schools that don't meet the needs of their children. Today 2,500 students, mostly low-income, minority students, are benefiting from a charter school education. Ten charter schools are now operating in Washington state. They are popular schools. Demand is so high two more charter schools will open next fall.
Charter school families have good reason to wonder about the WEA union's influence on Justice Yu. Justice Yu voted for the WEA union in the court's first ruling to close charter schools. The WEA-PAC supported her campaign for office with hundreds of thousands of dollars. Now she is speaking at WEA-PAC rallies.