New video reveals how Tribal aquaculture in Puget Sound promotes self-reliance as salmon runs are restored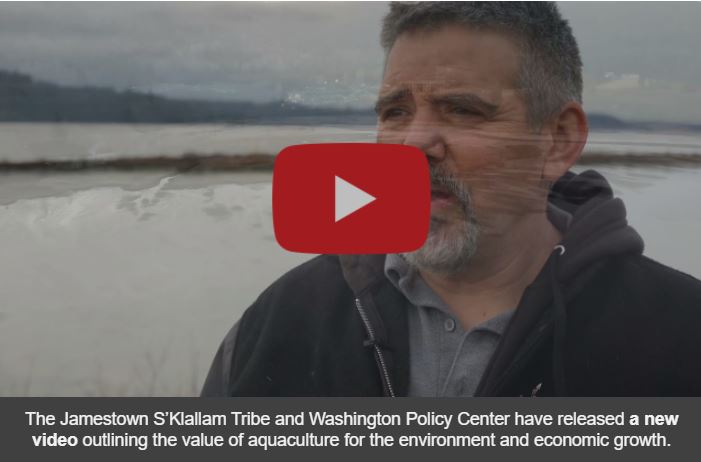 PRESS RELEASE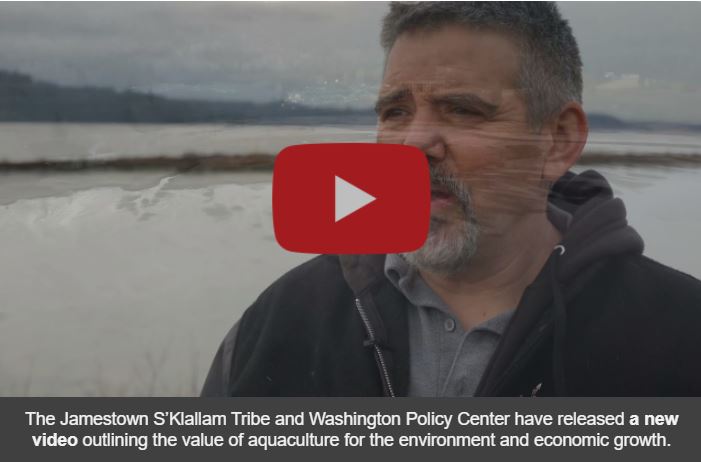 ​FOR IMMEDIATE RELEASE:
10/11/2021
The decline in salmon populations in Puget Sound has impacted tribal communities across the region, reducing their ability to harvest traditional sources of food. As a result, some tribes are diversifying into aquaculture to provide economic opportunity and food for the community. The Jamestown S'Klallam Tribe is a leader in this area, developing sablefish aquaculture in partnership with the University of Washington and NOAA Fisheries. The Jamestown S'Klallam Tribe and Washington Policy Center have released a new video outlining the value of aquaculture for the environment and economic growth.
"As we work to restore salmon populations in Puget Sound, tribes are finding creative ways to feed their members and become more self-sufficient," said Todd Myers, Environmental Director of Washington Policy Center. "Tribes have the local control and flexibility that allows them to follow good science to manage aquaculture that is sustainable and provides healthy food."
The video features Kurt Grinnell, who was vital in creating the tribe's aquaculture program, describes the tribe's program and addresses common questions about aquaculture, including cost and environmental impact. Grinnell tragically passed away earlier this year.
"Kurt Grinnell's impact on the Jamestown S'Klallam Tribe's vision and mission has been immeasurable," said Tribal Chairman and CEO of the Jamestown S'Klallam Tribe, W. Ron Allen. "At a time when he saw many of our traditional fishery resources in decline, he looked to aquaculture—finfish and shellfish—as a significant part of our 'Self-Reliance' goal to create jobs and a new revenue source for programs and services while working to restore those traditional resources. Kurt was always about respect, integrity, and vision. He knew the Tribal vison was complex, but he was determined that aquaculture be a part of it. Tribal Council is determined to make that happen – for our future generations, and to honor Kurt's memory and vision."
The video is available on Washington Policy Center's YouTube channel: AQUACULTURE IN MEMORY: Jamestown S'Klallam Tribe's Practice and Vision - YouTube
The Jamestown S'Klallam Tribe is a small and very stable sovereign nation located in and around Sequim, WA. Since being one of the first Tribes to participate in the Self-Governance demonstration project in the late 1980s, Jamestown has grown its programs and services to promote citizen self-reliance and protect its Treaty Rights. The Tribe's Self-Reliance goal through it businesses is develop unrestricted revenue to fund these programs and services. Tribal Chairman/CEO W. Ron Allen has served for more than 40 years, and is a well-respected Elder statesman for Indian Country at the international, federal, state, regional and local levels. The Tribe owns and operates Jamestown Family Health, the largest primary care medical facility in Clallam County, serving more than 17,000 local residents, both Native and non-Native, and provided more than 30,000 COVID-19 vaccines to local residents in 2021. The Tribe operates Jamestown Family Dental Clinic (which offers much-needed pediatric dentistry), Northwest Native Expressions Gallery, Jamestown Excavating, Jamestown Capital, Cedar Greens Cannabis, Carlsborg Self-Storage, Jamestown Seafood, Point Whitney Shellfish Hatchery, plus the entities that comprise 7 Cedars Resort, i.e. 7 Cedars Casino, 7 Cedars Hotel, Cedars at Dungeness Golf Course, and the Longhouse Market and Deli. Its business future plans include a 250 RV park, Truck Stop C-Store and an Aquaculture Fish Farm. The Tribe will open the first Medication Assisted Treatment Clinic on the Olympic Peninsula, called the Jamestown Healing Campus, in the first quarter of 2022, to be a part of the solution to the rural substance abuse crisis. The Tribe owns the Dungeness River Nature Center educating the general public on the cultural values of protecting the environment and habitat.
Washington Policy Center is a free market oriented, public policy think tank that offers market-based solutions for Washington state. Todd Myers runs WPC's Center for the Environment and has worked in environmental policy for more than two decades. He is a member of the Puget Sound Salmon Recovery Council's executive board, and previously worked at the Washington State Department of Natural Resources. He is also a beekeeper and manages 250,000 honeybees.