Last chance to testify for real emergency powers reform
BLOG
The House State Government Committee has scheduled a public hearing on Presidents Day (February 21) to hear citizen comment on SB 5909 (emergency powers). Remote testimony signup is available here. Next Monday's hearing will be the last opportunity for Washingtonians to provide public testimony on the need for the legislature to adopt real emergency powers reform to require affirmative legislative approval for the continuation of a restrictive emergency proclamation. As adopted by the Senate, SB 5909 will do little to change the status quo.
Political commentator Brandi Kruse did a great job explaining why SB 5909 as passed the Senate isn't real emergency powers reform:
As noted by Brandi, the Governor knows that SB 5909 isn't real reform. The Speaker of the House also previously indicated the proposed policy would change little.
In contrast, consider the current legislative debate in Hawaii. Hawaii, like Washington, has very weak legislative oversight for emergency powers. The Democratic legislature in Hawaii, however, is considering a meaningful emergency powers reform that would require legislative approval for emergency orders to continue after 60 days. This policy is very similar to what is proposed by HB 1772 (a bill that received more than 5,000 public sign-ins when heard earlier this year).
As explained by the Honolulu Star-Advertiser this week:
"Colin Moore, director of the University of Hawaii Public Policy Center, pointed out that in other states 'it's relatively common for the Legislature to have some power to override a governor's emergency declaration.'
. . . Moore said that consensus in the Legislature for a bill to limit the governor's emergency proclamation powers is clear. If Ige vetoes one of the bills after it passes, Moore said, the Legislature will likely override it.
. . . Moore is confident that at least one of the bills will pass out of the Legislature. 'There seems to be pretty clear consensus among lawmakers … that they want to pass some version of a bill to limit his sort of expansive authority to declare emergencies.'"
Washington lawmakers should do the same and pass real emergency powers reform.
Harmonizing the existing law so that both waiving of statute and restrictive proclamations expire after 30 days unless the legislature votes to continue should not be controversial. There is no logical reason to treat those emergency actions by the Governor differently.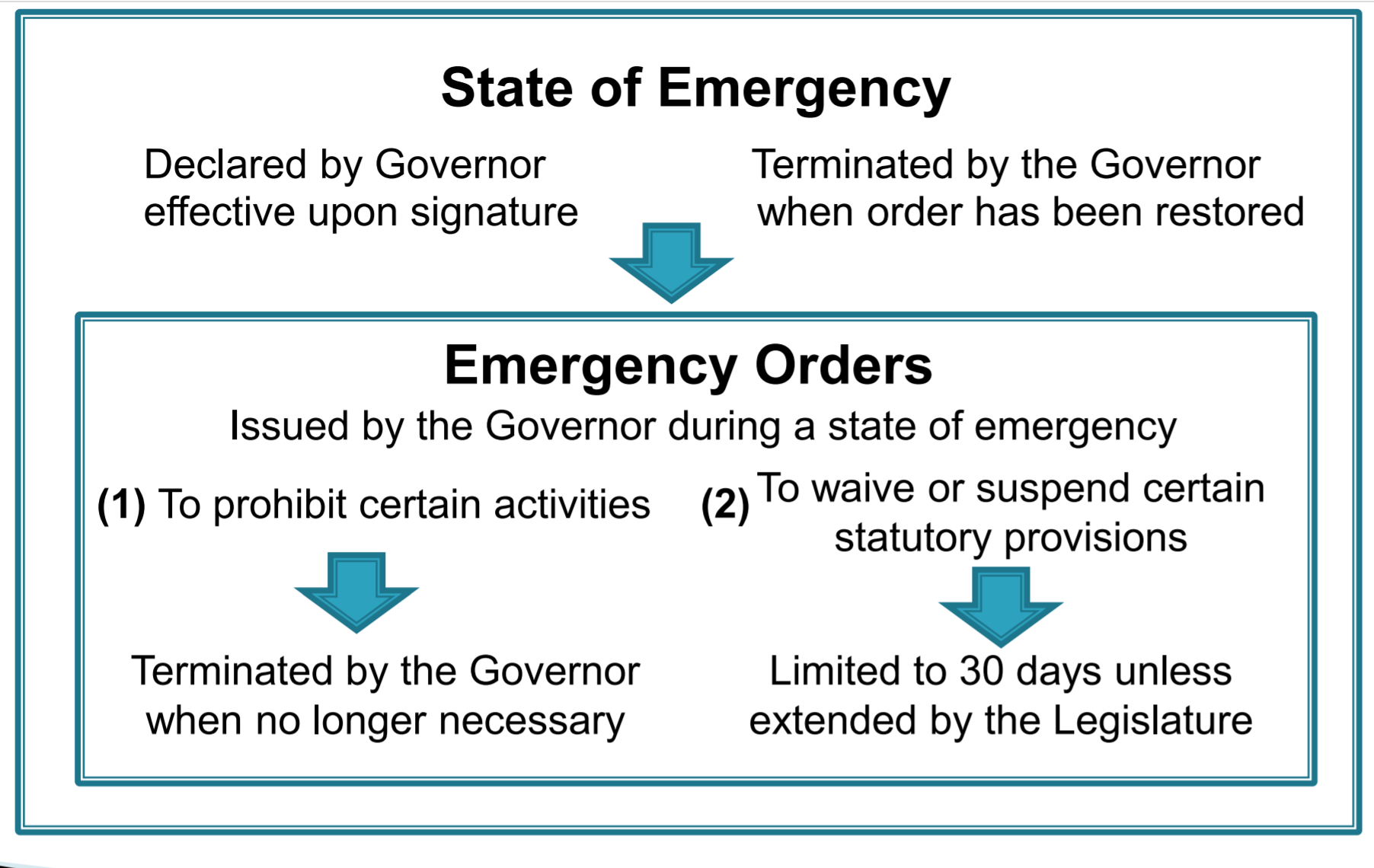 Requiring affirmative legislative approval after a set point in time removes not a single tool from the Governor's toolbox. All existing authority remains, the only change is that the closed-door policymaking is required to be justified to the people's legislative branch of government to continue a policy (i.e., the separations of power and checks and balances envisioned and promised under our republican form of government).
The Governor should not fear being required to make the case to lawmakers why a particular emergency restriction is appropriate to continue, and the legislature should not hide from its constitutional responsibility to debate and adopt policy.
Additional Information
Senate adopts emergency powers reform in name only
WPC emergency powers reform testimony