I-405 toll lane study says to get out of hole – dig deeper.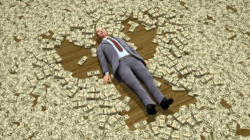 BLOG
*Note: this blog is part 2 of a short blog series on the University of Minnesota I-405 toll lane study released on 12/13/17. Read part 1 here.
The two-year experiment with I-405 Express Toll Lanes (ETLs) ended on September 27th of this year. A final report was presented to lawmakers today. The study was completed by the University of Minnesota, overseen by the state Joint Transportation Committee.
To keep the lanes running, state transportation officials need to meet two performance metrics: revenue and speed targets. While state officials say they are meeting the revenue requirement, they admit the lanes are failing federal and state requirements for speed reliability. State law says that if adequate speeds are not met within the two-year test period, ETLs must be shut down.
The newly-released study confirms that ETLs are failing to meet the speed requirement, but does not consider terminating the program per state law.
Instead, it offers several short-term and long-term recommendations to improve operations so the state can continue to collect toll revenue.
The short-term recommendations include:
Changing the tolling algorithm because toll rates are "too low as traffic volume builds in the ETL," which WSDOT could have done at any point in the last two years. This means WSDOT could "make prices rise from the 75-cent minimum toward $10 or beyond much earlier."
Translation: higher tolls

Segmenting tolling (quickly changing prices in each segment of the highway) and restriping for more access points so people can merge in and out as toll rates would no longer be locked in for the entire trip.
Translation: higher tolls

Removing WSDOT's own proposed cap on tolls, and increasing the maximum toll rate amount beyond $10.
Translation: higher tolls

Expanding the peak period from 5-9AM to 5-10AM to boot out 2+ HOV motorists who use the toll lanes for free between 9-10AM.
Translation: an additional hour for the state to collect more tolls while padding their performance metrics, at the expense of 2+ HOV commuters.
The long-term recommendations include:
Extending ETLs in each direction (they'll work when they're big enough!).

Adding auxiliary lane capacity for corridor continuity.

Increasing transit options by implementing I-405 master plan transit improvements, which they say will reduce congestion – a claim even Sound Transit denies.
All of these recommendations translate to more money being paid by drivers for the ongoing, unmet promise of a faster commute.
These recommendations are also largely more of the same tweaks from WSDOT officials, who will do anything to make the tolls work for them, despite promises to commuters.
Whether it's changing the tolling algorithm, or removing the cap and raising the toll limit, changing the frequency at which tolls change throughout the corridor, extending toll lanes, or rationing desperately-needed general purpose capacity – WSDOT officials seem less concerned about mobility and more concerned about profiting from toll revenue and managing travel behavior.