Head-scratcher: State's mask order for health care facilities is ending, vaccine mandate on employment is staying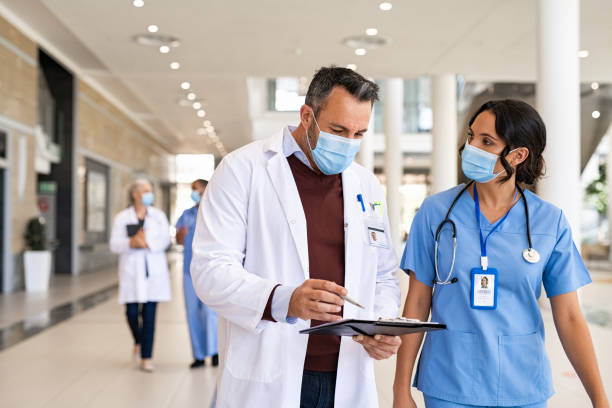 BLOG
Masking requirements for Washington's health care, long-term care and correctional facilities will end April 3, says the Washington state Department of Health. The ability for those facilities to continue mask precautions and the ability for individuals to keep wearing masks remains, of course, as should be the case. But a state policy requiring what these facilities do about mask-wearing is ending.
Meanwhile, Jaime Smith, executive director of communications for the governor, tells me, "There is no current discussion about changes to employee vaccination policies."
The vaccine mandate on remaining and future employees of small cabinet and executive agencies is outdated and seems more about politics than health. A lifting of mask orders in facilities with health-sensitive populations further suggests that.
The Secretary of Health's mask order, still in place until April 3, requires universal masking in those facilities for people aged 5 and older. Any mask that fits snugly and covers one's mouth and nose fits the purposes for the order. That provision has made the mask mandate questionable to some, as we know COVID-19 is transmitted in the air we breathe, not just when a droplet lands our way.
Why end this requirement now? A March 3 press release says, "In Washington, COVID-19, RSV, and influenza disease rates and hospitalizations have continued to decline since the end of last year." That's cause for celebration. The press release adds that the masking decision aligns with a similar announcement made in Oregon.
For a flashback on the state's masking path, read the order. It reminds you of all the stops we've had along the way since a June 2020 directive ordered all Washingtonians to wear a facial covering in any indoor or outdoor public setting. That was the same timeframe that attendance at mass side-by-side protests was talked about and tolerated differently than attendance at school or even outdoor sporting events and church. Public policy and sentiment surrounding precautions needed to combat COVID-19 have been confusing and contradictory for a long time. Not just this month.
The governor's vaccine mandate on state employment — and the ill will it helped fuel among families and communities and in workplaces — is still going strong. The employment mandate is defended by Gov. Jay Inslee at every turn.
That's a head-scratcher. Even if vaccines end up being able to take credit for preventing some severe illness and death from or with COVID-19, as they appear to be doing (see state and King County COVID-19 outcomes by vaccination status here and here), vaccine mandates on employment can't. A comparison of death rates among states with and without vaccine mandates shows that Inslee's mandate is unable to take credit for better COVID-19 outcomes. There are clearly many factors involved in good or bad COVID-19 outcomes. Crediting mandates paints an incomplete picture.
Last March, I wrote that two states without vaccine mandates on government employees (Alaska and Utah) and two states that had them but allowed for testing alternatives (Hawaii and Vermont) were beating Washington state when it came to COVID-19 death rates. That remains true today, according to data found here and here.
While not providing a demonstrable public health benefit, the vaccine mandate on employment has added to workforce issues that lower the quality of taxpayer-funded services. More importantly, it has ruined some workers' careers and hurt their finances.
Besides the numbers, the mandate also is misguided in that it hits the working-age population, which is not the group most at risk of dying from or with COVID-19. It also fails to recognize the science of natural immunity. A recent study published in The Lancet found that the immunity generated from a COVID-19 infection is "at least as high, if not higher" than that provided by two doses of an mRNA vaccine, study authors write.
Neighboring Oregon rightly abandoned its vaccine mandate on employment last March. Gov. Kate Brown, who was Oregon's governor at the time, said of the move that "extraordinary emergency" orders were no longer necessary as "we learn to live with this virus."​​ King County and Seattle no longer require proof of vaccination against COVID-19 as a condition of employment, either. Those vaccine mandates ended in February. Inslee should have hopped on those — and other — bandwagons that have come his way.
The science that unvaccinated and vaccinated people spread and contract COVID-19 wasn't enough to end Inslee's mandate, which started as a pitch to keep others safe. When the federal Centers for Disease Control and Prevention decided to remove the distinction between the vaccinated and the unvaccinated, that didn't change the state policy either.
So far this legislative session, leadership has not shown interest in intervening. House Bill 1801, eliminating COVID-19 vaccine requirements for new or prospective employees of state agencies, isn't moving forward. Neither are other bills related to reconciling the way state workers were treated.
Unions that represent state employees should be asking for an end to the outdated employment mandate, given all we know about COVID-19, the vaccines' strengths and limitations, and the science behind natural immunity. Their future workforces could be adversely impacted by the limitation on who can be hired.
How the governor had the authority to make this employment mandate remains murky. I have sought information and interviews to help me better understand. And I have asked the governor's office if that authority means that the governor could mandate other health-related choices of state employees.
The end of the state's mask mandate in health and correctional facilities April 3rd should have the governor better explaining the continued wisdom of a vaccine mandate that has hurt workers and the state.