Employment & Scholarships
---
Washington Policy Center (WPC) is a non-profit, independent public policy think tank that works to improve the lives of Washington state's citizens by providing high-quality and innovative solutions for policymakers, the media and the general public. We have a statewide staff of 20, an annual budget of $3.5 million, and offices located in Seattle, Olympia, Tri-Cities and Spokane. We hold approximately 50 events per year ranging from exclusive gatherings, conferences and lunches for 200-300 and our Annual Dinner with more than 2,000 attendees.
WPC's research centers are the core of the organization. We focus on key areas including Agriculture, Education, Environment, Health Care, Government Reform, Small Business, Transportation and Worker Rights/labor reform issues.
---
The Washington Policy Center is now accepting applications for the following positions:
Coles Center for Transportation Director
Washington Policy Center is seeking qualified candidates to join its team of researchers in the role of director for transportation policy.
The primary responsibility of the Director of WPC's Coles Center for Transportation is to
research and analyzes best practices for relieving traffic congestion, with specific focus on highway and transit projects and how tax dollars are spent. We support people getting to the places they want to go the way they choose to get there, not the way government planners want them to get there by micro-managing people's lives.
WPC promotes public policies that tap free market competition to lower costs and increase service, and promote the broad personal choice and mobility for the traveling public.
The Director oversees the Center's workplan, performs a variety of research, and write studies and other publications related to transportation issues of statewide significance. The Director also retains and oversees the work of occasional outside contributors and Research Fellows.
Major areas of focus over the years have been:
Sound Transit's light rail expansion and agency accountability.
Road Usage Charge (mileage tax) development and implementation efforts in the state.
Advocating for direct user fees and maintaining the users-pay/users-benefit principle in transportation policy.
Puget Sound Regional Council's (PSRC) regional transportation plan.
Interstate 405 tolls and capacity needs.
Key Facts publications for statewide transit agencies.
State transportation policy goals and reducing traffic congestion.
Washington State Department of Transportation (WSDOT) accountability to the public.
Gas tax transparency and delivering road projects efficiently and on time.
The Director works with the Vice President for Research to manage the Center's work plan, perform background research, meet project timelines, and ensuring our published work is accurate and fact-based. Other duties include:
Managing the Transportation Center budget in collaboration with other departments and supervisor.
Working with with state and national transportation policy experts to expand the impact of our free market transportation policy recommendations
Responding to transportation policy inquiries from lawmakers, media and members of the public.
Presenting our research civic and community groups.
Presenting our research to traditional and online media, and responding to media inquiries.

For full details, responsibilities and job description, click here.
Development Manager
Washington Policy Center currently has an opening for a Development Manager on our 5-person Development Team. This is a regular, full-time position based in Seattle. The Development Manager will work with the Development team to help raise our annual budget and ensure we maintain top-notch stewardship and communication with our donors. This position works closely with and reports to the Development Director.
The Development Manager oversees WPC's Annual fund programs. This position assists in the development of goals and strategy for all fundraising campaigns. The Development manager plans and implements marketing programs and stewardship strategies to increase donor interest and engagement. This position will be responsible for the design and implementation of the annual direct mail program and cultivate targeted individual support. The Development Manager will oversee the database and manage the Development Coordinator.
This role would be perfect for someone who is detail-oriented with strong written and communication skills. The ideal candidate would have 2-5 years of experience working in a fundraising
Key Responsibilities:
Implement annual fund plan, managing donors who give under $1,000
Track all donor information and fundraising metrics and report on status of goals and objectives to leadership quarterly
Manage and execute development systems and processes, evaluating regularly
Track development expense and revenue budget as overseen by the Development Director
Oversee database management and data health
Manage WPC's Annual Fund donor base
Oversee and execute WPC's Direct Mail program, managing a solicitation and stewardship calendar which includes Housefile, prospect and relationship mailings
Manages WPC's digital fundraising efforts
Develop donor engagement strategy to further current and long-term organization goals that all interactions with our programs and reflect WPC's quality standards and mission
Assist the development team with annual donor events
Assist with donor communication and sponsor coordination for WPC's annual gala event, the Annual Dinner
For full details, responsibilities and job description, click here
Young Professionals Coordinator
The Young Professionals Coordinator position at Washington Policy Center offers a great opportunity to gain valuable experience in administrative responsibilities, event planning, policy research, coordination of YP and college club activities, and development in a high-profile, non-profit environment. Based in WPC's Spokane office, the YP coordinator works closely with, assists, and reports to the Young Professionals Director. This position, in coordination with the YP Director, runs WPC's Young Professionals activities in Eastern Washington; manages all college club outreach; and manages the YP Mentorship program, among other responsibilities. This is a full-time position (40 hours/week).
Key Responsibilities:
Closely with YP Director to execute newly developed three-year strategic plan
Manage Customer Relationship Management (CRM) system for YP events, College Clubs, and YP Mentorship Program
Manage all Young Professionals College Clubs, working closely with club officers to coordinate campus events, outreach, and officer recruitment
Coordinate YP Mentorship program
Manage YP Book Club logistics
Manage Spokane Steering Committee & Communications
Coordinate logistics, marketing materials, and communications for EWA YP events
Maintain an inventory of YP supplies in the EWA Office
Occasional writing and editing of original copy for publications, blogs, website and/or promotional use
Work with YP Director to improve and broaden YP's overall presence across Eastern Washington
Cultivate new and current EWA relationships with YP members and community partners
Occasional writing / research assistance on local government, agricultural and government reform issues in Washington state
Assist YP Director and WPC's development team on fundraising efforts for the YP program, including, but not limited to, event fundraising and direct mail
Work with YP Director to plan and execute Washington Policy Center's YP strategic communications efforts
Perform duties within Raiser's Edge including, but not limited to, processing event registrations, logging new members, notes, stewardship, solicitations, and updating member info
Support the YP Director in managing member development and stewardship
Work closely with YP Director on membership renewal process(es)

Job Description Transportation
WPC's Janet and Doug True Research Internship Program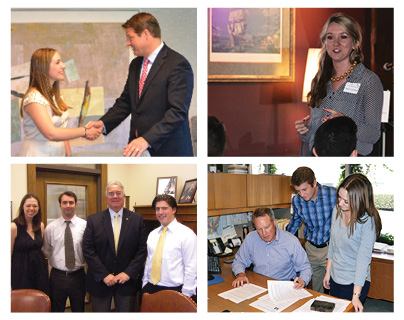 Washington Policy Center offers part-time internship positions geared toward undergraduate students and recent graduates for each academic quarter including summer. Interns work approximately 12 hours per week. WPC allows flexible hours to work around the intern's class schedule while attending nearby colleges and universities. Through the Janet and Doug True Research Internship Program, WPC has had the privilege of excellent interns each quarter since 1999. Former WPC interns have gone on to work in Washington D.C., have run for office, have completed prestigious academic endeavors and have begun successful careers in the private sector. Many credit their interest in policy to their time as a WPC intern.
---
Scholarships
Click here for information on WPC's Jennifer Dunn Thomson Scholarship.
Click here for information on WPC's Charter School Graduate Scholarship.