WSDOT officials are looking for "creative" new ways to tax drivers to fix their I-405 toll funding gap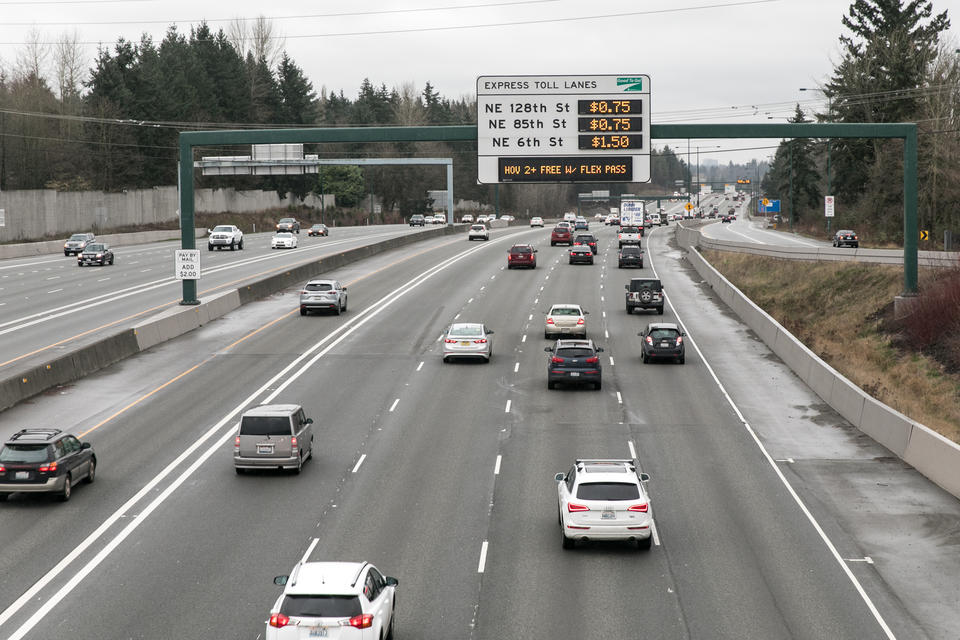 BLOG
Reduced traffic due to COVID restrictions cut I-405 toll revenue in half according to a recent presentation from Washington State Department of Transportation (WSDOT). So, in their relentless efforts to expand the toll system, agency staff are exploring "alternative financing and funding," including new taxes. Clearly, they believe that expanding the failing program will make it work; the solution to tolling problems is more tolling.
Prior to the pandemic, I-405 and SR 167 averaged $3 million in toll revenue each month. That dropped to about $1 million per month, according to WSDOT at a recent Eastside Transportation Association meeting. Currently, toll revenue is trending at $1.5 million per month, about half of pre-pandemic levels.
Rather than pushing I-405 projects further out to reduce the funding gap (but then dealing with inflation and higher costs), WSDOT officials are now looking at a way to deliver those projects through a "modified delivery." Modified delivery would adjust the schedule by "prioritizing delivery of [the bus rapid transit] and [express toll lane] system, and reducing the funding gap by increasing revenue.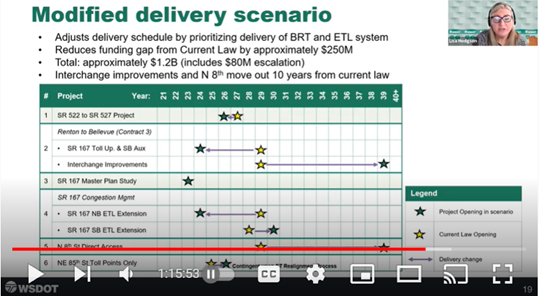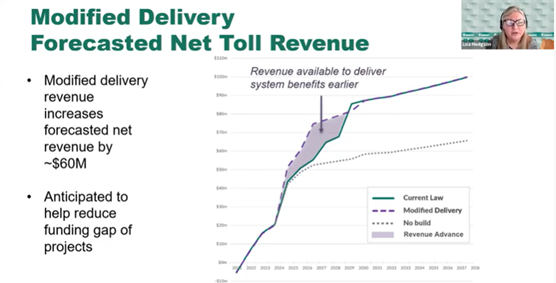 WSDOT staff say that expanding projects through this approach would build revenue faster in the earlier years. If paid by tolls, I would expect the funding gap will cost a 30% hidden premium due to the high cost of toll administration. In short, to pay for a $600 million gap, toll-payers would be on the hook for $780 million.
WSDOT officials say that this effort will likely require a combination of multiple "creative" new funding and financing options. Considering the long list of transportation taxes, fees and tolls drivers already pay, the fact that WSDOT staff will be looking for "creative" new ways to take money from people for toll expansion should raise red flags for both taxpayers and lawmakers.
Below is an image from WSDOT's presentation that outlines the potential funding and financing that may be considered.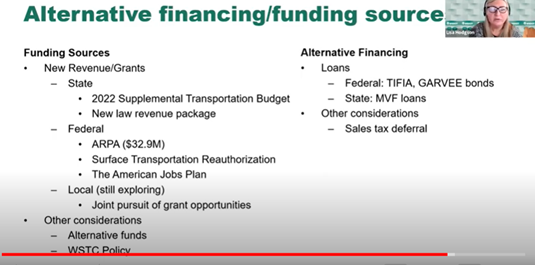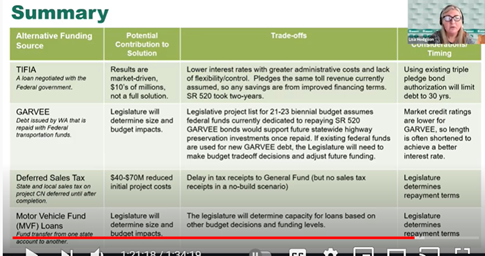 Among the funding sources, WSDOT may look for new revenue from a transportation tax package, which has been on the table for a few years and will come up again this next legislative session. Other options include higher tolls, federal grants, and financing by borrowing money from the state's Motor Vehicle Fund (MVF). The MVF is a constitutionally protected account for fuel taxes, which cannot be spent on non-highway purposes.
It is concerning that WSDOT officials may seek to dip into this protected account to fund the expansion of the I-405 toll system – since some WSDOT officials appear interested in using the tolls it generates to fund transit operations. A recent public disclosure request showed a 2019 document WSDOT staff put together after passage of Initiative 976, which reduced car tab fees, looking at options for transportation funding. One of the long-term options was to "revisit the assumptions" for toll revenue to make sure it covers the cost of administration, operations, maintenance, and preservation of toll corridors, but also see if they could exploit loopholes to use toll revenue to "cover transit operations." That language was struck out in the draft and replaced with more vague wording about providing "the greatest ability to leverage toll revenue." (See below screen grab)

The Motor Vehicle Fund is already stretched and should not be used to fix WSDOT's tolling problems, especially as WSDOT Secretary Millar repeatedly reminds us that there's not enough money for preservation and maintenance of our roads. Lawmakers have already shifted funding for state patrol and ferries from the state's multimodal account to the MVF, which was supposed to be a temporary fix.
During their presentation, WSDOT indicated legislative action would be needed to implement any of these funding options, so we expect these conversations to continue with lawmakers as we get closer to the 2022 legislative session.