Seattle and Spokane school officials say teachers will get full pay while students receive part-time online learning
School leaders say they have decided not to reopen most public schools in Washington state to in-person instruction. They say they will provide remote learning instead. Parents and students are finally learning what the school year is going to look like if distance learning continues. It's not good.
The remote learning schedules released by Seattle Public Schools and Spokane Public schools, the two largest school districts in the state, show students will be not be getting a full day of instruction. Over the summer the WEA union sought, and received, labor agreements which significantly cut the workday of teachers. Meanwhile, school employees will receive full pay and benefits.
Parents were never allowed to participate in these discussions. It's their children who are falling behind their peers in other states.
Here's the new remote schedule of Spokane Public Schools, a district of 30,000 students. Many parents did not find out about the cut-backs until the week before school started: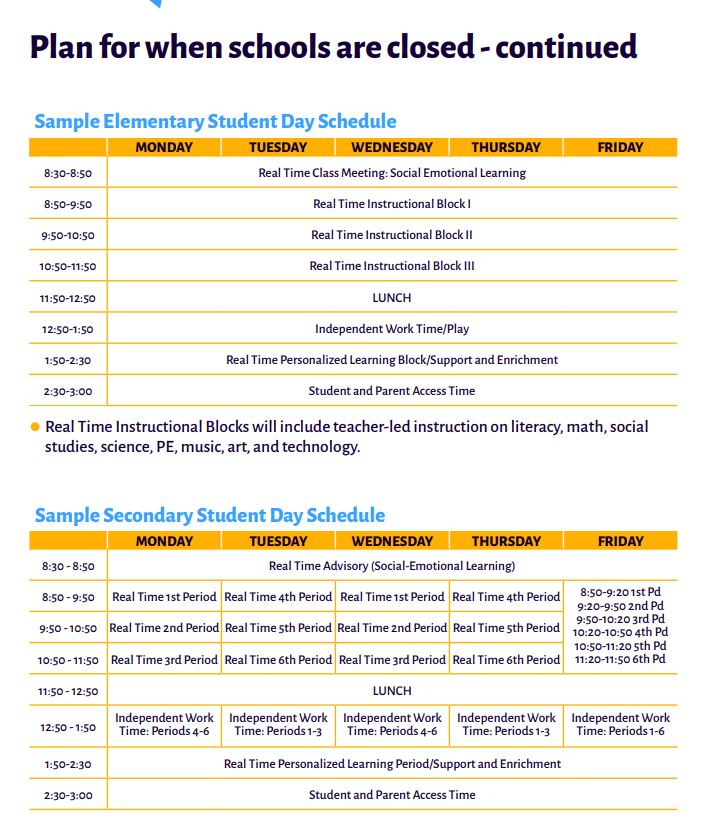 This is a considerably shorter school day than before the COVID lockdown.
Here's the new schedule for Ballard High School in Seattle Public Schools, a district of 53,000 students: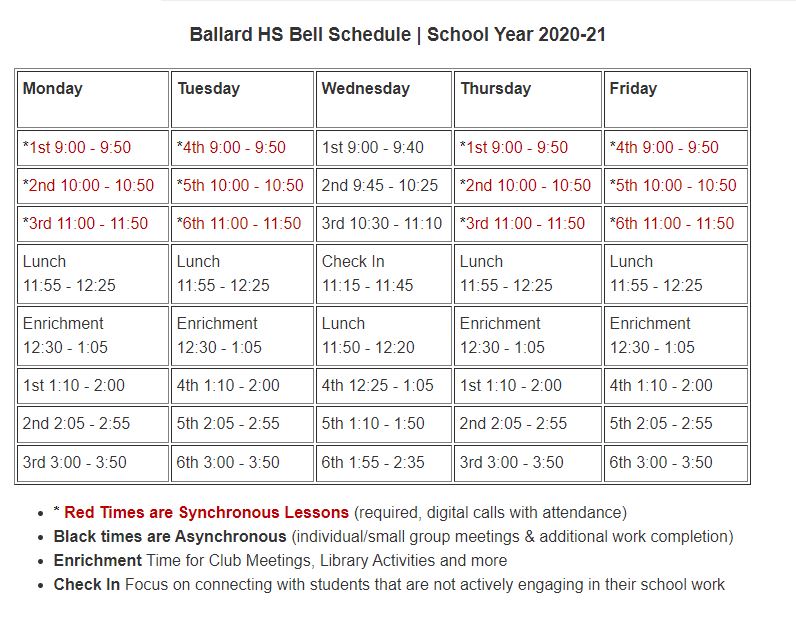 This schedule shows Ballard High School teachers are providing instruction only from 9:00 am to 11:50 am. The district's new agreement with the union says high school teachers only work for three periods day, four days a week, for 12 hours of weekly instruction. Before the lock-down, high school teachers served students for five periods a day, at least four days a week, or a minimum of 20 hours of weekly instruction. See the 2018-19 Seattle Education Association contract with Seattle Public Schools, pp 81-85.
These schedules show the schools, under the influence of the powerful WEA union, have decided to respond to the pandemic by cutting instruction time for students. Teachers are doing less work and children are receiving less instruction. Yet administrators are doing their best to make it appear that students are getting a full day of school, while providing teachers full-time pay for part-time work.
This is deceptive and dishonest. These schedules show teachers are being compensated for time spent by students on independent work. In other words, a student reading a book is considered time spent by the teacher providing instruction. The district and union are misleading the public by calling this "asynchronous learning," that is, students working on their own while their teachers are doing something else.
In 2017 the legislature provided the public schools the largest tax increase in state history. Taxpayers in Seattle and Spokane now pay much higher property taxes for schools.
District administrators gave away this new funding in pay increases for school employees, agreeing to labor contracts they are already saying they cannot maintain. Both districts are now saying they plan to get even higher taxes from citizens. Teachers in Seattle now receive, on average, $110,600 in pay and benefits. Teachers in Spokane now get on average $116,500 in pay and benefits.
Parents are right to be angry. It's become painfully obvious to many that the public schools have pursued their own financial self-interest, not the interests of children, before and during this health crisis.
Families deserve better. The legislature should give families $3,000 per student. If the legislature gave parents control over a portion of state funding, the children could actually get more of the instructional time they have been promised and which Washington's hardworking taxpayers have paid for.