Governor Inslee threatens to withhold funding from public schools that refuse to open
The Governor just told KING 5 TV News reporter Drew Mikkelsen that the state can withhold federal funding to schools that refuse to reopen: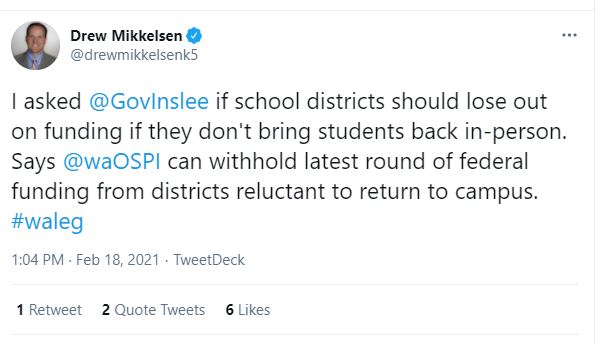 On March 13th, 2020, Governor Inslee issued an order that closed down all schools in Washington state. That was nearly a year ago. Today only 200,000 public school students, about one in five, receive some in-person instruction each week. Less than 1 percent of public school students in Washington state receive traditional in-person instruction five days a week, as these official numbers show.
Meanwhile, private schools and most charter schools have been operating safely for months.
At a press conference on February 16, 2021, Inslee said:
"We have good news in that we are opening our schools for in-person instruction, and this is such good news for our students."
He also said:
"We know that in-person instruction is the best way to do instruction. It's best for the teachers. It's best for the students. It's best for the parents, and we know that this can be done safely."
But then he didn't actually open public schools. All he did was announce a plan to send COVID tests to a few districts.
Today Governor Inslee has apparently decided to do more. He's threatened to withhold federal funds from school districts not willing to reopen. This is one way to get the union's attention.
Another way to help families would be for Governor Inslee to support giving funding from closed schools directly to parents. This way families would receive money to educate their children when the public schools won't.
One kind of public school, though, is doing more to help kids. Charter public schools, like their private counterparts, are free from union interference. Currently, nine out of 12 charter schools are offering in-person learning (hybrid schedules, small group instruction.).
Perhaps it is this competition from private schools and charter schools that is compelling Governor Inslee to act. Both learning choices are more popular with parents than traditional, union-dominated schools.
At least the governor sees the need to act. The people are behind him, even if the union isn't.