Ferry officials promise savings, then boost spending after secret talks with Governor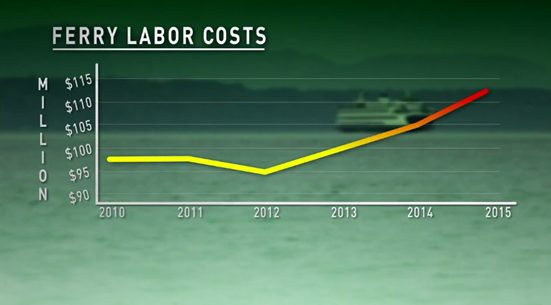 BLOG
(Chart from King 5 News)
"When you have a public agency saying they're going to reform the agency and save money, and then they find ways to pay themselves back – that is dishonest – and it makes it very difficult for the public to trust officials."
That's what I told King 5 News' Chief Investigative Reporter, Susannah Frame, when she interviewed me regarding her ongoing investigation of Waste on the Water, which is a series that exposed "millions of tax dollars [being] wasted for years by management providing extra pay to workers, much of which was not part of collective bargaining agreements." Because of Susannah's findings, Washington State Ferries (WSF) officials promised they would reform the agency and cut costs. In fact, the agency reported that they saved $10 million in travel time between 2011 and 2017.
Meanwhile, in closed door contract negotiations with the Governor's office, ferry unions found ways to effectively pay ferry workers back, through assignment pay and callback pay. We now know that assignment pay cost taxpayers $3 million over the last five years, and callback pay cost $7 million between 2011 and 2015.
From Susannah's latest report:
Steve Rodgers, the former WSF director of operations, sat on the bargaining team for the ferries for ten years. Now retired, he said it was "frustrating" and difficult to negotiate in the best interest of the citizens of the state of Washington with representatives from the governor's office and the OFM Office of Labor Relations leading the bargaining sessions. Rodgers and another WSF employee with firsthand knowledge of the talks said the governor's representatives seemed most interested in currying favor with unions, perennial political donors to politicians...
If these talks were open or a part of the legislative process, as they were prior to 2004, this could have been prevented.
As my colleague, Jason Mercier, has pointed out, "since the secret collective bargaining law went into full effect in 2004, state union executive no longer have their agenda weighed equally with other special interests during the legislative process. Instead they now negotiate directly with the governor in secret, while lawmakers only have the opportunity to say 'yes' or 'no' to the entire contract agreed to with the governor."
We have long recommended that state and local employment contracts should not be negotiated in secret. The money being negotiated belongs to the public, so the public should be included in this process and be able to hold government officials accountable for how they spend their money.
When agencies are not accountable, they tend to be frivolous with taxpayer dollars, as evidenced by WSF and other public agencies. This is especially concerning given that the public is told constantly that there is a transportation funding crisis.
We will continue to track this issue. In the meantime, we will have a group of panelists address collective bargaining transparency at WPC's Annual Solutions Summit next week in Bellevue and Spokane. You can sign up to attend here.