Bill to make gas tax transparency permanent passes House Floor with bipartisan support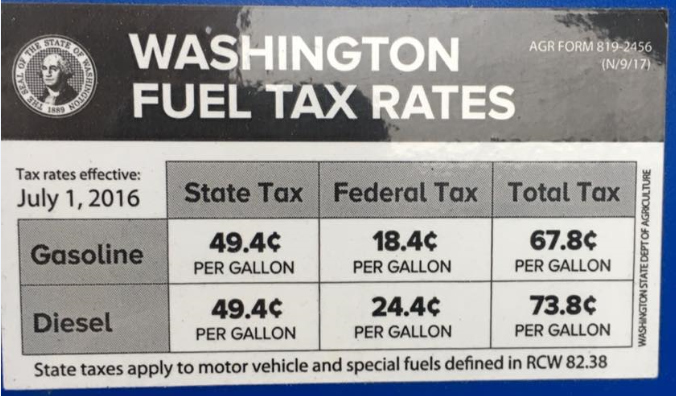 BLOG
Consumers have a right to know, understand and easily verify the taxes they pay at the pump. This has been a longstanding recommendation of the Washington Policy Center, and may become a permanent law this year.
In Washington state, the real price of gas, before state and federal gas taxes are applied, has historically been hidden from consumers. As a result, the advertised dollar price is much higher than the true price of the product.
In 2017, through a budget proviso, new stickers were distributed to gas pumps all across the state to show drivers exactly how much they pay in state and federal gas taxes on gasoline and diesel. This increased visibility represented good policy, encouraging the public to review the fuel taxes they pay and engage with public officials about transportation spending.
Proposed House Bill 1633 would make this policy permanent. The bill passed the House Floor with bipartisan support (92-2) on March 1st and is awaiting a public hearing in the Senate Transportation Committee. The bill has an emergency clause that ensures there is no gap in service – in other words, no pause in the distribution of stickers to gas station pumps.
This policy is especially important today as transportation officials have proposed a carbon tax on top of a six-cent gas tax increase. At the same time, they are promoting a mileage tax and arguing that the high fuel taxes we pay are simply not enough.
We will continue to track this truth-in-labeling law as it moves through the legislative process.