Business Climate
WPC's Center for Small Business focuses on improving Washington's small business climate by working closely with business owners and policymakers. The Center provides accurate information and analysis on the state's regulatory climate, tax structure, health insurance systems, and more.
What's New
Olympia –Washington Policy Center (WPC) will release its new study, "24 Ways to Improve the State's Small Business Climate" today during the annual Small Business Day at the Capitol in Olympia.
Date:
Wednesday, January 23rd, 2008
Place:
Red Lion Hotel and Inn at the Park
WPC's Center for Small Business screened the film "Call of the Entrepreneur," which follows the varied experiences of three entrepreneurs: a failing dairy farmer in rural Evart, Michigan, a merchant banker in New York City, and a refugee from Communist China. The film examines the unique role the entrepreneur plays in American society and the challenges they face.
After several failed attempts, state legislators finally succeeded last year in passing a feel-good paid family leave entitlement program. But once the good feelings of passing such a program passed, there was just one problem: how to pay for it.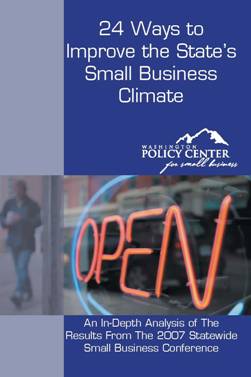 What is the current condition of the economy for small businesses in Washington state? It depends on whom you ask. By some estimates, Washington ranks among the best in the nation; among others our state is somewhere in the middle but nowhere near the top.