Addressing Climate Change: Governments or Markets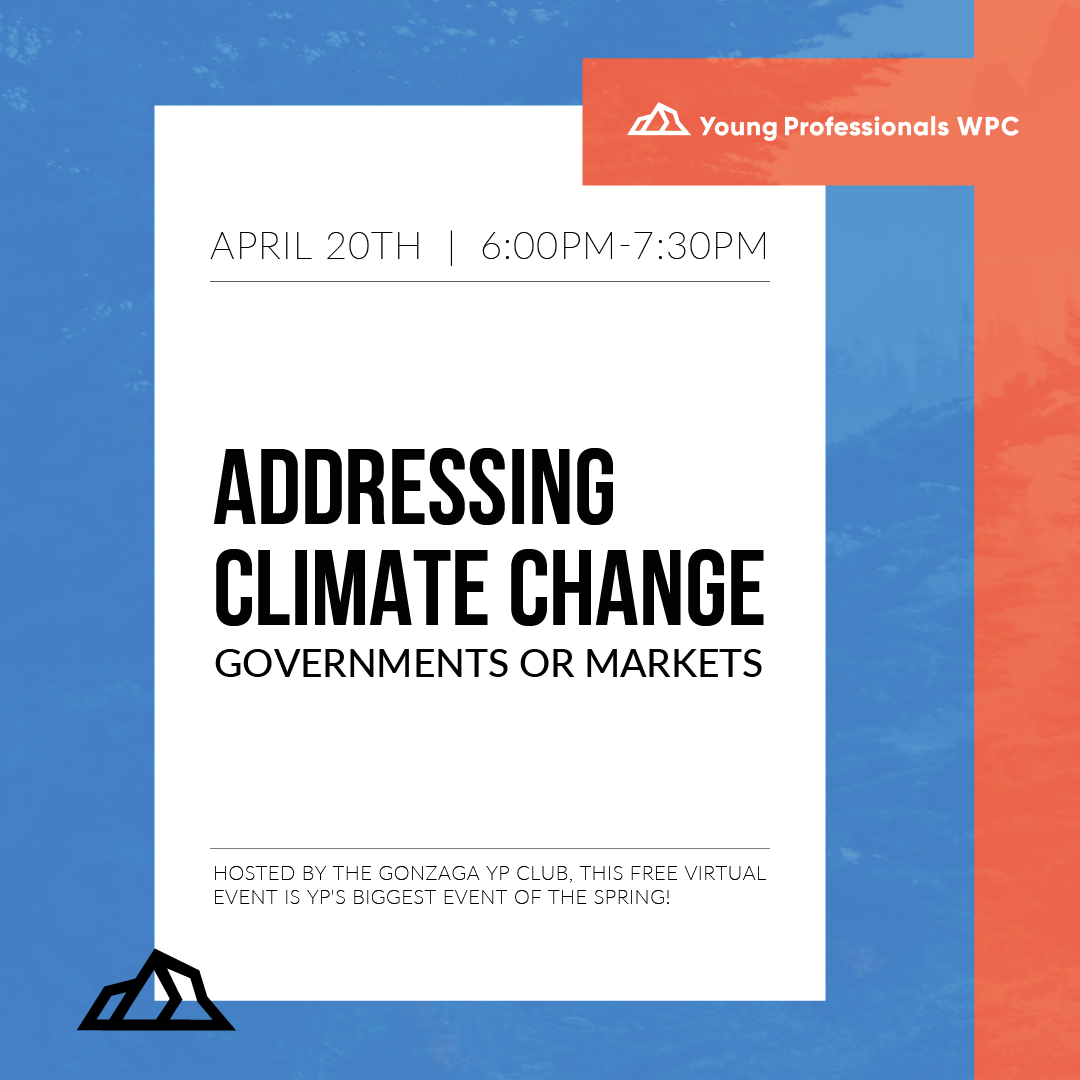 (This event has now passed.)
WATCH A RECORDING OF THE DEBATE HERE ON TVW!
"I'm not a conservative, not by any stretch of the imagination, but I wanted to really commend Washington Policy Center, and sort of the conservative movement in general, for starting a conversation like this. This is fascinating. This is good. This is exactly the sort of thing that we need to be doing. […] That's not to say that we're going to come out of this with complete agreement, but I am gratified to at least play a small role in a conversation like this."
- event panelist Eric de Place of the Sightline Institute
***
Just in time for Earth Day, join YPs for a debate on climate change! Hosted by the Gonzaga YP club, this FREE virtual event is YP's biggest event of the spring!
Our featured speakers include Chris Barnard of the American Conservation Coalition; Steven Ghan of Citizens' Climate Lobby; Todd Myers of Washington Policy Center; and Eric de Place of the Sightline Institute.
MEET OUR PANELISTS:
Christopher Barnard is the National Policy Director at the American Conservation Coalition. He was born in Belgium, lived there for 17 years, and then moved to the UK where he recently graduated with a master's degree from the London School of Economics. While in the UK, he founded the British Conservation Alliance, a pro-market environmental organization, which grew to become the largest environmental student network in the country. He also co-published the book "Green Market Revolution: How Market Environmentalism Can Protect Nature and Save the Planet." He is now based in DC, and heads the policy work at ACC.
Steven Ghan was a climate scientist at the Pacific Northwest National Laboratory from 1990 to 2018 and has been a PNNL Lab Fellow since 2011, following five years at Lawrence Livermore National Laboratory. He earned his bachelor's degree in Atmospheric Sciences from the University of Washington in 1979 and his doctorate in Meteorology from MIT in 1988. He is internationally recognized for his expertise in representing aerosol particles and their effects on clouds and climate in global climate models. He has authored more than 180 publications in scientific journals, is cited in the top 1% of all earth scientists, and served as an editor of the Journal of Geophysical Research.
Todd Myers is the Director of the Center for the Environment at Washington Policy Center. He also serves as a member of the Puget Sound Salmon Recovery Council and was a member of the executive team at the Washington State Department of Natural Resources. Myers is a nationally recognized expert in free-market environmental policy, including issues ranging from energy, climate, forestry and salmon-recovety. He has also served as Vice-President of the Northwest Association of Biomedical Research. He holds a bachelor's degree in Politics from Whitman College and a master's degree in Russian/International Studies from the University of Washington's Jackson School of International Studies.
Eric de Place directs the Thin Green Line program at the Sightline Institute, devoted to shedding light on coal, oil, and gas development in the Pacific Northwest. During nearly two decades at Sightline, he has earned a reputation as an authority on a range of issues, as well as an effective advocate who shapes public policy at the state and local level. He has published more than a thousand pieces of popular writing and technical analysis on sustainability issues. In addition to working with Sightline, Eric also runs an independent consulting practice; in that capacity, he recently designed and launched a new progressive think tank for Appalachia, the Ohio River Valley Institute, where he serves as a senior research fellow.