2021 Annual Dinner Event - Bellevue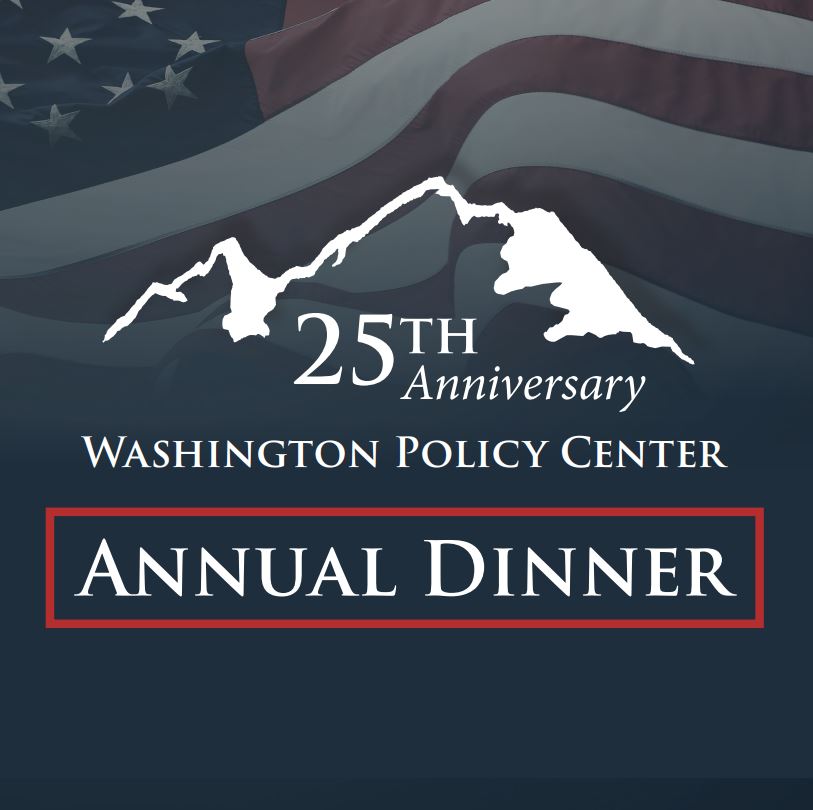 This year's Annual Dinner event marked two special occasions. One was a return to in-person events after more than a year and half of pandemic restrictions kept people from gathering face to face. It also marked Washington Policy Center's 25th Anniversary.
As per state and local health requirements, attendees were required to wear masks except while seated and eating, but that didn't stop our enthusiastic members from catching up with old friends and making the most of the evening. Unlike most previous years, we did not have two keynote speakers. Instead, we focused on sharing WPC's work and impact. Each center director spoke for about 3 minutes providing insight into WPC's impact in their area and the challenges of the road ahead. Attendees were also treated to WPC's newest video for our Free Markets Destroy campaign, "Free Markets Destroy Racism" which details the power of free markets against racism using the Sears catalog as a historical example.
We were also given the opportunity to recognize the Honorable Kemper Freeman, Jr., as this year's Champion of Freedom Award recipient. Mr. Freeman served as a founder of Washington Policy Center, a longtime WPC governing board member, and served as a Washington State Representative. His business developments have largely made Bellevue what it is today. Mr. Freeman is responsible for the creation and development of Bellevue Square, Bellevue Place and Lincoln Square. He is a strong and tireless advocate for regional mobility.
The Champion of Freedom award was presented to Mr. Freeman by his longtime friend, Skip Rowley. Rowley Properties is largely responsible for creating the city of Issaquah. Rowley Properties owns, develops, leases, and manages 65 buildings representing almost a million square feet in a wide assortment of uses including commercial, residential, retail, light manufacturing, medical, storage and two hotels. He is a philanthropist and a visionary and was a high school classmate of Kemper Freeman, Jr.
The award plaque read, "In grateful recognition of your leadership in the business community building Bellevue and the Eastside and as an advocate for mobility in our region; and for your service to our state
and to WPC as a member of our Board of Directors"
Emcee Melanie Stambaugh hosted the evening with her trademark grace and charm.
Our Keynote Speaker, Co-Founder and CEO of Whole Foods Market, John Mackey gave his presentation via a Q&A format with entrepreneur Adam Wary serving as the moderator. The Audience was enthralled with Mackey's unorthodox walk with capitalism and his insights into how Capitalism was less defined by winners and losers and more defined by "love"-- who we serve and how. Mackey asserted that sports metaphors tended to define our perception of capitalism, but unlike most sports where the one with the most points wins, in capitalism, the winners are the broader society-- everybody (or almost everybody) wins.
Mackey announced he'd be leaving Whole Foods toward the end of next year (September) and was looking forward to being free to speak his mind and starting new undisclosed projects.
WPC raised $1.1 million at the event to continue our work bringing free-market solutions to Washington state, an amount made all the more remarkable given the restrictions of our time.
And save the date for our 2022 annual dinner taking place at the Bellevue Hyatt on October 14, 2022.