Meet Sam Winter: Jennifer Dunn-Thomson Scholarship Recipient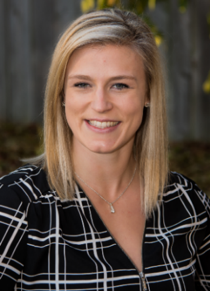 This interview was conducted on August 9, 2018.
Sam is a Treasury Manager for Microsoft Global Cash Management and a WPC Young Professionals Advisory Board Member. While Sam was attending the University of Washington, WPC awarded her the Jennifer Dunn-Thomson Scholarship – an annual scholarship WPC gives to a female college student who embodies the late Congresswoman's values of leadership, public service, and personal values.
WPC spoke with Sam about her experience with YP and why it is important to her.
WPC: How and why did you become interested in the free-market school of thought?
Sam: I grew up interested in math, numbers, and economics. It always seemed logical to me. Free-markets explained to me how the world worked and how good things happen when countries trade with each other. At UW, I had a great professor who told it like a story and it just clicked.
WPC: How did you hear about WPC?
Sam: I got to know WPC through the Jennifer Dunn-Thomson Scholarship. Braden from WPC reached out to me when I was the chair of Young Republicans at UW. We had a unique set up where we partnered with the Young Democrats and tried to host panels and debates. I decided to apply for the scholarship, and that was seven years ago.
WPC: How come you decided to stay involved with WPC after you received the Jennifer Dunn-Thomson scholarship?
Sam: I was a business student, but had friends studying political science and policy. When I got out of school, I realized I didn't like politics, but I like policy. WPC gave me the opportunity to stay involved and informed. I could be part of an influential group. I think our national politics misses the policy piece.
WPC: What have you learned from being a part of WPC? What have you most enjoyed?
Sam: It's the people I meet and having intelligent conversations that I enjoy most. Everyone is there to learn. I have very left-leaning friends who will come to WPC events to listen. You have to know you probably won't change peoples' minds, but it's still important to be informed.
WPC: Has being involved with WPC served you in your career, life, or philanthropic goals?
Sam: It serves my personal goal to be involved in my community in a way that's important. Through supporting WPC, I am supporting quality research that helps our representatives make informed decisions.
WPC: What value do you think WPC brings to the state?
Sam: It brings the value of research, information, and a willingness to stand up to that research. A lot of what we hear today is sound-bite news. WPC has quality and sound research – it does the overall logic work.
WPC: What policy areas are most important to you and why? What is one change you'd really like to see in our state?
Sam: I'm personally most impacted by transportation. I commute from Shoreline to Redmond every day. By the time Sound Transit is done, we'll have self-driving cars. Sound Transit won't get cars off the road. I appreciate how WPC reads the policy on transportation. They are the continued thought-leadership on transportation.
Another area that's important to me is education. I plan to live in Washington, have kids in Washington, and send them to school in Washington. I want my kids to have the best options they can. What we need in Seattle is very different than what you need in Yakima, or Yelm, or Mississippi. The important thing is giving kids in public schools the opportunity to learn the best they can, such as having charter schools as an option.
WPC: What's the biggest impact you've seen WPC have?
Sam: There are too many things. The work on charter schools – getting them passed and through legal battles, the work on the income tax, and changing the way you can testify in Olympia. Because of WPC's recommendation, you can now testify remotely. It's hard to pick one thing!