Transportation
Because being there is what's most important, WPC's Center for Transportation researches and analyzes the best practices for relieving traffic congestion by recapturing a vision of a system based on freedom of movement.
What's New
Date:
Saturday, April 18th, 2009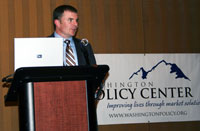 WPC's Transportation dinner was a huge success. We heard from Dr. Samuel Staley, Urban Policy Director for Reason Foundation. Dr. Staley gave an enlightening presentation on how traffic relief can increase opportunity circles and improve business productivity, which is especially important in a globally competitive market. Dr. Staley also provided three broad solutions for Washington policymakers to fix traffic: manage the system more efficiently, build more capacity and redesign the transportation network.