The Washington State Piglet Book: Connecting the Dots on How Government Wastes Your Money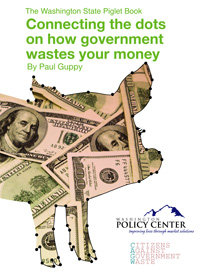 During the November 2007 special session of the legislature, a prominent state senator cornered a well-known taxpayer advocate in a hallway of the state capitol. Waving a three-inch-thick copy of the state operating budget, the senator asked, "Where is the fat in the budget? You won't answer the question and the reason you won't is you're chicken, you're chicken, you are a coward..." and later, commenting to reporters, "This guy is a chicken, a coward, and will not answer the question."

The purpose of this book is not to determine whether anyone is a chicken or a coward, but we agree the senator raises an important question. Those who seek to reduce the tax burden lawmakers place on citizens have an obligation to point out areas of wasteful spending in the budget.
It is also important to see calls for tax cuts in the correct context. Lowering the tax burden does not have to mean cuts in public services. The state budget is constantly growing, and most proposals for tax relief would only result in slowing the rate of spending increase, not real-dollar cuts in current government programs.

Read the full Policy Brief here