'7 Steps to Economic Recovery' Tour
Date:
Wednesday, September 5th, 2012
Place:
Moses Lake Chamber of Commerce
324 S. Pioneer Way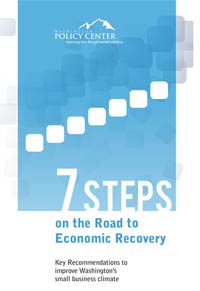 '7 Steps' is on the Road!
WPC's Center for Small Business is embarking on a small business tour through Eastern Washington, calling attention to its new study 7 Steps on the Road to Economic Recovery.
The study includes seven recommendations from small business owners who attended WPC's 2011 Statewide Small Business Conference. Attendees at each event on the tour will be given the booklet for free.
92% of businesses in Washington are small firms. For years, however, the state has provided a rocky climate for business owners. Washington has the third highest business start-up rate and the second highest business failure rate in the country.
The 2012 "7 Steps Tour" will include stops in the following areas:
Walla Walla - June 14, Marcus Whitman Hotel, 11:30 a.m.

Colville - June 26, Stephani's Oak Street Grill, 12:00 p.m.

Chelan - June 27, Lake Chelan Winery, 6:00 p.m.

Spokane - July 3, Ramada Inn Spokane Airport, 11:30 a.m.

Davenport - July 10, Avista Public Meeting Room, 7:00 a.m.

Clarkston - July 11, Quality Inn, 11:30 a.m.

Colfax - July 17, Colfax Golf & Country Club, 11:30 a.m.

Omak - July 18, Koala Street Grill, 11:30 a.m.

Ellensburg - July 19, Quality Inn, 11:30 a.m.

Kennewick - August 8, Leo's Catering, 12:00 p.m.

Grand Coulee - August 9, La Prensa Mexican Restaurant, 12:00 p.m.

Moses Lake - September 5, Moses Lake Chamber of Commerce, 7:00 a.m.