Parent group hopes to open Sunnyside Charter School to serve disadvantaged students
Last fall voters lifted the ban on charter schools, making Washington the 42nd state in the nation to provide a charter school choice to parents. In approving Initiative 1240, voters passed one of the strongest charter school laws in the country. Now that this law is being implemented, engaged parents hoping to open charter schools are emerging all over the state. One such group comes from Sunnyside, Washington, a small agricultural community in eastern Washington.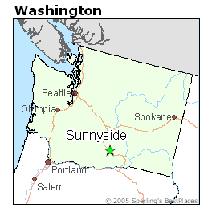 Brittany Weaver, Erin Martin and Tara Condie want to open a Sunnyside Charter School to 250 low-income students. News articles, here and here, report on their plans and hopes.
In Sunnyside, 91% of the students are Hispanic, and 81% are low income. Despite $9,974 spent per student in 2012-13, students in Sunnyside score significantly below state averages in reading and math, as shown by OSPI reports available here.

Think of the odds facing these children. According to OSPI figures, 23%, or 144 children, drop out. Only 41% of Sunnyside's 2011 high school graduates go to college. More than half of Hispanic students in Sunnyside were unable to pass the 2012-13 state tests in reading, math and science.
Why are Sunnyside parents so excited about charter schools? Brittany Weaver, one of the parents behind Sunnyside Charter School, describes their mission statement like this: "We are striving for academic excellence---just meeting the state standards is not enough. We want college and graduate school for everyone."
As we approach the anniversary of passing the charter school law, four districts are working to give local community groups like Sunnyside Charter School the chance to improve the odds for disadvantaged children. It is exciting to watch these groups emerge. I'll continue to watch and report on these promising developments for children.
This report is part of WPC's Initiative 1240 Follow Up Project