Announcing WPC's new Policy Guide for Washington State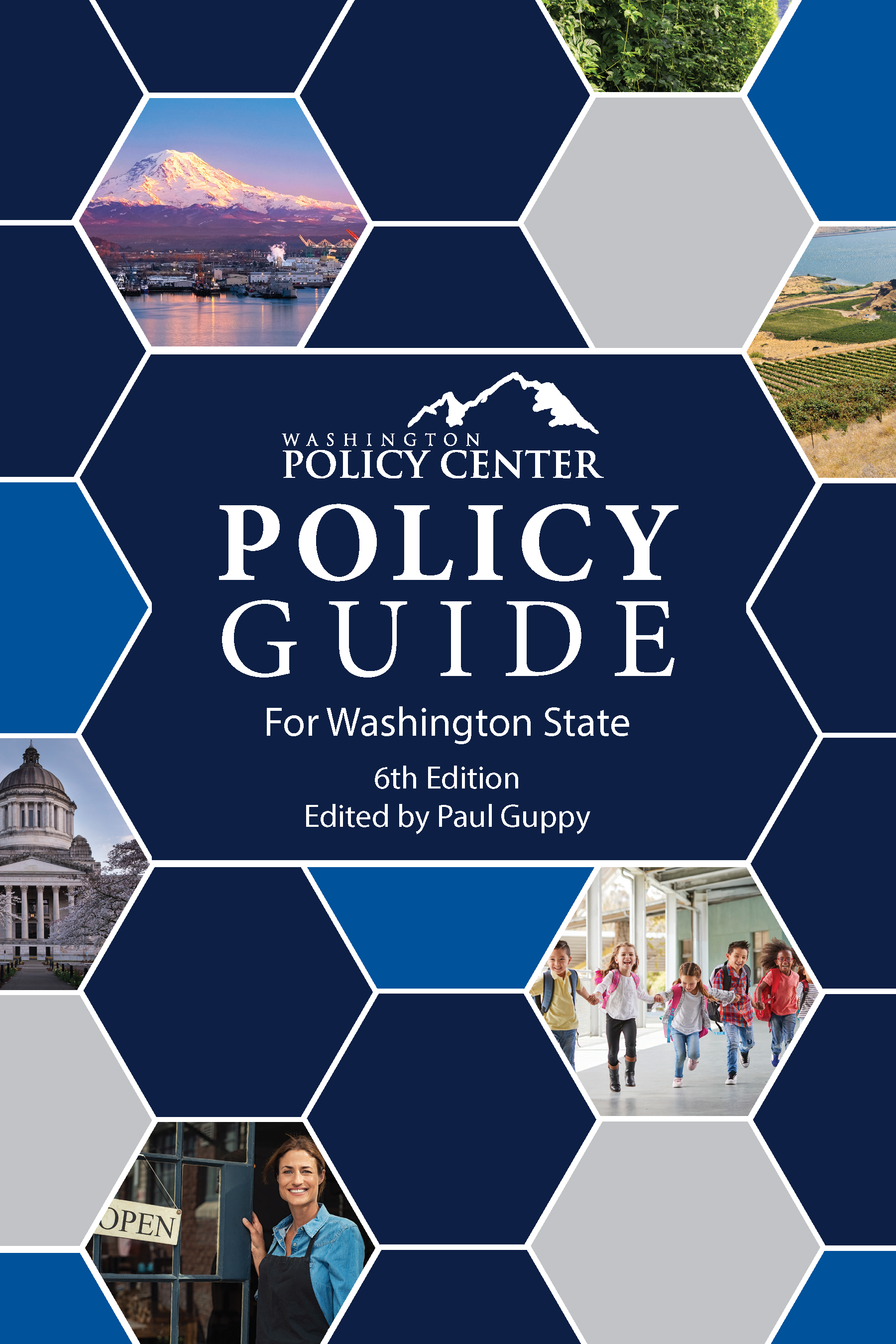 Foreword
by Daniel Mead Smith, President
Thank you for your interest in this 6th edition of the Policy Guide for Washington State and our work at Washington Policy Center (WPC). We are an independent, non-profit research and educational organization with offices in Seattle, Olympia, Spokane and the Tri-Cities.
The majority of our supporters are individuals, families and small business owners. Over 90 percent of our support comes from in-state sources. All contributions are independent and voluntary; we do not receive government money.
Our research program is centered on eight areas of public policy: budget, taxes and government reform; protecting the environment; promoting agriculture, reforming health care, improving education, protecting small business, improving transportation; and promoting labor reform and worker rights. We also provide a free, nonpartisan website, WashingtonVotes.org, to inform people about bills, roll call votes and other legislative action taking place at the state capitol.
We use many sources in our research, particularly data and reports provided by local, state and federal government agencies. However, all findings, conclusions and policy recommendations are determined solely by WPC analysts, based on objective and well-sourced research.
Typical users of our research are state lawmakers, agency officials, city and county officials, reporters for print, broadcast and online media, and our thousands of members across the state. News organizations frequently use WPC research when covering public issues. Our experts and research findings and policy recommendations are cited in news reports over a thousand times every year.
Washington Policy Center is not a political organization. We promote ideas and independent research, not parties or candidates. Our experts serve as a resource to lawmakers of both parties to promote sound policies that benefit the people of Washington.
Similar to the 5th edition of our Policy Guide, this new edition presents what we believe are the best ideas and reforms needed to make the greatest positive difference for the people of our great state. These are the policy recommendations that we think policymakers should adopt as their main priorities.
We hope you find this latest edition of the Policy Guide for Washington State both useful and informative. Its purpose is to advance better governance and policy reforms that benefit the people of our state. As such, it is a key part of the mission of Washington Policy Center, which is to promote public policy ideas that improve the lives of all Washingtonians. You can learn more at www.washingtonpolicy.org.
© 2020 Washington Policy Center

View or download the 6th Edition, Policy Guide for Washington State

View or download Chapter 1: Responsible public spending

View or download Chapter 2: Reforming taxation

View or download Chapter 3: Protecting the environment

View or download Chapter 4: Improving health care coverage

View or download Chapter 5: Improving public schools

View or download Chapter 6: Open and accountable government

View or download Chapter 7: Creating jobs and protecting worker rights

View or download Chapter 8: Expanding business opportunities and employment

View or download Chapter 9: Improving mobility and transportation services

View or download Chapter 10: Improving agriculture and food security
View or download the 5th Edition Policy Guide for Washington State (2016)