Meet Jo Anne Estes: Business Owner and Avid WPC Reader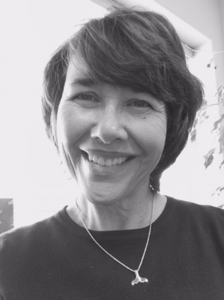 This interview was conducted on August 9, 2018.
Jo Anne and her husband, Kevin, live in Sequim. They started their home building company in their laundry room and have been in the business for 30 years. Jo Anne has followed and been inspired by WPC's work for many years. WPC spoke with Jo Anne about her work and why she supports WPC.
WPC: How and why did you become interested in the free-market school of thought?
Jo Anne: My husband and I own a home building company in Sequim. We've been in the business nearly 30 years. In our line of work, we witness the free-market operate every day. Seeing what it does for people's lives is what has made me a believer – seeing the free-market positively impact us, our teammates, our employees, and our trade partners. We've been working with the same plumbers and electricians for years, so we've seen multiple generations grow up in the business and expand their companies' operations to new markets and achieve prosperity.
WPC: How did you hear about WPC? What sparked your support for WPC?
Jo Anne: I heard about WPC from a colleague who had passed along various publications. At the time, the Shoreline Management Act was being updated where our home building company operated. Thousands of property owners were going to be impacted by the changes with no time to adjust. It was going to impact how they could use their properties and I was concerned.
Around that time, I got a policy note from WPC about property rights. Right then and there I was a fan, because nobody else was talking about it. On the heels of that was when the Young Professionals group was launched. That was a turning point for me – there was an effort being made to reach out to younger people who didn't have much of a concept of free-markets or property rights.
It was these two things in conjunction that led to my support for WPC. I invested in WPC because I believed in it. It really made sense to me. The next day, I got a call from Dann, and he was so appreciative – I was very impressed. And that was about six years ago.
WPC: What have you learned since being involved with WPC? What have you most enjoyed?
Jo Anne: I really enjoy reading what Dr. Stark writes about health care in our state. I've also learned a lot about agricultural issues. Some explain Washington as having two separate states because of the separation between the agricultural areas and Seattle. I didn't know about the issues facing the farming community until I started reading WPC's work.
WPC's research has taught me a lot about transit issues in Seattle – how the transit system, taxing, and revenues have been mismanaged. I mostly enjoy being more informed. Frankly, WPC's writings are quite balanced, measured, and non-partisan. They present straightforward facts and are clear. Easy to understand.
WPC: How has WPC served you in your life or philanthropic goals?
Jo Anne: It feels good to support WPC because I feel strongly they're doing a really good job. They're very effective, so it's an easy choice to support them financially. Because of work, I don't have a lot of free time, so I like to support the organization that does the things I don't have time to do. That's the biggest positive for me. I feel at home with the Policy Center.
WPC: What value do you think WPC brings to the state?
Jo Anne: Educating people is the biggest value. I've shared publications with other people who appreciate learning about policy issues. "Improving people's lives" – I know that's the slogan – but I know it's true. The more you educate people, the more they can make better choices and live higher quality lives.
The team at WPC is passionate, articulate, and they're ready to take on the battle. And there are a lot of battles we are facing, like the regulatory battle, which we have had directly impact our clients. It's intimating to read code books and laws. Who can read all that and articulate an opposition? I appreciate that WPC is willing to take a stand and push back on a lot of this regulation that's happening.
WPC: What policy area is most important to you? What is one change or impact you'd really like to see in our state?
Jo Anne: WPC's work on charter schools – that's where I would like to see impact in our state. I would like to see the education system reformed. The tenured, adult based decision-making is wrong. In its current state, it's not student-centered. The numbers to back up charter schools are there, and the Policy Center writes about these real numbers. Other groups – the school districts and unions – might want to spin those numbers, but they can't because numbers don't lie.
WPC: Since you've been following WPC's work, what's the biggest impact you've seen WPC have?
Jo Anne: It's hard to answer that question with just one thing. Ringing a polished spotlight on the issues. WPC's work is thoughtful and there's no animus or combativeness. It's all very fact-based. WPC is an independent, standalone organization that's focused on results. I'm a very big admirer and I think they're doing a great job.