2013 Annual Dinner (Seattle)
Date:
Thursday, September 5th, 2013
Place:
Sheraton Seattle
1400 6th Avenue
Washington Policy Center saw another unprecedented Annual Dinner!
Our Seattle dinner event sold out and combined with our Eastern Washington and Young Professionals Annual Dinner events, over 2,000 guests were in attendance this year.
Stay tuned for the video and text of Governor Scott Walker's keynote address.
Featured Speakers:
Gov. Scott Walker and Dr. Ben Carson
---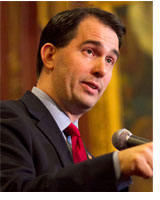 On January 3, 2011, Scott Walker was inaugurated as Wisconsin's 45th governor. His bold reforms eliminated the state's $3.6 billion budget deficit without raising taxes and gave school districts and local governments tools to balance their budgets without the massive layoffs seen in other states. To date, these changes have saved Wisconsin taxpayers more than $1 billion, leading to decreased median property taxes for the first time in 12 years.
On June 5, 2012, Scott Walker became the first governor in American history to win a recall election. He won the election with more votes and by a higher percentage than in his 2010 victory. Governor Walker's first book, Unintimidated: A Governor's Story and a Nation's Challenge, will be released later this fall.
---
---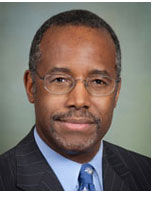 Dr. Carson's speech at the President's National Prayer Breakfast in February, challenging the current course of national policy on taxes and health care, has already been viewed millions of times. He holds more than 60 honorary doctorate degrees and has received literally hundreds of awards and citations. In 2001, CNN and Time magazine named Carson one of the nation's 20 foremost physicians and scientists, and he received the Presidential Medal of Freedom in 2008.
Ben Carson's childhood dream of becoming a physician was challenged by poverty, poor grades, a horrible temper and low self-esteem. He persevered, and today is a full professor of neurosurgery, oncology, plastic surgery and pediatrics at the Johns Hopkins School of Medicine, where he has directed pediatric neurosurgery for over a quarter century. He performed the first and only successful separation of head-conjoined twins in 1987. He is the author of five books, including Gifted Hands and America the Beautiful: Rediscovering What Made This Nation Great, and his story is portrayed in the 2009 movie Gifted Hands starring Cuba Gooding Jr. Dr. Carson and his wife, Candy, also dedicate themselves to expanding the reach of the Carson Scholars Fund.
Still not sure? Read The New York Times' March 20 story on why people are excited about Carson!
---
WPC's Annual Dinner is now the largest policy event in the Northwest and attracts more than 1,600 elected officials, business leaders, community members and policymakers from throughout our state to gatherings in Seattle and Spokane. Our popular gala dinner event has already sold out in Seattle and ticket sales have now closed for our Spokane dinner event as well as our Young Professionals dinner event. We hope to see you at this much-anticipated evening.
---
Seattle Dinner Pricing Levels
$15,000 Dinner Champion
Premium Dinner seating for 10
Invitation to executive lunch (limited attendance and based upon speaker availability)
Private meeting with Columbia Award recipient for 10 guests (limited attendance)
Potential opportunity to introduce one of the honorees
VIP Reception for 10 guests
10 photos with Columbia Award recipient
Premier recognition: Program, podium, event video
Opportunity to host elected officials at your table
$10,000 Dinner Benefactor
Preferential seating for 10
Private meeting with Columbia Award recipient for two guests (limited attendance)
VIP Reception for 10 guests
10 photos with Columbia Award recipient
Distinguished recognition: Program, podium, event video
Opportunity to host elected officials at your table
$5,000 Dinner Patron
Preferential seating for 10
VIP Reception for five guests
Five photos with Columbia Award recipient
Recognition in program and event video
Opportunity to host elected officials at your table
$3,500 Table
Table of 10
VIP Reception for two people
Two photos with Columbia Award recipient
Recognition in program
$1,000 VIP Couple
Dinner and VIP Reception for two people
Preferential seating
Photo with Columbia Award recipient
$350 Individual Ticket
Dinner and general reception for one