10th Anniversary Environmental Policy Conference & Lunch
Date:
Thursday, June 7th, 2012
Place:
The Westin Seattle
1900 5th Avenue
Forests, Fish and Free Markets: A More Sustainable Path for the Environment
Watch the event online:
Panel 1: Legislative Update

Panel 2: Forests, Fish and Free Markets

Keynote: Terry Anderson:
---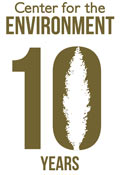 This year's Environmental Conference and Lunch featured keynote speaker Terry L. Anderson, one of the nation's leading free-market environmental policy experts for more than three decades. He is the executive director of the Property & Environment Research Center in Bozeman, Montana.
The event also featured morning conference panels on:
Working Forests Are Sustainable Forests
Property Rights and Fishing Catch Shares
Environmental Update from Olympia
Science and the EPA: The Sacketts Case

With environmental concern growing, resource economist Terry L. Anderson points out a new course for achieving environmental quality. He believes that market approaches can be both economically sound and environmentally sensitive.
Anderson's research in free-market environmentalism helped prompt public debate over the proper role of government in managing resources. Government subsidies often degrade the environment, he points out, but private property rights encourage resource stewardship and market incentives harness individual initiative for protecting environmental quality. His broad-ranging ideas have provided a different look at complex environmental problems.
PERC (the Property & Environment Research Center), which Anderson directs, is a leading center for free-market environmentalism and a forum for disseminating related research and information. Anderson is the author or editor of 30 books, including Free Market Environmentalism and You Have to Admit It's Getting Better: From Economic Prosperity to Environmental Quality, and he has published widely in both professional journals and the popular press.
Program Agenda
8:45 a.m. | Welcome and opening remarks
WPC President Dann Mead Smith
9:00 a.m. | Panel One: Environmental Policy in Olympia and Washington, D.C.
Rep. Bill Hinkle, House Agriculture & Natural Resources Committee
Brandon Houskeeper, Director, Government Affairs and Environmental Policy, Association of Washington Business
Reed Hopper, Pacific Legal Foundation Environmental Attorney
10:30 a.m. | Panel Two: Forests, Fish and Free Markets
Elaine O'Neil, UW College of Forest Resources Research Scientist
Todd Myers, WPC Environmental Center Director
Ed Dolan, Resource Center for Teaching Economics
12:00 p.m. | Lunch Program Begins
12:25 p.m. | WPC Center for the Environment 10-year Recognition and Annual Environmental Innovator Award Presentation
12:45 p.m. | Lunch with Keynote Address by Terry L. Anderson
Special thanks to the following organizations and individuals who will be recognized at the event for their pioneering support of WPC's Center for the Environment:
Charles Simonyi Fund for Arts and Sciences ∙ Columbia Helicopters
Green Diamond Resource Company ∙ Washington State Farm Bureau
WPC board members Jim Day and Al Symington
Spaces fill quickly; don't miss this exciting event regularly attended by over 300 business leaders, policymakers and citizens.
Online registration is now closed.
Sponsors:
Hilex Poly
Merit Construction Northwest
NCM Demolition & Remediation
Weyerhaeuser
American Forest Resource Council
Roger Belanich
Berntson Porter & Company
CBC Partners, LLC
Chevron
Citizen's Alliance for Property Rights
Columbia Helicopters
Jim Day
Green Diamond Resource Company
Media Plus+
Plum Creek Timber Company, Inc.
Property & Environment Research Center
Robert D. Kahn & Co.
Smartsheet
Al Symington
Washington Forest Protection Association
Western Wood Preservers Institute
Co-presenters:
Associated Builders & Contractors of Western Washington
Association of Washington Business
Building Industry Association of Washington
East King County Chambers of Commerce Legislative Coalition
Greater Issaquah Chamber of Commerce
National Federation of Independent Business
Washington Clean Technology Alliance
Washington Contract Loggers Association
Washington State Farm Bureau