Has the Number of Uninsured in Washington State Really Dropped?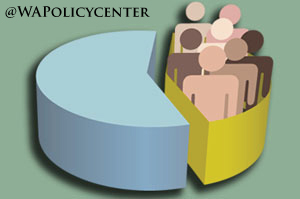 Governor Inslee's office just released a statement lauding the Gallup report on the number of uninsured in the U.S. "Thanks to the Affordable Care Act, we enrolled more than 600,000 people in health coverage through our exchange, the Washington Healthplanfinder. The result is a significant drop in our uninsurance rate, down to 10.7 percent from 16.8 percent before open enrollment. It's the 4th biggest drop in the nation."
The Gallup poll was done with telephone interviews from January 2, 2014 to June 30, 2014. A total of only 89,000 people were interviewed nationally and the results were projected for the entire U.S. population. Results were reported on a state-by-state basis.
The problem is that the numbers don't add up for Washington state. The Washington State Health Benefit Exchange reported on April 23, 2014 that a total of 1 million people had signed up for health insurance on the exchange, with 164,000 in the private market and the remainder in the Medicaid program.
So if Gallup estimates Washington state enrolled 600,000, the poll is off by 400,000 (1million minus 600,000). This is an error factor of at least 40 percent. It makes the poll highly suspicious and the Governor's statement almost meaningless.
According to the Washington State Insurance Commissioner's office, we know that 290,000 people lost or were forced off their existing health insurnance because of the Affordable Care Act (ACA). We have no idea how many of the 1 million newly insured on the exchange were previously uninsured.
Of course, having health insurance does not guarantee access to health care. Because of poor provider payments from Medicaid, the 836,000 Medicaid enrollees on the exchange will have a difficult time accessing health care. Insurance companies have held down premium costs in the private market by narrowing provider networks. This will make health care access for even the private-market patients difficult.
It is much too early to celebrate the Affordable Care Act. According to the non-partisan Congressional Budget Office, the cost of the ACA to the American public is now up to $2 trillion over the next ten years and will not bend the health care cost curve down. The Manhattan Institute reported that on average, premiums in the individual health insurance market will rise 40 percent next year.
The Governor and the supporters of Obamacare might be declaring victory, but the facts say something else.