King County Metro Transit sees windfall sales tax revenue, surge in money exceeds estimates
The news keeps getting better at King County Metro Transit. Metro officials are the beneficiaries of record-breaking sales tax revenues, and are seeing large tax windfalls that were unthinkable just two years ago. Back then, Metro executives assumed their sales tax revenues would grow at a meager pace, and they planned to impose harsh bus cuts in many communities unless they raised taxes. However, a rebounding economy and swelling coffers should allow officials to keep bus service on the road without regressive tax increases.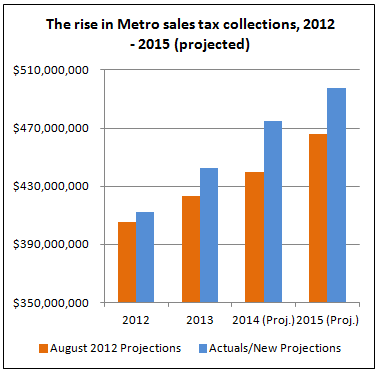 In March, WPC reported on Metro's record-high tax collections. At the time, Metro executives were receiving a sales tax windfall of $32 million this year and a second, $31 million windfall next year. WPC recommended that King County officials should use the new money to cancel their plans to cut service in part due to accelerated growth in tax collections. Furthermore, the news only gets better.

Recent forecasts published by King County show Metro is receiving a sales tax bonus of over $35 million this year, a $3 million uptick over and above previous estimates. Projections for next year also show higher-than-expected revenues, reaching nearly a half of a billion dollars in total sales tax collections.
Based on the projections, Metro will benefit from $30 million per year through at least 2020.
The sunny financial news is good for county leaders, the public, and especially, bus riders. Higher-than-expected tax collections allow the county council to begin their plan to reduce and eliminate bus service cuts. According to The Seattle Stranger, "Cutting bus service would hit poor people the hardest."
The bad news, however, is Seattle officials want higher taxes to pay more for bus service Seattle residents are already receiving.
Are new regressive taxes even needed? The good revenue news from Metro suggests they aren't.