Inslee Climate Agreement: Ineffective, Undermines the Bipartisan Approach and Promises Are Not "Legally Binding"
As expected, Governor Inslee today signed the "Pacific Coast Action Plan on Climate and Energy" along with other West Coast leaders and it includes promises that contradict the spirit of Governor Inslee's own legislation and the analysis provided as part of that process.
The section on a "low-carbon fuel standard" is the best example of how this agreement is at odds with the approach laid out in the Governor's climate bill, 5802. It reads:
Oregon and Washington will adopt low-carbon fuels standards, and California and British Columbia will maintain their existing standards.
Put simply, this ignores both the process laid out in his bill and the analysis required by that bill.
First, a pledge to "adopt" a low-carbon fuel standard pre-empts the work of the legislative members of the Climate Legislative Executive Workgroup which has been taking public testimony on climate policies. No policy decisions had yet been made in the CLEW process and there is still one additional public hearing. Instead of working with the other members of the CLEW, this agreement declares the discussion over.
Second, the Governor's bill specifically called for a study to prioritize carbon reduction strategies based on effectiveness for every dollar spent. The report, produced by SAIC, who the Governor helped select, indicates the low-carbon fuel standard is one of the least effective ways to reduce carbon.
The analysis of climate effectiveness called for in the Governor's bill is below.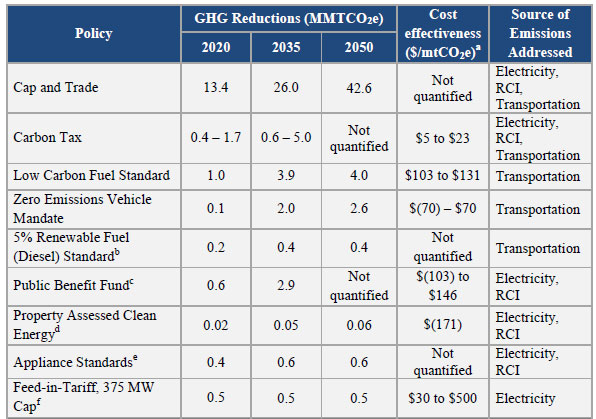 Note that the low-carbon fuel standard has the highest price to reduce a ton of CO2. Other strategies have a higher upper end, but none have as high a minimum cost as the LCFS. This means that for every dollar spent, the LCFS produces the smallest environmental benefit. To put the numbers is context, $103 per ton is equivalent to about an extra $1 per gallon of gas.
Ironically, despite claiming this agreement represents "bold #PacCoastAction" the agreement ends with this clause:
This Action Plan shall have no legal effect; impose no legally binding obligation enforceable in any court of law or other tribunal of any sort, nor create any funding expectation; nor shall our jurisdictions be responsible for the actions of third parties or associates.
Despite that, Climate Solutions and other environmental activists were quick to praise the announcement. Once again, the left's definition of "bold action" on climate change has more to do with politics and symbolism than effectiveness.