A comparison of House and Senate transportation tax proposals
The Majority Coalition Caucus (MCC) in the Senate recently unveiled a new transportation proposal that would spend $12.4 billion on roads, ferries, and other modes of transportation over the next 12 years. This is in addition to the $8.7 billion per biennium the state currently spends on these public services.
The proposal would impose an 11.5-cents per gallon gas tax hike (a 30% increase in the current state tax), higher yearly car tab fees, new taxes on trucks, higher car registration fees, and other new fees on drivers.
Last year, the House passed House Bill 1954, a $9.5 billion spending measure that included a 10 cent per gallon gas tax increase and an increase in other fees. The Senate chose not to vote on the measure, mostly because it would spend money on the controversial bridge across the Columbia River. The House bill also included, for the first time, a provision giving operating subsidies to local transit agencies. Local taxes have historically supported local transit operations. Operating costs are different from capital costs, as capital purchases are historically paid for by federal funds.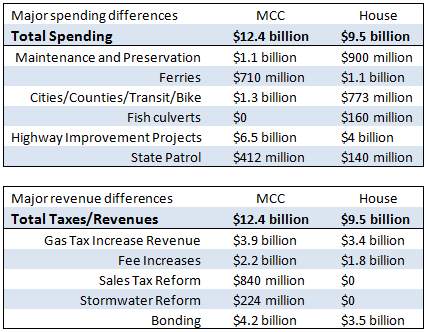 Despite this, both proposals would direct state money into transit, bike, and pedestrian projects. Both include city and county flex funds that can be used for several uses. In addition, both proposals authorize new, local taxes for transit in the multibillion dollar proposals.
King County officials would be allowed to impose a 1.5% Motor Vehicle Excise Tax on a car's value. Sixty percent of revenue would go to transit, 40% to roads. Snohomish County officials would be allowed to raise the sales tax by .3%, all for transit. Both proposals would also allow cities and counties that form a Transportation Taxing District to double their special $20 car tab fees to $40 without a public vote. In addition, the Senate proposal would allow King County officials to impose their expiring $20 car tab fee for an additional four years, until 2018. If all taxes are imposed, Washington residents would pay over $2 billion in new taxes dedicated to transit and other modes, with most of that money paid by everyday drivers.
Both proposals have their own list of projects that would be funded with the tax increases. Some projects appear in both proposals. The Senate proposal would fund the Seattle portion of SR-520, and allocate more money to the SR 509/SR 167 Pacific Gateway Project, JBLM Project, and the I-405 widening project than the House bill would. The House bill includes money for the Columbia River Crossing project, but that was proposed before that project was cancelled.
In addition to the tax package, the Senate proposal includes important reforms that would reduce the cost of building public roads. Many of these reforms are long-standing WPC recommendations. See our recommendations on how to reduce the cost of highway projects and restore congestion relief as an official funding priority.
The reform bills in the Senate proposal follow. Some bills were not reported out of committee before the deadline for the session, but they may be brought up later as part of the budget process:
SB 6102 – The state currently charges itself sales tax on its own projects. This unnecessarily inflates highway construction costs by 6.5% and diverts gas-tax money into the general fund. SB 6102 would ensure that gas-tax money is used for highway purposes. See WPC's January 27, 2014 testimony to the Senate Ways and Means Committee on this bill here;
SB 6099 – Stormwater projects are currently funded through gas taxes. Instead, SB 6099 would fund these environmental requirements with a toxic cleanup account;
SB 6186 - Prevailing wages are artificial wages the state pays and are typically well above the local market wage. SB 6186 would lower apprenticeship requirements on projects and bring the state's prevailing wage in line with the federal level;
SB 6156 – The fast Skagit River Bridge repair was a testament to the state's ability to build highway projects without endless delays and red tape. SB 6165 would cut down on regulations and process to deliver projects to the public cheaper and faster;
HB 2123 / SB 6100 – Prior to 2007, the state had explicit benchmarks that tied spending to congestion relief, but lawmakers repealed this requirement. SB 6100 would add congestion relief as a transportation goal, returning to a system that prioritizes reducing traffic flows to benefit the public. See WPC's February 4, 2014 testimony to the House Transportation Committee on congestion relief here;
SB 6051 – Includes various reforms to streamline environmental permitting;
SB 6224 – SB 6224 would encourage use of a design-build process, which would save taxpayers money by shifting more risk and responsibility onto the contractor;
E2S 1129 – Currently, the law states that ferries must be built by companies within Washington state. Last year, the State Auditor's Office released a study on ferry construction and found Washington spends more on ferries than other places, and recommended reducing costs by inviting more competition. PSSB 5858 would remove the "Build in Washington" provision and allow bidding by outside contractors.