2011 Transportation Policy Conference: Tolling, Freight Mobility, and Washington State's Infrastructure Needs
Date:
Tuesday, May 10th, 2011
Place:
The Westin Bellevue
600 Bellevue Way Northeast
Watch the event online!
Tolling Panel. Watch the video below and read the transcript.
Freight Mobility Panel. Watch the video below and read the transcript.
Keynote Lunch with Former U.S. Secretary of Transportation Mary Peters:
---
Conference Agenda:
10am - 11am
Panel 1: Tolling. The Puget Sound region is about to experience highway tolling like never before. With charges beginning on the 520 bridge across Lake Washington and the possibility of an express tollway along I-405 through Bellevue, motorists will face higher costs and new rules. On the other hand, tolls reduce traffic congestion and create revenue for new infrastructure. The panel includes a diverse set of experts who will answer your questions and provide insight on what we can expect with tolling in the Puget Sound region.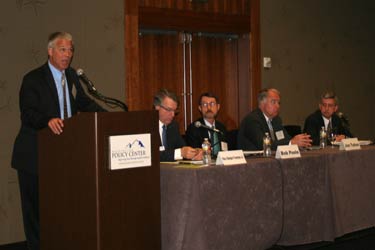 Panelists:
Craig Stone, Director, Washington State Department of Transportation toll division
Jim Tutton, Vice President, Washington Trucking Associations
Hon. Kemper Freeman Jr., Kemper Development
Bob Poole, Director of Transportation Policy, Reason Foundation
---
11:15am - 12:15pm
Panel 2: Freight mobility. Washington state has $200 billion of unmet infrastructure needs and the state faces an uncertain future. With growing traffic congestion, rising supply chain costs and global competition, our economy requires a better transportation system. The panel of experts will discuss how we can make our region more competitive.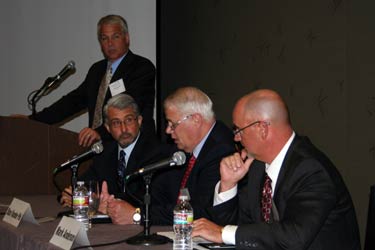 Panelists:
Bill Bryant, Commissioner, Port of Seattle
Mark Anderson, CEO, Anderson Hay and Grain
Stan Vander Pol, President, Washington Trucking Associations and owner, Peninsula Truck Lines
---
12:30pm - 2pm
Keynote lunch address featuring former U.S. Secretary of Transportation Mary Peters. Ms. Peters will use her extensive experience in the transportation industry at both state and federal levels to expand on the challenges facing freight mobility and our region's infrastructure needs.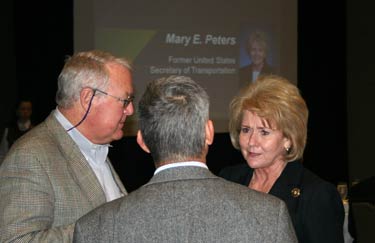 ---
Read coverage of the 2011 Transportation Policy Conference from The Seattle Times and SeattlePI.com.
---
Conference Supporter
Dollar Rent A Car
Table Sponsors
AAA Washington
Berntson Porter & Co.
E. Susan Meyer
HDR Engineering
Joslin Capital
Kaye-Smith
Kemper Development Co.
Puget Pullway's Quippper
Sarah Rindlaub
Shuttle Express
Union Pacific Railroad
Washington Public Ports Association

Co-presenters
Associated Builders and Contractors of Western Washington
Bellevue Chamber of Commerce
Bellevue Downtown Association
Coalition for Effective Transportation Alternatives
East King County Chamber of Commerce Legislative Coalition
Eastside Transportation Association
Greater Issaquah Chamber of Commerce
National Federation of Independent Business
Puget Sound Regional Council Freight Mobility Roundtable
Renton Chamber of Commerce
Washington Public Ports Association
Washington Retail Association
Washington State Good Roads and Transportation Association
Washington Trucking Associations
---
Conference participants
Mary E. Peters (conference keynote speaker) served as U.S. Secretary of Transportation from 2006–2009. In that role she led efforts to substantially improve transportation safety, to improve the performance of the nation's transportation system, and develop new policy and funding sources to support America's transportation system into the 21st Century. Prior to serving as U.S. Secretary of Transportation, Ms. Peters was a Sr. Vice President and National Director for Transportation Policy and Consulting for HDR, Inc. From 2001–2005 Ms. Peters served as the Federal Highway Administrator for the US Department of Transportation. Ms. Peters served as the Arizona Department of Transportation Director prior to becoming Federal Highway Administrator. She is currently the Principal of Mary Peters Consulting Group, LLC, an organization dedicated to finding new and better ways to address America's infrastructure requirements.
Mark T. Anderson, CEO and President of Anderson Hay & Grain, began directing the day-to-day management of the company in the late 1980s. He has successfully managed to grow the business from $15 million in sales in 1985 to $150 million today. Prior to 1985, Mark was aggressive in learning the basic fundamentals of forage exporting from the field through processing. His hands-on farm and hay processing experience played an instrumental role in the company's current management philosophy. Today he oversees all aspects of the organization as Chief Operating Officer and President.
Commissioner Bill Bryant was elected to represent King County citizens as a Port of Seattle Commissioner in the fall of 2007 and currently acts as president of the Port Commission. During his tenure on the commission, Bryant has dedicated himself to increasing freight mobility and the capacity of our transportation system. Bryant studied trade and diplomacy at Georgetown University. He has worked as the director of Washington Governor John Spellman's trade council, in which he traveled around the world working to eliminate unfair foreign trade barriers and to open new markets for Washington's fruit growers. In 1992, Bryant moved to Seattle and founded Bryant Christie Inc., a company that works to eliminate foreign trade barriers, develops new international markets and builds customized internet databases of international technical standards and research/reporting products. Bryant has been appointed by both Democratic and Republican administrations, Congress and the United States Export Import Bank to advise on our nation's trade policies.
Kemper Freeman, Jr., is the principal owner and hands-on leader of Kemper Development Company, which has developed a total of four million square feet of real estate in Bellevue's central business district. Kemper Freeman is a past chairman of the International Council of Shopping Centers as well as the past chairman of the association's Government Relations Committee and has served as a trustee since 1987. He serves as a board member of Overlake Hospital and PACE – Performing Arts Center Eastside. Mr. Freeman has a long history of involvement in political and civic activities. He is a former Washington state legislator, and has served on the boards of numerous business and civic organizations.
Robert Poole is Director of Transportation Policy and the Searle Freedom Trust Transportation Fellow at the Reason Foundation. He has advised the USDOT and half a dozen state DOTs on transportation policy. Over the past 20 years, he has helped introduce a number of policy ideas into U.S. transportation, including long-term toll concessions, HOT lanes, and truck-only toll lanes. A Reason policy paper Bob wrote in 1988 directly inspired the first state PPP law, enacted in California in 1989. That law led directly to the 91 Express Lanes—the first all-electronic toll road and the first U.S. long-term toll concession project.
Craig Stone is the Director of Washington State Department of Transportation's Toll Division. Located in Seattle, Craig provides executive oversight and direction for all statewide tolling and smarter highway efforts –which includes WSDOT's bridge tolling and high-occupancy toll lane operations, as well as the development of potential new express lane systems and new toll projects. He has been in the transportation industry for 33 years.
James R. Tutton, Jr. is the Vice President of the Washington Trucking Associations. In this capacity he has oversight responsibilities for all six major trucking groups within the 1,000-member statewide organization and coordinates with state agencies on various truck transportation issues and programs. Mr. Tutton is a past president of North American Preclearance and Safety Systems, NORPASS, an organization that promotes safe and efficient commercial truck travel nationwide through transponder-controlled weight station bypass. He currently serves on group's board of directors. Prior to joining the Washington Trucking Associations, Mr. Tutton capped a lengthy military career in the U.S. Army's Transportation Corps serving Army and Air Force military personnel and their families transitioning to and from Joint Base Lewis-McChord.

Stan Vander Pol has been the President of Peninsula Truck Lines since 1977. Peninsula Truck Lines is a regional Less Than Truckload (LTL) carrier serving Washington, Oregon and Idaho.
For more information on the conference, contact Lindsay LeVeque at events [at] washingtonpolicy [dot] org or 206-937-9691.