Is Climate Change Already Here? Seattle Times 'Science' Article Ignores Actual Data.
The Seattle Times recently featured a story on climate change with a sub-headline that declared "Scientists analyzing the effects of climate change say they are surprised to see how much winter has already changed and the cascade of effects that unleashes, from outbreaks of pests and diseases to fewer days of skiing."
It is a common theme among those pushing for dramatic climate policies: climate change is already here and having an impact. By making such claims, it encourages politicians and political institutions to take action now, even if the cost is high, by creating a sense of urgency.
The problem is that such articles claim to be based on science, but often ignore the actual data. Are we already seeing the impacts of rising winter temperatures in Washington state? There is a simple way to check.
NASA publishes its full data set online and even provides a mapping tool to see what temperature changes have occurred in recent years.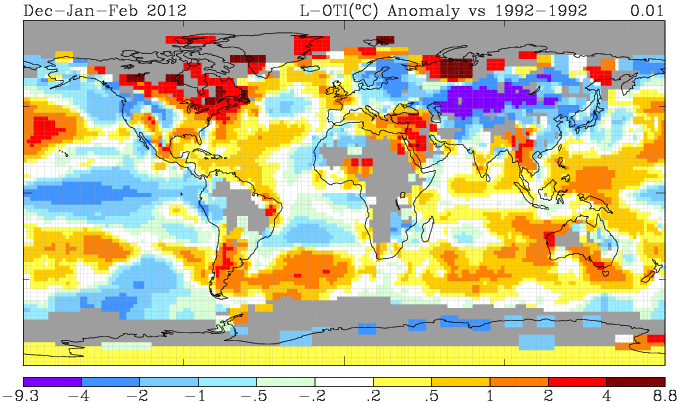 Here, for example, is the global map of winter temperature change for the last 20 years (1992-2012). Note that during the last twenty years, the winters have become noticeably colder in the Pacific Northwest. The temperature over the water off Washington state is also colder. You can see a larger version of the map here. Claiming, then, that we are already seeing changes due to climate change seems dubious since temperatures have actually declined during the last 20 years.
If you extend the time frame (which you can see at this link) to 30 years, you get the same result even when you use a five-year average (i.e. 1977-82 vs. 2007-12) as opposed to single years.
This is the problem with asking leading questions like "is climate change already harming the environment?" For those who believe climate change is a crisis, the answer is likely to be "yes" even without looking at the actual data because they "know" the answer.
The Times made this same mistake in an article blaming climate change for a decline in the coffee crop in Costa Rica. The reporter asked farmers (not climate scientists) if they thought climate change was to blame, rather than checking the actual temperature data which showed little temperature change during the period of crop decline.
Does this mean that climate change is a hoax? No. Indeed, I agree with UW climate scientist Cliff Mass who is quoted the article saying that snowpack is "still business as usual at the pass," but that it will change in the future. It makes sense to take thoughtful and responsible steps to reduce carbon emissions and the risk of climate change.
Ignoring the data to create a crisis atmosphere (there is a reason Al Gore calls it a "climate crisis"), however, indicates that the goal of climate alarmsits has as much to do with politics as climate change. Such an environment encourages thoughtlessly supporting symbolic policies that have high cost but do little to help the environment.
By ignoring the actual scientific data, the Seattle Times has undermined the very mantle of science it claims to respect.