WPC Western Washington Annual Dinner breaks records; Gingrich, Strassel praise WPC efforts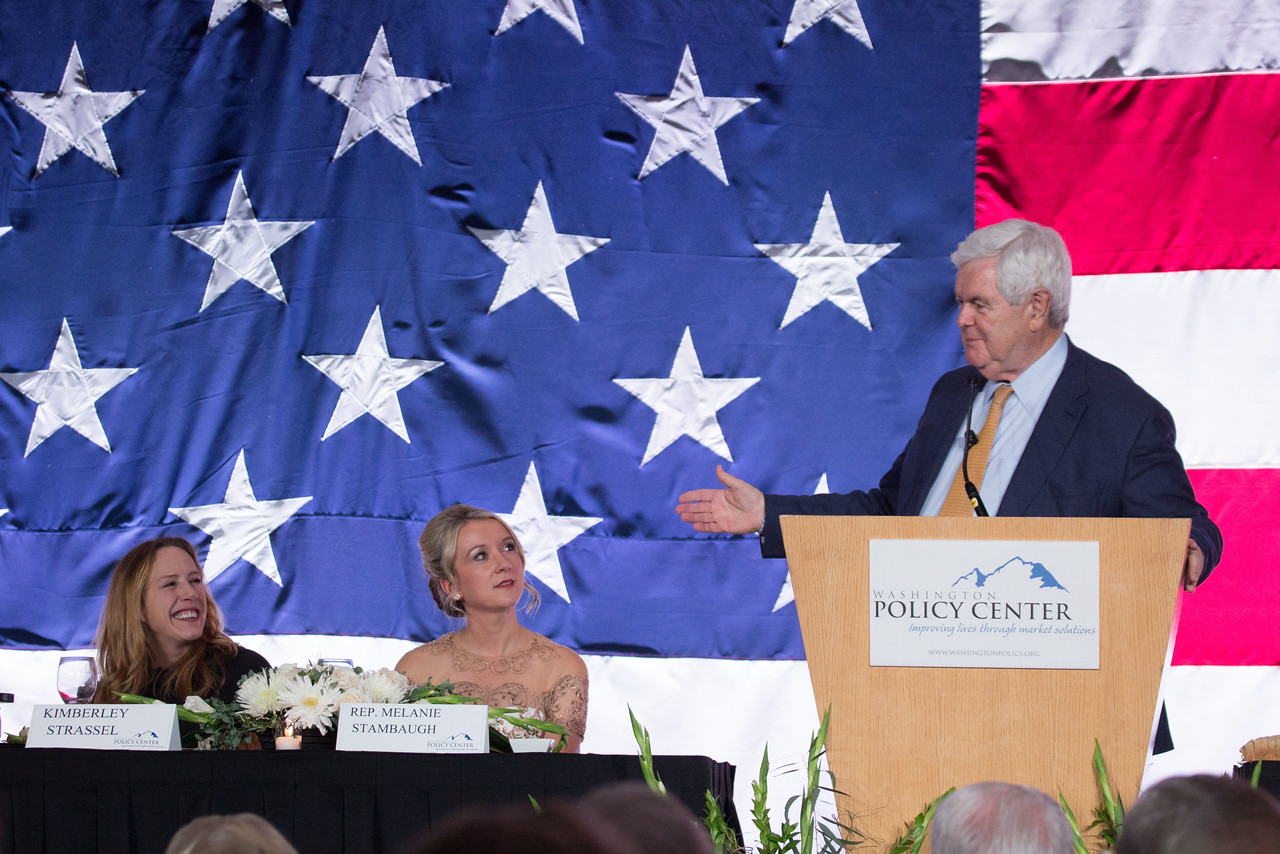 BLOG
On Friday, October 12, Washington Policy Center held its Western Washington Annual Dinner in Bellevue, breaking previous records for attendance and fundraising. The sold-out crowd stretched capacity at over 1,200. An additional 332 under-40 guests attended the WPC Young Professionals Annual Dinner the same night, including 88 college students. Attendance was easily the best it has been since the event began more than 20 years ago, and with $1.1 million raised at the dinner, WPC fundraising shattered old records as well.
A Q&A session with acclaimed Wall Street Journal columnist Kimberley Strassel and WPC board member Matt McIllwain kicked off the evening. Strassel covered a wide range of topics from problems with the Mueller investigation of the Trump administration, to the newly created opportunity zones in our state, to the success of the deregulatory agenda. While expressing her enthusiasm for some reforms at the federal level, she enthusiastically embraced speaking at WPC events because the "key changes" in government come at the local level and "WPC is a key part of that here."
Keynote speaker Newt Gingrich was enthusiastically greeted and warmly received. In typical fashion, the former Speaker of the House, wove historical asides and references into his 30 minute presentation. He referenced a "moral corruption" in government bureaucracy, specifically in education, that thwarted progress at the expense of kids. He cited Baltimore's 13 percent of eighth grade students passing their math exam as evidence. He warned that too many adhere to old ideas and old ways of doing things especially in government, when what we needed was to embrace change and create "bold new approaches" to fixing our infrastructure, which is in decay.
Gingrich described WPC as "an example of what we need more of in this country -- not money, but solutions that work." He also praised the WPC Young Professionals program and predicted that if it continued, it would "raise a new generation of leaders" in Washington that would "change our state."
Gingrich's speech concluded to thunderous applause and a standing ovation.
The complete speeches are available here via TVW.