Another proposed transportation revenue package, but a new approach: "Everyone has to contribute"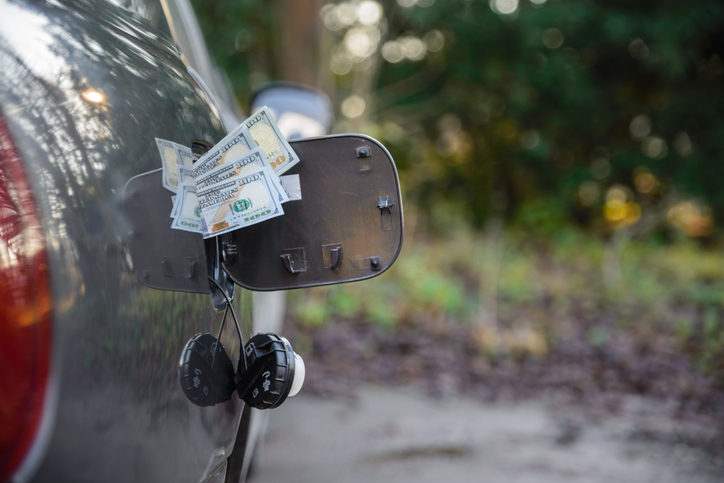 BLOG
Senator Curtis King, ranking member of the Senate transportation committee, has released a revenue package that takes a different approach from packages we've recently seen from Representative Jake Fey and Senator Steve Hobbs, chairs of the House and Senate transportation committees.
Senator King's eight-year, $10 billion plan includes a 3-cent gas tax increase, significantly lower than the House Democrats' proposed 18-cent tax increase, and Senator Hobbs' 6-cent gas tax increase. Unlike the other two revenue packages, Senator King's plan does not include any carbon tax or indexing the fuel tax to inflation, both of which result in gas tax prices close to $1 per gallon in the other proposals.
During a press conference, Senator King summed up his plan this way: "Everyone has to contribute." This is why his plan includes a 2% increase in the sales tax on bike parts and sales, as well as a 20-cent surcharge on transit and light rail trips. There is also a toll on buses that cross the Tacoma Narrows Bridge and State Route 520.
However, the most significant part of the plan is a motor vehicle sales and use tax shift from the state operating budget to the state transportation budget, phased in over five years. This would generate $8.2 billion of the $10 billion package.
"We have been supporting the operating budget for years," Senator King explained during the press conference. The rationale behind the transfer is that transportation projects produce economic development that increases jobs and wages, which benefit the state operating budget. Senator King added that for the sales and use tax on cars and trucks, there is a stronger nexus to transportation than to the operating budget, so it would make sense to move that money to the transportation budget.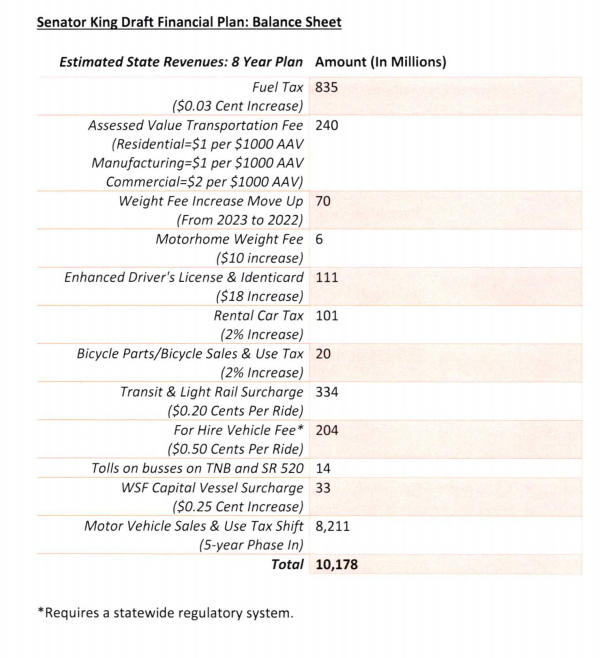 Of the money generated, over $5 billion would be dedicated to maintenance and preservation. Over $2 billion would be dedicated to the court-mandated replacement of state and local fish passage barriers. The rest would fund various grant programs and incentives for hydrogen fuel cell vehicles.
Approximately $1.7 billion would fund major projects that include the US 2 Trestle ($700 million), I-5 Columbia River Bridge ($150 million) and West Seattle Bridge ($25 million). The full list is captured below: