2021 Young Professionals Annual Dinner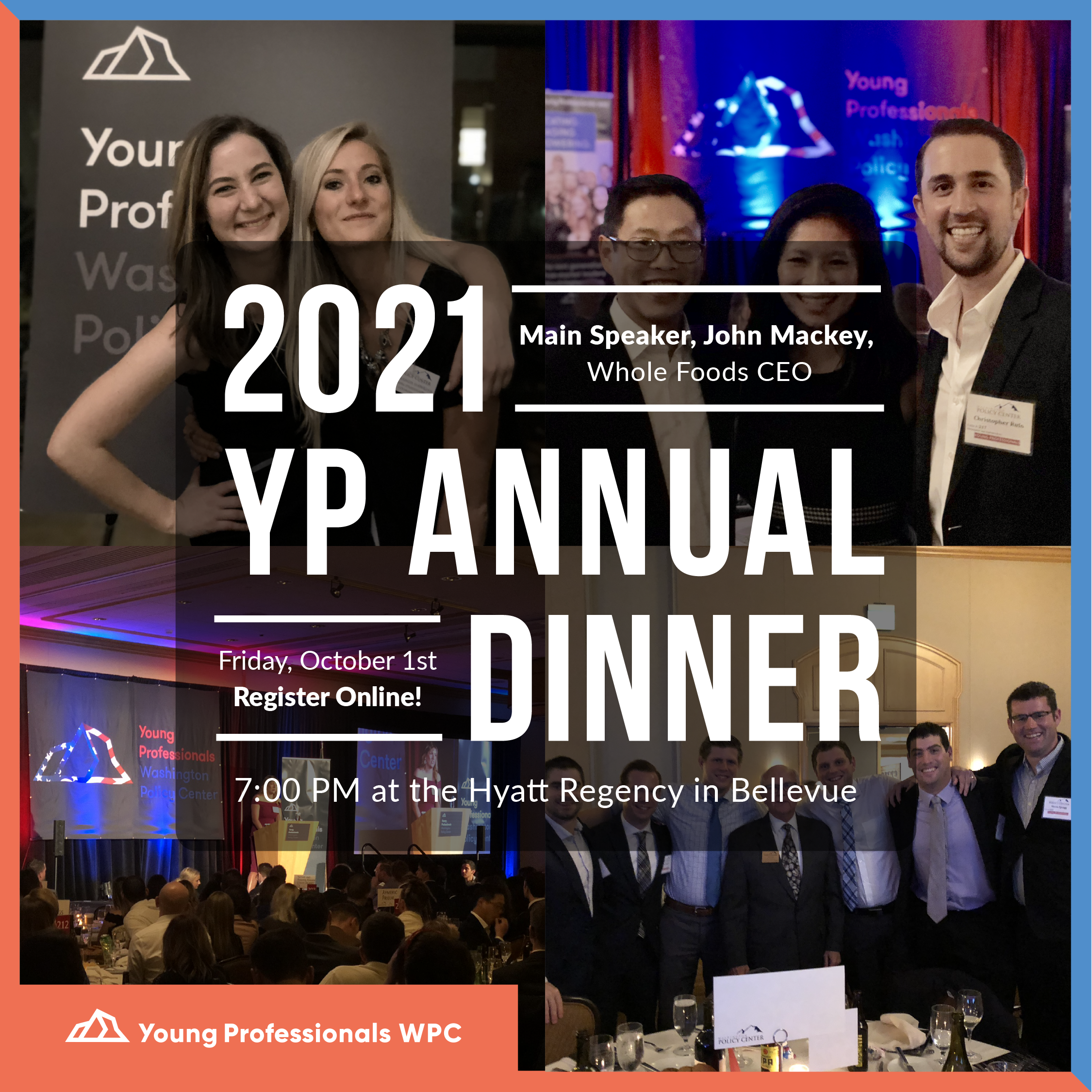 (This event has now passed.)
CATCH A GLIMPSE OF THIS NIGHT TO REMEMBER HERE!
For 25 years, Washington Policy Center has held its Annual Dinner events as a way to bring people together to hear about how free-market solutions are improving lives not only in Washington state, but across the country.

WPC's Annual Dinner events in Eastern and Western Washington are now must-attend evenings that attract more than 2,500 elected officials, business, and community leaders, raising over $1 million to support WPC's work.
We hope you'll join us this year for our 2021 Young Professionals Annual Dinner at the Bellevue Hyatt with over 350 YPs (18-39 years of age) in a separate ballroom. Featuring Whole Foods CEO John Mackey and a soon-to-be announced second speaker. REGISTER NOW for the region's most exciting gala with networking receptions, food, drinks, and an after-party!
Click here for a two-minute video on what to expect!
Ticket and Sponsorship Info Can Be Found HERE.
For questions on this year's table sponsorships/tickets, please contact WPC's YP Director, Marissa Gaston, at mgaston@washingtonpolicy.org or 509-954-2449.
Featured Speakers:
John Mackey
John Mackey, co-founder and CEO of Whole Foods Market, has built the natural and organic grocer from a single store in Austin, Texas in 1978, into a Fortune 500 company, which went public in 1992, and was purchased by Amazon in 2017. Today Whole Foods Market is a top U.S. supermarket with more than 510 stores and 100,000 Team Members across the U.S., Canada, and U.K.
While devoting his career to helping shoppers satisfy their lifestyle needs with quality natural and organic foods, Mackey has also focused on building a more conscious way of doing business. He was the visionary for Whole Planet Foundation to help end poverty in developing nations, the Local Producer Loan Program, which provided $25 million in low interest loans to help local food producers expand their businesses, and the Global Animal Partnership's rating scale for humane farm animal treatment.
Mackey has been recognized as one of Fortune's "World's 50 Greatest Leaders," Ernst & Young's "Entrepreneur of the Year Overall Winner for the United States," Institutional Investor's "Best CEO in America," Barron's "World's Best CEO," MarketWatch's "CEO of the Year," Fortune's "Businessperson of the Year," and Esquire's "Most Inspiring CEO."
A strong believer in free market principles, Mackey co-founded the Conscious Capitalism Movement ( and co-authored a New York Times and Wall Street Journal best-selling book entitled "Conscious Capitalism: Liberating the Heroic Spirit of Business" (Harvard Business Review Press 2013) to boldly defend and reimagine capitalism, and encourage a way of doing business that is grounded in ethical consciousness. Mackey cut his pay to $1 in 2006 and continues to work for Whole Foods Market out of passion to see the business realize its potential for deeper purpose, for the joy of leading a great company and to answer the call to service that he feels in his heart.
Most recently, Mackey has focused on returning to the company's roots around healthy eating and lifestyle choices. A passionate advocate of healthy eating education, he laid the foundation for health and wellness programs for team members and customers. Mackey is co-author of The Whole Foods Diet: The Lifesaving Plan for Health and Longevity (Grand Central Life & Style 2017); and The Whole Foods Cookbook: 120 Delicious and Healthy Plant-Centered Recipes (Grand Central Life & Style 2018).
Mackey is an avid backpacker and long-distance hiker. He lives in Austin, TX with his wife, Deborah.
Secure your spot at the YP Annual Dinner and REGISTER NOW!