Transportation
Because being there is what's most important, WPC's Center for Transportation researches and analyzes the best practices for relieving traffic congestion by recapturing a vision of a system based on freedom of movement.
What's New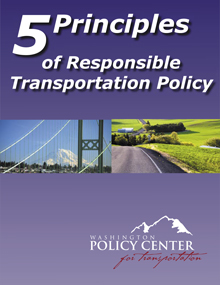 Washington Policy Center conducted a statewide poll in December 2007 that asked voters about the importance of traffic relief.
In 2003 and 2005, state officials raised the gas tax by 14.5 cents to pay for 432 Nickel and Transportation Partnership (TPA) projects. Now, state leaders are not fulfilling what they said when they imposed these tax increases.
As Washington policymakers consider funding transportation infrastructure through tolling, Washington Policy Center (WPC) encourages them to adopt a responsible framework to implement and manage the new revenue.
In light of growing highway demand and the shrinking value of gasoline tax revenues, states are finding help in the growing trend of financing transportation infrastructure through public private partnerships (PPPs).