Transportation
Because being there is what's most important, WPC's Center for Transportation researches and analyzes the best practices for relieving traffic congestion by recapturing a vision of a system based on freedom of movement.
What's New
Date:
Saturday, April 18th, 2009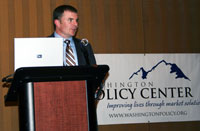 WPC's Transportation dinner was a huge success. We heard from Dr. Samuel Staley, Urban Policy Director for Reason Foundation. Dr. Staley gave an enlightening presentation on how traffic relief can increase opportunity circles and improve business productivity, which is especially important in a globally competitive market. Dr. Staley also provided three broad solutions for Washington policymakers to fix traffic: manage the system more efficiently, build more capacity and redesign the transportation network.
This op ed appeared in the Puget Sound Business Journal on April 24
Residents of the Puget Sound region hate traffic congestion. The Seattle-Tacoma-Bellevue urbanized area ranks among the nation's most congested places, a result of strong growth, geography and a failure to keep its transportation network on par with the needs of the region's rising wealth.
Seattle – On Saturday, April 18, transportation and urban policy expert Dr. Samuel Staley will be speaking at the Hyatt Regency in Bellevue at 7pm. Dr. Staley is keynoting Washington Policy Center's 2009 Transportation Dinner.
Dr. Staley is a nationally-recognized economic development consultant, academic researcher and urban policy analyst, and co-author of two books, Mobility First: A New Vision for Transportation in a Globally Competitive 21st Century, and The Road More Traveled: Why the Congestion Crisis Matters More Than You Think and What We Can Do about It.