Transportation
Because being there is what's most important, WPC's Center for Transportation researches and analyzes the best practices for relieving traffic congestion by recapturing a vision of a system based on freedom of movement.
What's New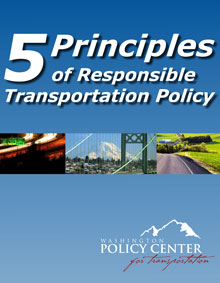 Washington Policy Center encourages five principles of responsible transportation policy to help guide policymakers in returning to a system that provides for people's freedom of movement.
Date:
Thursday, March 26th, 2009
Washington Policy Center held a private reception with WPC board members and other key supporters on Thursday, March 26th in Bellevue. WPC's research center directors discussed the issues being debated in Olympia as we entered the homestretch of our state's Legislative Session. Topics included the state budget shortfall, transportation, small business issues, education and the environment.
Watch the videos:
Introduction by WPC President Dann Mead Smith
Seattle – Washington Policy Center has released the results of a recent statewide poll that asked voters 5 questions about the importance of traffic relief across Washington State. This updated survey builds upon Washington Policy Center's first poll conducted in December 2007. In both cases, voters continue to show strong support for making traffic relief a high priority.