Environment
WPC's Center for the Environment brings balance to the environmental debate by promoting the idea that human progress and prosperity work in a free economy to protect the environment.
What's New
Seattle - On Earth Day, we commonly hear dark predictions about the looming horrors of global warming (a typical example, "What is at stake [is] our ability to live on planet Earth," Al Gore).
Yet not so long ago the news media issued dire warnings about global cooling and a coming Ice Age. Consider these headlines:
Date:
Wednesday, April 22nd, 2009
Place:
Rachel Carson Elementary School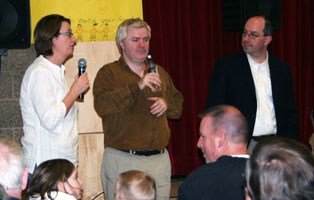 On April 22, 2009 (Earth Day), the Washington Policy Center's Center for the Environment hosted an audience of more than two-hundred for the debut showing of a new film "Not Evil Just Wrong: The True Cost of Global Warming Hysteria" at Rachel Carson Elementary School in Sammamish.
When President Obama was elected last year, cities began looking at ways to spend the expected stimulus money on "shovel ready" projects in their community. In Seattle's requests submitted to the US Conference of Mayors, they listed two projects to add solar panels to local projects costing a total of $8.2 million. This month's Environmental Watch examines those projects and finds that not only were the projects not "shovel ready," but that in one case the cost estimates were padded and in the other the solar project paid for itself only after 40 years and millions in government subsidies. Worse, internal e-mails show that the top priority appears to be scoring political points rather than actually supporting projects that help the environment. It is a cautionary tale of what happens when government spends money without an eye to the costs and benefits of the projects they advocate.