Education
WPC's Center for Education conducts objective research and makes practical policy recommendations to improve Washington State's ability to carry out its paramount duty to educate every child within its borders.
Outrageous Learning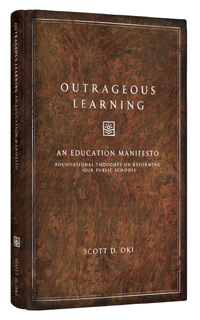 The troubles of our nation's public schools have caught the attention of philanthropist and former Microsoft executive Scott Oki. In 2009 Scott partnered with Washington Policy Center to publish his book Outrageous Learning: Foundational Thoughts on Reforming Our Public Schools.
With an engaging style and straightforward approach, in Outrageous Learning Scott Oki describes the real problems facing schools today and offers 11 foundational ideas for bringing constructive change to public education. These ideas include:
Allow local school principals to lead their schools.
Allow schools to hire qualified teachers from the broadest pool possible, not just those who hold teaching credentials.
Allow parents more choices among public schools.
Allow students to spend more time learning.
Offer early learning opportunities and alternatives to traditional high school.
Muster an army of volunteers to help classroom teachers.
Don't prescribe standardized curricula.
Intervene early, end social promotion, and get all kids reading at grade level in pre K-4.
Reallocate public education dollars to serve the core mission of schools: educating students.
Establish values, mold character, and develop leadership skills.
Establish a culture of excellence by embracing change and relentlessly pursuing innovation.
Outrageous Learning is available for $9.95.
---
What others are saying about Outrageous Learning:
"This small book contains huge, provocative, and dynamic ideas to make public education 'outrageously better.' Every parent should devour this book and take action to help make American public education the best in the world." -Daniel J. Evans, former WA State Governor and Senator
"This book not only raises the urgency of the need to fix the education system, but gives a practical set of ideas that can be adopted to begin the change process. A must read for anyone who cares about the future of our nation." -Phyllis Campbell, Chairman, Pacific Northwest, JP Morgan Chase and Former CEO of the Seattle Foundation
"All of us agree that the American system of public education is in need of serious repair...Scott Oki's new book clearly states his recipe for success...if we are to make real progress at improving out public education system we need to thoughtfully debate ideas like this." -Mark A. Emmert, Former University of Washington President